Mac and Cheese Pasta Chips
Happy National Mac and Cheese Day! We're over here celebrating the best way we know how – with the best food in the world. If you procrastinate by scrolling through TikTok like me, you have seen pasta chips. If you're unfamiliar, cooked pasta is seasoned before being fried crispy. They're generally served with marinara to dip to your heart's content.
Mac and cheese is always on my mind, so every time pasta chips scrolled across my feed I knew I had to find a way to mac-icy it. After last week's fabulous cheddar mustard sauce, I had to use it again for my pasta chips.
Mac and cheese pasta chips are a few more steps than our normal mac and cheese recipe, but it's well worth it. It's everything you could hope for in a mac and cheese style appetizer. The chips are flavorful enough you could munch on them on their own, but don't skimp on the cheese dip. It takes the dish into another dimension.
I excitedly made the cheese sauce before realizing the only pasta I had on hand was a mix of rotini and ditalini. I wouldn't necessarily recommend using small pasta shapes to make your chips. You need to be able to pick them up, but we used a fork and managed just fine.
Next movie night instead of boring plain old popcorn, try snuggling in with a bowl of mac and cheese pasta chips. You won't be disappointed.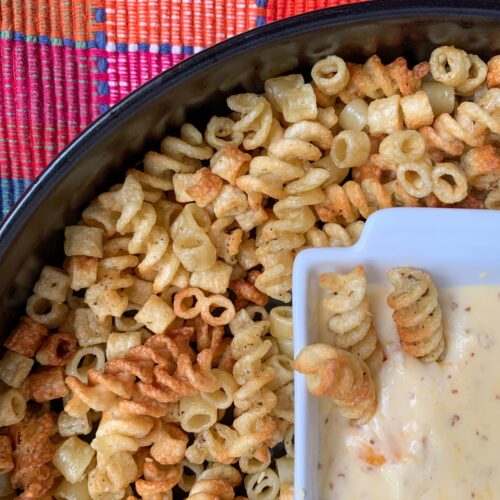 Mac and Cheese Pasta Chips
Ingredients
Pasta Chips
16 oz Pasta

1 tablespoon Olive Oil

1 tsp Italian Seasoning

1/2 cup powdered Parmesan
Mustard Cheese Sauce
2 tbsp Butter

2 tbsp Flour

2 cups Whole Milk

1 cup grated Extra Sharp Cheddar

3/4 cup grated Parmesan

1 tbsp Mustard

salt to taste
Instructions
Prepare Pasta Chips
Prepare the pasta according to package directions.

Drain pasta water

Toss pasta with olive oil, parmesan, and Italian seasoning

Air fry pasta at 400* for ten minutes, stirring every three minutes.
Prepare the sauce
Pre heat your milk in the microwave for 45 seconds – just enough to take the chill out of it.

Melt butter in a sauce pan over medium heat and let it heat until it becomes foamy.

Mix in flour. Cook it for a minute while stirring constantly

Slowly add warmed milk to the butter mixture 1/4 cup at a time. Whisk it continually until combined. 

Once all of the milk is incorporated, continue to heat the sauce while stirring. Do not let it boil. The sauce is ready for the cheese when you rub a small amount between your fingers and it feels silky.

Remove from heat and stir in your cheese and mustard until the cheese melted and mixed into the sauce.

Once the cheese is incorporated, use a cooked noodle to taste your sauce. If it doesn't taste cheesy enough try adding a little salt to bring out the flavor.
---