Habanero Jack Mac and Cheese
When traveling, we love to find new and interesting ingredients we don't usually have access to at home. That's how we stumbled across this Applewood Smoked Salt. This stuff is magic. It's slightly sweet and smoky and I knew it would be the perfect compliment to Habanero Jack Mac and Cheese. I'm a little sad I didn't just douse the whole dish in it. If a little bit is this good, then a ton has to be even better, right?
This recipe features a fabulous Maple Leaf Habanero Jack Cheese paired with Red Apple Applewood Smoked Swiss. This isn't our first habanero dish, Alvaro made Mango Habanero Mac and Cheese last year which has been a standout favorite. There's something fun about a spicy mac and cheese and habanero cheeses provide the perfect jumping off point for a fantastic bowl.
This dish is not for the faint of heart. There are so many bold flavors that layer together beautifully. You obviously have spiciness, sweetness from the habaneros and salt, and smokiness from the salt and the swiss that brings it all together. And that's before we get to the toasted parmesan breadcrumbs!
If you're on a time crunch, it is absolutely acceptable for you to have your mac and cheese straight off the stovetop without the breadcrumb finish. But if you can spare the minutes it's well worth the effort. Just toast the panko in a little butter while your pasta is cooking and then layer and broil the whole pan for a few minutes to get that beautiful golden crust.
Habanero Jack mac and cheese is an blend of flavors sure to impress your new grumpy boss enough to offer you a raise or two. Just don't tell him how easy it is to make. Your secret is safe with me.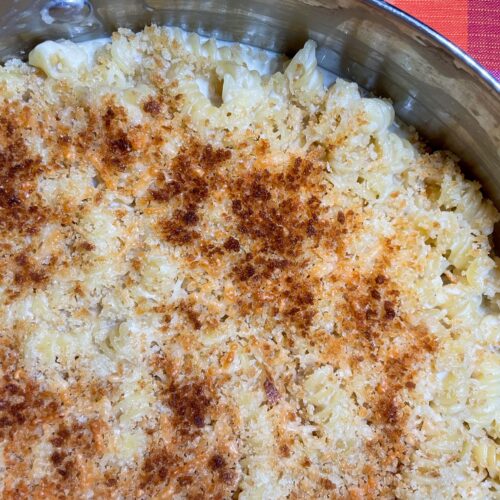 Habanero Jack Mac and Cheese
Ingredients
16 oz Pasta

3 tbsp Butter

3 tbsp Flour

3 cups Whole Milk

1 cup grated Maple Leaf Cheese Habanero Jack

1 cup grated Red Apple Smoked Swiss

1 teaspoon Applewood Smoked Salt
Parmesan Panko Crust
1/2 tablespoon Butter

1/2 cup Panko

1/4 cup Parmesan
Instructions
Prepare the pasta according to package directions.
Toast the breadcrumbs
Melt 1/2 tablespoon butter into a skillet

Add Panko to melted butter and toast until slightly brown. It's better to go a little under done so they can brown up in the oven

Allow the breadcrumbs to cool while you prepare the sauce.
Prepare the sauce
Pre heat your milk in the microwave for 45 seconds – just enough to take the chill out of it.

Melt butter in a sauce pan over medium heat and let it heat until it becomes foamy.

Mix in flour. Cook it for a minute while stirring constantly

Slowly add warmed milk to the butter mixture 1/4 cup at a time. Whisk it continually until combined. 

Once all of the milk is added, cook for a few minutes while whisking it. Do not let it boil. You will feel the sauce start to thicken. It's ready for cheese when you rub a small amount between your fingers and it feels silky.

Remove from heat and stir in your cheese and salt until it's melted and mixed into the sauce.

Once the cheese is incorporated, use a cooked noodle to taste your sauce. If it doesn't taste cheesy enough try adding a little more salt to bring out the flavor.

Combine the pasta and sauce and spread into an oven safe dish.
Toppings
Spread the parmesan across the top of the pasta and top with toasted breadcrumbs

Place your pasta in the broiler to melt the parmesan and toast the breadcrumbs the last little bit.
---