Smokin' Goat Mac and Cheese
Smokin' Goat mac and cheese is such a fun recipe. Who doesn't want to eat cheese that features a goat smoking a pipe on the package? Paired with cream cheese, extra sharp cheddar, and a cajun spiced panko crust, this dish is everything dreams are made of.
Note: This article contains affiliate links to products that I love and use to make mac and cheese in my own kitchen. When you click links here and make a purchase, I receive a commission at no additional cost to you. For more information, see my Affiliate Link Policy here.
The magic in this recipe lives in the balance of cheeses. Extra Sharp Cheddar welcomes you to the bowl while Smokin' Goat is the closer that finishes it out and adds a wonderful smoky finish. Cream cheese offers a richness you don't find from the other cheeses. Every ingredient plays a part and they all blend together beautifully in a sauce that should be eaten with a spoon.
There's something fun about a crispy breadcrumb crust on a saucy mac and cheese, but that doesn't mean we can't have some fun with it. Weber N'Orleans Cajun Spice stirred into the toasted panko allows for an unexpectedly flavorful topping that will have you coming back for more.
Smokin' Goat mac and cheese is not subtle. You'll want to finish the meal out with something a little less intense. All of the bold flavors in this dish will stand out from anything else you want to serve. Consider adding some grilled chicken or a side salad to balance out the meal.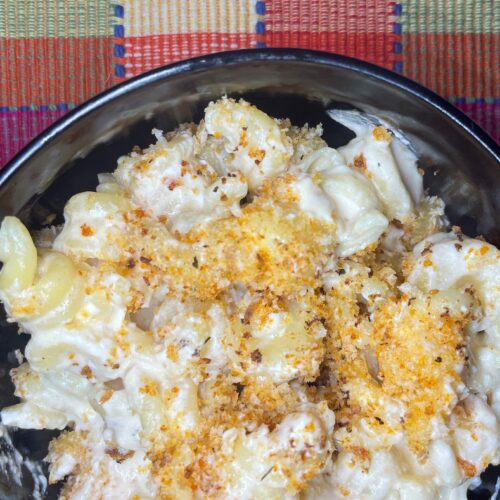 Smokin' Goat Mac and Cheese
Ingredients
16 oz Pasta

3 tbsp Butter

3 tbsp Flour

3 cups Whole Milk

1/2 tablespoon Ground Mustard

1 cup grated Smokin' Goat Cheese

1 cup grated Extra Sharp Cheddar

4 oz Cream Cheese
Cajun Panko Crust
1/2 tablespoon Butter

1/2 cup Panko

2 teaspoons Weber N'Orleans Cajun Spice
Instructions
Prepare the pasta according to package directions.
Toast the breadcrumbs
Melt 1/2 tablespoon butter into a skillet

Add Panko and cajun spice to melted butter and toast until slightly brown. It's better to go a little under done so they can brown up in the oven

Allow the breadcrumbs to cool while you prepare the sauce.
Prepare the sauce
Pre heat your milk in the microwave for 45 seconds – just enough to take the chill out of it.

Melt butter in a sauce pan over medium heat and let it heat until it becomes foamy.

Mix in flour. Cook it for a minute while stirring constantly

Slowly add warmed milk to the butter mixture 1/4 cup at a time. Whisk it continually until combined. Add Mustard powder.

Once all of the milk is added, cook for a few minutes while whisking it. Do not let it boil. You will feel the sauce start to thicken. It's ready for cheese when you rub a small amount between your fingers and it feels silky.

Remove from heat and stir in your cheese until it's melted and mixed into the sauce.

Once the cheese is incorporated, use a cooked noodle to taste your sauce. If it doesn't taste cheesy enough try adding a little more salt to bring out the flavor.

Combine the pasta and sauce and spread into an oven safe dish.
Toppings
Spread toasted breadcrumbs across the top.

Place your pasta in the broiler to toast the breadcrumbs the last little bit. Mine took 3 minutes, but keep an eye on it.
---