Smoked Gouda Mac and Cheese
I don't know what it is, but there is something magical about smoked gouda. Taking an already amazing food and injecting it with smoky flavor steps it up a notch. Turning it into smoked gouda mac and cheese takes it up another level. Smoked gouda is God's gift to mac and cheese.
Note: This article contains affiliate links to products that I love and use to make mac and cheese in my own kitchen. When you click links here and make a purchase, I receive a commission at no additional cost to you. For more information, see my Affiliate Link Policy here.
Gouda is an opener cheese – meaning that when you bite into a piece of gouda the flavor hits you immediately. Closer cheeses, like the parmesan in this recipe, hit you at the end of the bite. Well-rounded mac and cheeses utilize a combination of opener and closer cheeses
Smoked gouda, however, packs a double punch. You get the opener characteristics from gouda while smoky flavors take a little bit longer to come through. You could make the argument that smoked gouda is both an opener and closer cheese, using only it in your cheese sauce. But when we have an emergency stash of parmesan perfectly ready to work as a closer cheese, it'd be a crime not to let it shine.
Parmesan is an old favorite around here. It's easy to keep on hand and so versatile. Plus I'm never completely sure where the cheeses I bring home will sit on the opener/closer scale. I've tried enough cheeses that I have a pretty good grasp, but sometimes a new brand will surprise me. With that in mind, I always keep extra sharp cheddar and parmesan on hand for mac and cheese related emergencies. With both cheeses readily available, I'm sure to always have mac and cheese perfection.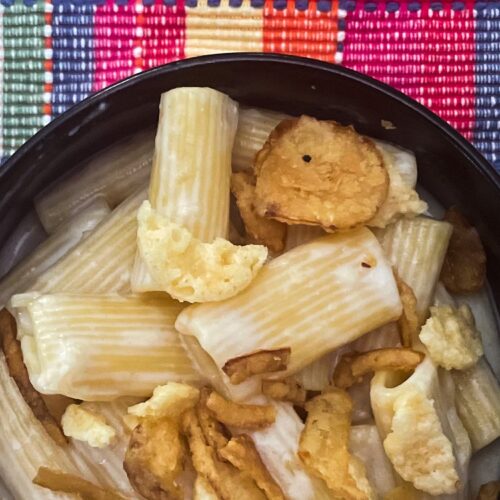 Smoked Gouda Mac and Cheese
Smoked gouda and parmesan pair together with crispy onions and asiago crisps for a bowl of happiness.
Ingredients
16 oz Pasta

3 tbsp Butter

3 tbsp Flour

3 cups Whole Milk

1 cup grated Smoked Gouda

1 cup grated Parmesan
Toppings
Asiago Crisps

Crispy Onions
Instructions
Prepare the pasta according to package directions.
Prepare the sauce
Pre heat your milk in the microwave for 45 seconds – just enough to take the chill out of it.

Melt butter in a sauce pan over medium heat and let it heat until it becomes foamy.

Mix in flour. Cook it for a minute while stirring constantly

Slowly add warmed milk to the butter mixture 1/4 cup at a time. Whisk it continually until combined. 

Once all of the milk is added, cook for a few minutes while whisking it. Do not let it boil. You will feel the sauce start to thicken. It's ready for cheese when you rub a small amount between your fingers and it feels silky.

Remove from heat and stir in your cheese until it's melted and mixed into the sauce.

Once the cheese is incorporated, use a cooked noodle to taste your sauce. If it doesn't taste cheesy enough try adding a little more salt to bring out the flavor.

Combine the pasta and sauce. Top with asiago crisps and crispy onions.
---