Ilchester day 16: Double Gloucester and Smoked Gouda Mac and Cheese
On Day 16, Ilchester gave us another Double Gloucester cheese. For a cheese that I haven't had the opportunity to sample previously, this cheese will absolutely have a place of honor in my pantry. I couldn't resist pairing today's Double Gloucester with a smoked gouda for a bold, flavorful mac and cheese.
The cheese advent calendar from Ilchester is the passion project of Annem Hobson from So Wrong It's Nom. Each day contains .7 oz of cheese from 9 different varieties and I'm turning each into a single serving of mac and cheese. You can follow along here.
Gouda tends to be a more complicated cheese than I give it credit for. It works beautifully in a mac and cheese, but you have to sample it before you commit to a pairing cheese. However, softer goudas tend to lean to the opening of the bite. When a cheese is smoked, it ads another layer of flavor that closes out the bite, which can overpower your closer flavors if you aren't careful. It's best to go for a strong closer when using a smoked cheese.
Double Gloucester Absolutely holds its own against a smoked cheese. It's a bold, flavorful closer that can stand up in a mac and cheese.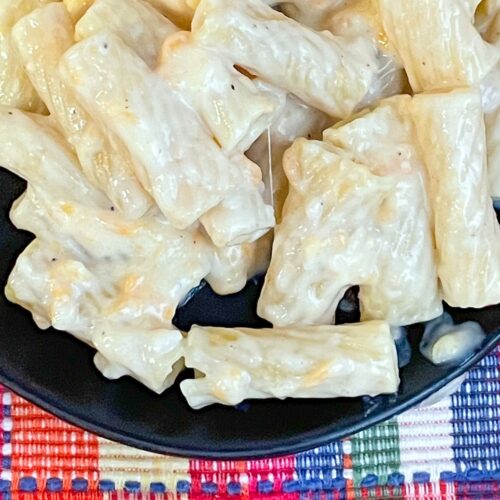 u003cstrongu003eDouble Gloucester and Smoked Gouda Mac and Cheese u003c/strongu003e
Ingredients
16 oz pasta cooked according to package directions

3 tbsp butter

3 tbsp flour

3 cups whole milk

4 oz Double Gloucester, grated

4 oz Smoked Gouda, grated

salt to taste

pepper to taste
Instructions
Pre heat your milk in the microwave for 45 seconds – just enough to take the chill out of it.

Melt butter in a sauce pan over medium heat and let it heat until it becomes foamy.

Mix in flour. Cook it for a minute while stirring constantly

Slowly add warmed milk to the butter mixture 1/4 cup at a time. Whisk it continually until combined. Season generously with salt and fresh cracked pepper.

Once all of the milk is added, cook for a few minutes while whisking it. Do not let it boil. You will feel the sauce start to thicken. It's ready for cheese when you rub a small amount between your fingers and it feels silky.

Remove from heat and stir in your cheese until it's melted and mixed into the sauce.

Once the cheese is incorporated, use a cooked noodle to taste your sauce. If it doesn't taste cheesy enough try adding a little more salt to bring out the flavor.

Combine the pasta and sauce and serve.
---