Simple Stovetop Mac and Cheese Recipe
This is my OG mac and cheese recipe. If you make no other recipe from my site, make it the Simple Stovetop Mac and Cheese Recipe. It will convert even the most discerning of mac and cheese fans to making their own mac and cheese. A blue box isn't necessary to get your mac and cheese fix.
Note: This article contains affiliate links to products that I love and use to make mac and cheese in my own kitchen. When you click links here and make a purchase, I receive a commission at no additional cost to you. For more information, see my Affiliate Link Policy here.
Extra sharp cheddar serves as the opener. I stock the generic Kroger brand in my refrigerator, but Tillamook makes a fabulous version if you can't find anything but mild. Make sure and buy a solid block of cheese to shred later. Pre-shredded cheese contains anti clumping agents that keep your cheese from melting together. This is awesome for grocery stores who need to keep the cheese pretty on the shelf before selling it. It's nice for sprinkling on your baked potato, but it won't melt into a smooth sauce the way fresh grated cheese will.
Parmesan is the closer in this recipe. It rounds out the bowl beautifully and extends the cheesy flavor from the cheddar through the end of the bite. Like cheddar, I always keep parmesan in my fridge for a mac and cheese emergency. It works well in other recipes I make and is always ready to serve as a closer no matter which opener cheeses I bring home.
The Simple Stovetop Mac and Cheese recipe is perfect for mornay sauce beginners and will help you buy all of the ingredients needed to explore the depths of mac and cheese through any cheese in the store.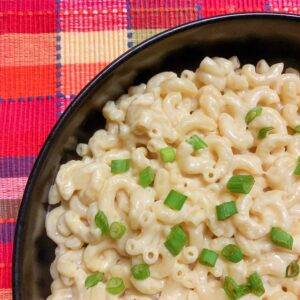 Simple Stovetop Mac and Cheese Recipe
If you try no other recipe but this one, you will be fine. This is my favorite way to make mac and cheese. It never lets me down. If you keep the ingredients on hand to make this recipe, you will be able to expand into different cheeses with ease.
Ingredients
16 oz Pasta

2 tbsp Butter

2 tbsp Flour

2 cups Whole Milk

3/4 cup Parmesan

grated or chopped into small pieces.

1 cup Extra Sharp Cheddar

grated or chopped into small pieces

salt

to taste

Green Onions

sliced thinly
Instructions
Pre heat your milk in the microwave for 45 seconds – just enough to take the chill out of it.

Melt butter in a sauce pan over medium heat and let it heat until it becomes foamy.

Mix in flour. Cook it for a minute while stirring constantly

Slowly add warmed milk to the butter mixture 1/4 cup at a time. Whisk it continually until combined. 

Once all of the milk is added, cook for a few minutes while whisking it. Do not let it boil. You will feel the sauce start to thicken. It's ready for cheese when you rub a small amount between your fingers and it feels silky.

Remove from heat and stir in your cheese until it's melted and mixed into the sauce.

Once the cheese is incorporated, use a cooked noodle to taste your sauce. If it doesn't taste cheesy enough try adding a little more salt to bring out the flavor.

Combine the pasta and sauce top with chopped green onions
---