Mac and Cheese Cereal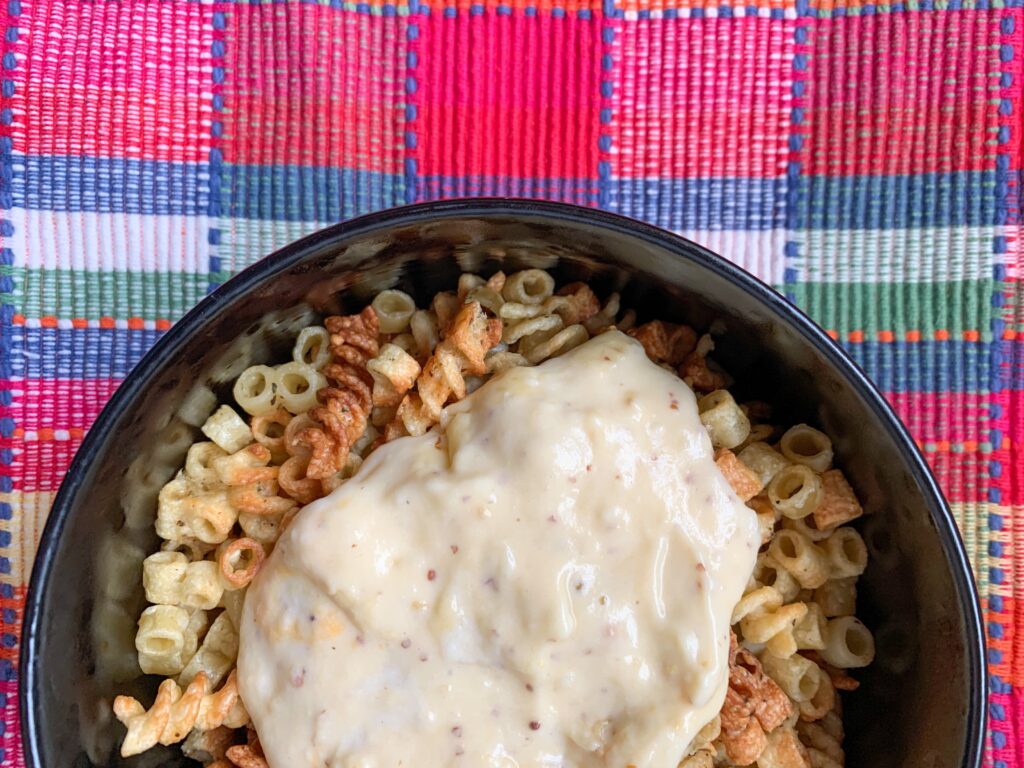 I am extra about mac and cheese, but this takes extra to another level. Remember when turning random foods into cereal was a trend? We saw donut cereal, pancake cereal, and cookie cereal. Well now we have Mac and Cheese Cereal – the most fabulous recipe you'll find here. One could argue that mac and cheese is already a cereal, but they would be very wrong. It's the crunchy seasoned pasta that makes this recipe stand out.
Note: This article contains affiliate links to products that I love and use to make mac and cheese in my own kitchen. When you click links here and make a purchase, I receive a commission at no additional cost to you. For more information, see my Affiliate Link Policy here.
This is a twist on the pasta chips I made last week. I couldn't stop thinking about those beautifully seasoned crispy bits of happiness. The smaller noodles I used before were fabulous, but didn't have the grip-ability that you'd want from something you're using as a chip. But if you layer your dip with your chips and eat it with a fork you hit peak dip to chip ratios. Plus there's something just fun about taking a snack food and being extra about it.
I couldn't break my streak of creating a cheddar and parmesan cheese sauce with mustard to add another layer of flavor. I'm telling you – this sauce is hard to beat. Until next week when I discover a new favorite combination.
The only downside to this recipe is that it doesn't keep well. I guess that means you have to eat all of it. If you're worried, only fry enough pasta for you to eat while it's fresh and refrigerate the rest until tomorrow when you're going to want more. The sauce should keep fine as long as you refrigerate it.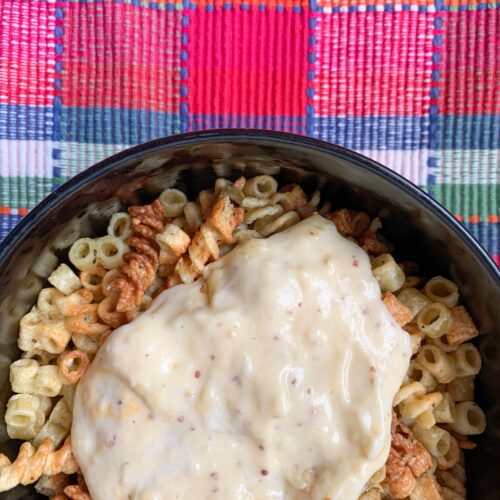 Mac and Cheese Cereal
Crispy seasoned pasta layered with a flavorful cheese sauce makes for a fun, unexpected meal.
Ingredients
Pasta Chips
16 oz Ditalini

1 tablespoon Olive Oil

1 tsp Italian Seasoning

1/2 cup powdered Parmesan
Mustard Cheese Sauce
2 tbsp Butter

2 tbsp Flour

2 cups Whole Milk

1 cup grated Extra Sharp Cheddar

3/4 cup grated Parmesan

1 tbsp Mustard

salt to taste
Instructions
Prepare Pasta Chips
Prepare the pasta according to package directions in well salted water.

Drain pasta water

Toss pasta with olive oil, parmesan, and Italian seasoning

Air fry pasta at 400* for ten minutes, stirring every three minutes.
Prepare the sauce
Pre heat your milk in the microwave for 45 seconds – just enough to take the chill out of it.

Melt butter in a sauce pan over medium heat and let it heat until it becomes foamy.

Mix in flour. Cook it for a minute while stirring constantly

Slowly add warmed milk to the butter mixture 1/4 cup at a time. Whisk it continually until combined. 

Once all of the milk is incorporated, continue to heat the sauce while stirring. Do not let it boil. The sauce is ready for the cheese when you rub a small amount between your fingers and it feels silky.

Remove from heat and stir in your cheese and mustard until the cheese melted and mixed into the sauce.

Once the cheese is incorporated, use a cooked noodle to taste your sauce. If it doesn't taste cheesy enough try adding a little salt to bring out the flavor.
Layer your chips and sauce
Alternate layers of chips and sauce in your favorite bowl and dig in.
---