March Macness 2023
The mac and cheese gods have smiled down upon us once again, and it's time to get your brackets ready for March Macness 2023. Brackets have to be submitted by March 23 to be in the competition so get yours filled out asap.
Division 1: Tabasco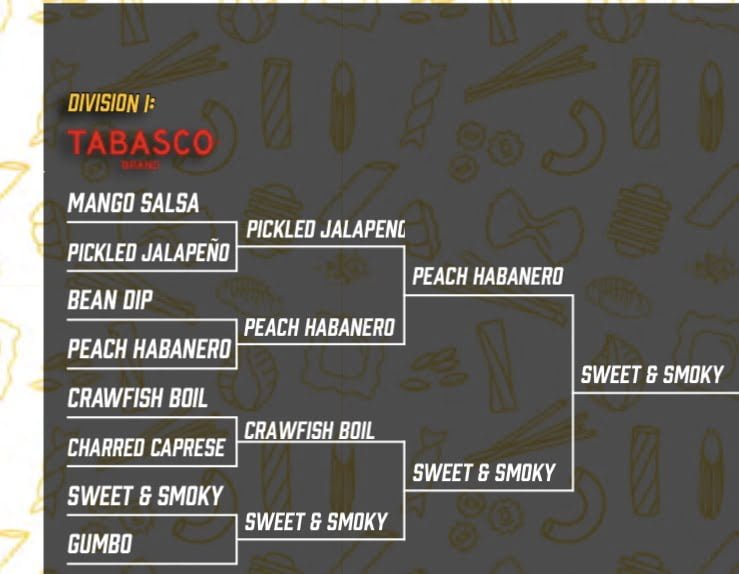 One of this years' sponsors is Tabasco. Casey artfully designed 8 different mac and cheese recipes to compliment different Tabasco sauces. I don't have a ton of experience using them but I love the variety of flavors they offer and can't wait to experiment with them myself.
Round 1:
Our first match up is Mango Salsa vs Pickled Jalapeno.
Mango Salsa utilizes Scorpion Sauce, Tabasco's spiciest offering. ****I love the idea of using a sweet salsa to balance out the heat in this dish. The cheeses in this recipe will hold their own in this dish so you can expect a spicy, flavorful mac and cheese from this recipe.
Pickled Jalapeno includes Green Jalapeno Sauce, which sits well on the other end of Tabasco's spice spectrum. I love the inclusion of cotija and quesadilla cheese in this dish which should balance out well with the jalapenos.
Winner: Pickled Jalapeno
The second matchup in this division is Bean Dip vs Peach Habanero.
Bean Dip features Chipotle Sauce and a blend of chipotle in adobo, Monterey jack, and cream cheese. We know that cream cheese makes a mac and cheese sauce richer, and it would be the perfect balance to the smoky flavors in the dish.
Peach Habanero spotlights Habanero Sauce, another salsa that skews toward the spicier end of the spectrum. I love the inclusion of burrata cheese, which offers a creamy cheese you can dip each bite into.
This one is tough, but I think I'm going to have to go with Peach Habanero for this matchup.
The third matchup pits Crawfish Boil against Charred Caprese.
Crawfish Boil highlights Cayenne Garlic Sauce with all of the ingredients you'd love to find in a crawfish boil. This is another dish that highlights a blend of Monterey Jack cheese and Sharp Cheddar together for a flavorful sauce that stands out against other ingredients.
Charred Caprese accents the original Tabasco sauce in an absolutely fun way. I love this take on traditional caprese with roasted tomatoes and fresh ingredients. Fresh mozzarella serves as the cheese component which will be smooth, creamy, and blend delicately with the other flavors here.
Winner: Crawfish Boil. I deliberated for a while and love each recipe separately, but I love the ingenuity of turning something you wouldn't expect into a mac and cheese.
The Fourth match up is Sweet and Smoky vs Gumbo.
I am dying to try Sweet & Smoky. It uses raspberry chipotle sauce layered with sharp white cheddar and fresh raspberries and chipotle for a pack of sweet heat.
Gumbo is another dish that uses the original red Tabasco sauce. This recipe uses smoked gouda – which we're a big fan of around here. The use of orzo for the pasta base is so interesting here.
Winner: Sweet & Smoky. It's hard to pass up the raspberry chipotle flavors.
Round 2:
Pickled Jalapeno vs Peach Habanero
This one hurts a little bit, but I think I'm going to go with the Peach Habanero. It's hard to pass up burrata.
Crawfish Boil vs Sweet & Smoky
I'm leaning toward the Sweet & Smoky here. The combination of the sweet raspberries and smoky chipotles is hard to pass up, and the sharp white cheddar has to add a bold cheesy layer that can stand up against the other flavors.
Round 3:
Peach Habanero vs Sweet & Smoky
This is tough, and a little funny that I'm left with the two sweet and spicy variations. I'm leaning toward Sweet & Smokyhere. The flavors are really intriguing and I'm concerned that the habanero may be a little too overpowering.
Division 2: International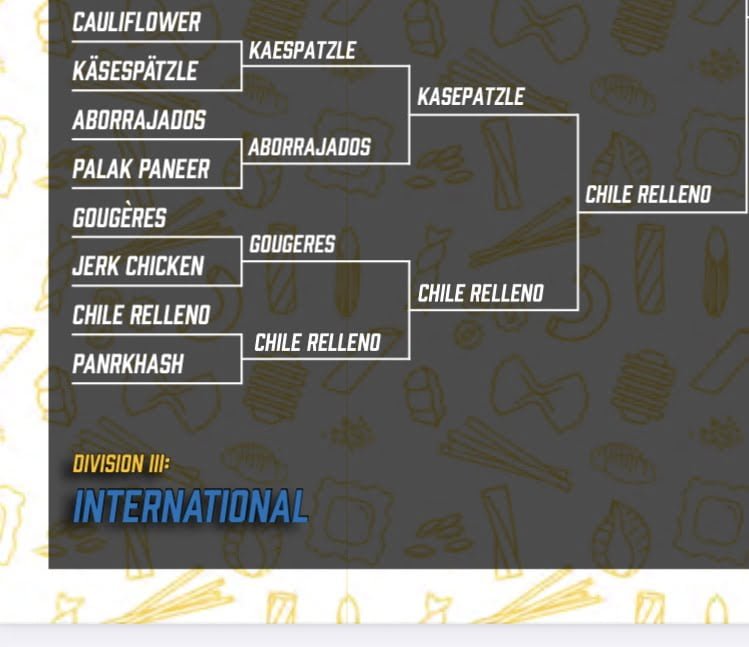 Round 1:
Cauliflower Cheese vs Kaespatzle
Cauliflower and pasta serve as a vehicle for a sharp cheddar and thyme sauce. I'm sure the cauliflower will add another texture and make the pasta more interesting.
However, Kaespatzle uses spatzle for a pasta base. Paired with caramelized onion and chives this dish will be full of flavor.
Based purely on the inclusion of caramelized onion and the fact that I think the cauliflower will be delightful but best as a side and not the featured dish, I'm going with Kaespatzle.
Aborrajados vs Palak Paneer
Aborrajados makes use of plantains – an ingredient we don't see often, especially in a mac and cheese, but Palak Paneeruses Kale Penne as a pasta base. I can't get over how unique these choices are.
Aborrajados is going to take this win. The use of plantain is too intriguing to ignore.
Gougeres vs Jerk Chicken
I love the way the Gougeres mac and cheese looks. It's like fried mac and cheese bites, and the inclusion of comte and gruyere guarantees it will be a flavorful choice.
You know Jerk Chicken will also pack a punch of flavor. Sharp cheddar will stand out beautifully among the jerk spices and I am sure it will be fantastic. ****
Purely for creativity's sake. I'm going with Gougeres.
Chile Relleno vs Panrkhash
I love everything about the chile relleno recipe. Roasted poblanos have such a great flavor, paired with oaxaca and orzo this dish personifies summer.
Panrkhash makes use of blue cheese, onion, and string cheese in a way that I have no doubt will be incredibly interesting.
By pure ingenuity I'm voting for Chile Relleno here. It's too interesting to pass up.
Round 2:
Kasepatzle vs Aborrajados
Kasepatzle makes use of the caramelized onion for a burst of flavor, but Aborrajados uses plantains. It's hard to choose between the two of them, but Kasepatzle is going to take the win today.
Gougers vs Chile Relleno
This is the battle of the uniquely shaped mac and cheese dishes, and it's painful to choose which is best, but I'm going with Chile Relleno. Cooking mac and cheese in a poblano is too perfect to pass up.
Round 3:
Kasepatzle vs Chile Relleno
Both recipes are so cool, but I think we're going with the Chile Relleno here. I hate to turn away from caramelized onion, but the poblano stands out above it. At least slightly.
Division 3: Cheeseboard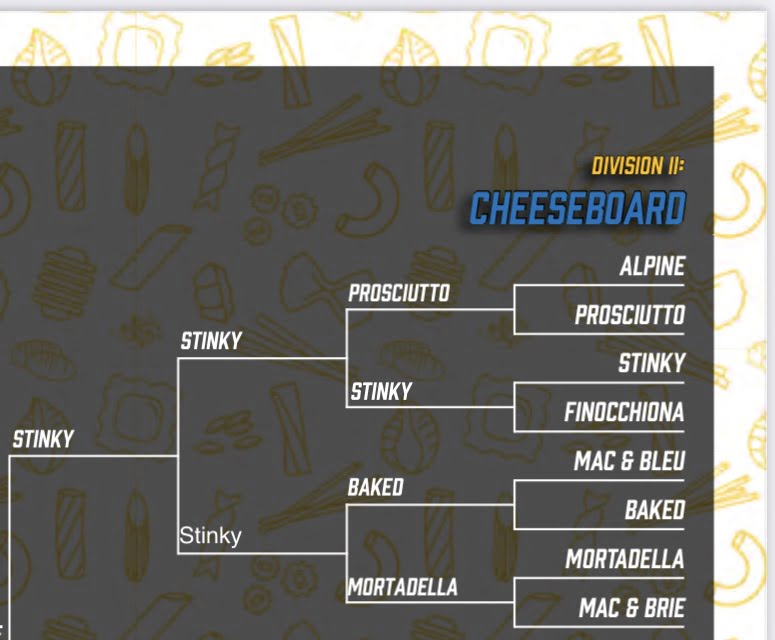 Jasper Hill Farm is another sponsor of March Macness this year, and this category highlights a variety of cheeses from their catalogue.
Round 1:
Alpine vs Prosciutto
Alpine includes Alpha Tolman cheese paired with potatoes, cornichons, and salami. I have no doubt this tastes like a savory cheese board with crunchy inclusions.
Prosciutto has green apples, prosciutto, and fun trumpet pasta. I love the way this one looks and it'd be the first one I'd reach for.
Winner: Prosciutto.
Stinky vs Finocchiona
Stinky just looks fun. Like a puddle of melted cheese. Bonus points that it uses Cascatelli. Finocchiona makes usen of fennel salami, broccolini, and more unique cheeses.
It's gotta go to Stinky. Who doesn't want to eat a bunch of melted cheese?
Mac & Bleu vs Baked
Mac & Bleu is so pretty. The colors are wonderful and the addition of fig is so unique.
Baked, on the other hand, has the most unique looking pasta in the batch. Fusilli Lunghi just seems fun to eat.
Winner: Baked.
Mortadella vs Mac & Brie
Mortadella uses cave aged cheddar and mustard in the cheese sauce, which makes a winner in my book, but it's hard to ignore the creativity of the name Mac & Brie. Plus the inclusion of sun dried tomatoes and olives makes this one a good choice.
With all that said, I'm giving this one to Mortadella.
Round 2:
Prosciutto vs Stinky
This round is going to Stinky. The texture is hard to ignore. ****
Baked vs Mortadella
Baked is taking this one, if only because of the pasta choice.
Round 3:
Stinky vs Baked
Stinky is taking this round. I love the inclusion of shallot and thyme, and the visual appeal is everything.
Division 4: Wildcard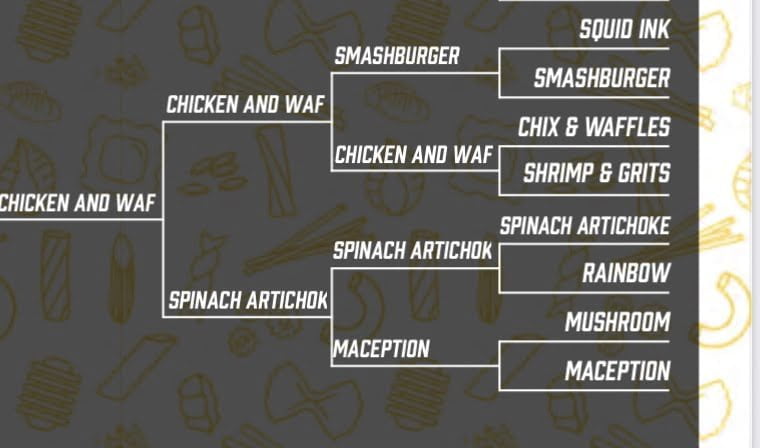 Round 1:
Smashburger vs Squid Ink
Smashburger is delightful. the inclusion of burger, pickles, and onions are perfectly remnicient of fast food.
Squid Ink includes cuttlefish ink pasta. This dish has a fascinating color, but one that I think I'd have some trouble eating much of.
Smashburger is going to take this one.
Chicken and Waffles vs Shrimp and Grits
Can we talk about how cool mac and cheese waffles are? Paired with Sharp Cheddar and Fried Chicken, the chicken and waffles recipe is so fun.
I love Shrimp & Grits and this is the perfect mac and cheese compliment. I love the addition of green pepper and we already know how much I love sharp cheddar.
This one is difficult, but I'm going with Chicken and Waffles here.
Spinach Artichoke vs Rainbow
Spinach Artichoke is the quintessential appetizer. It'd be hard to decide whether to eat it with a fork or with chips. Or maybe with both?
Rainbow is every kid's dream. Rainbow colored pasta shines through in a gruyere cheese sauce. This would be the perfect serving for every child (or child at heart.)
Winner: Spinach Artichoke
Mushroom vs Maception
Maception is such a funny concept. Mac and cheese stuffed shells in a bed of white sauce corrects all of the problems I had when this was a trend a few years ago – the outside shells always seemed so dry. The extra sauce alleviates this problem.
Mushroom makes use of porcini flavored pasta, adding another layer of mushroom to the dish.
Maception is going to take this round.
Round 2:
Smashburger vs Chicken and Waffles
Smashburger is fast food personified, but Chicken and Waffles has the macaroni waffles.
Chicken and Waffles is this round's winner.
Spinach Artichoke vs Maception
I love both of these options. Maception has such a whimsical form, but Spinach Artichoke has a more interesting flavor.
Spinach Artichoke is going to win this one.
Round 3:
Chicken and Waffles vs Spinach Artichoke
It's those mac and cheese waffles. Chicken and waffles wins this round.
Finals
Semifinals:
Sweet & Smoky vs Chile Relleno
While the Chile Relleno is interesting, it's hard to ignore the raspberry and chipotle flavors in Sweet & Smoky.
Stinky vs Chicken and Waffles
You know the deal. Chicken and Waffles.
Finale:
Sweet & Smoky vs Chicken and Waffles
In a surprise upset, I'm going with Sweet & Smoky here. The flavor profile is too interesting to leave behind.
---