Texas Mac Shack Green Chile Chicken Mac and Cheese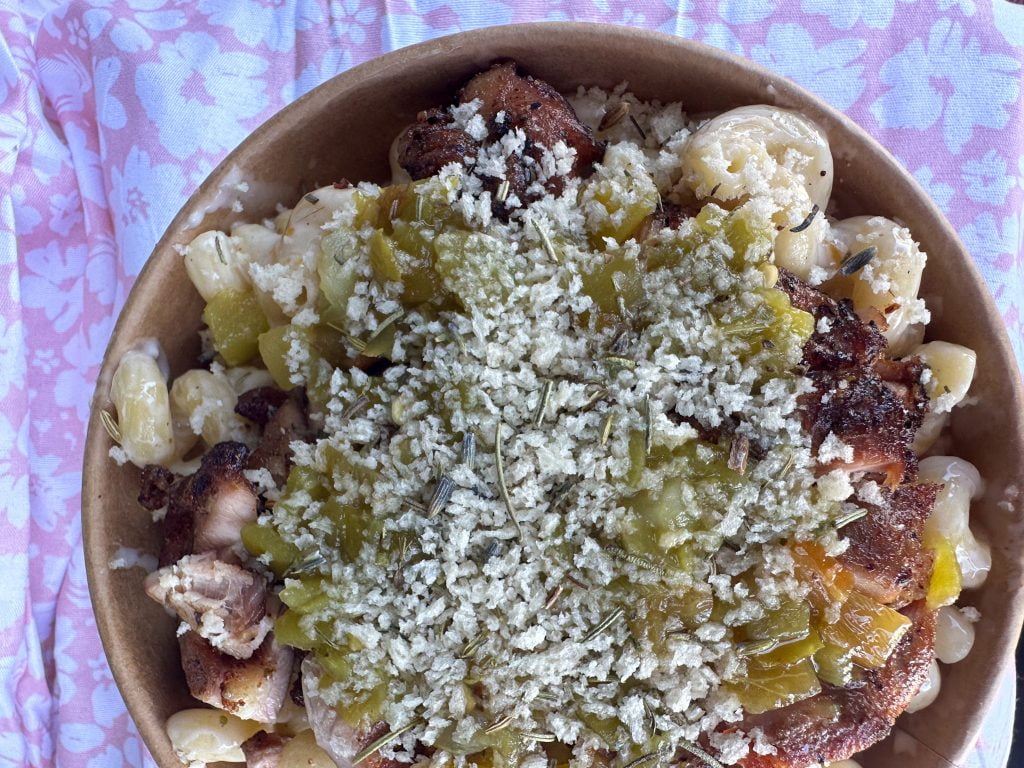 The last few times we visited Texas, I narrowly missed getting to visit the Texas Mac Shack. They are a food truck that travels around the Texas Panhandle offering a variety of gourmet mac and cheeses. I knew we were going to be in the area again and a visit needed to happen.
They offer a diverse menu of both traditional and unique mac and cheese recipes. With everything from pulled pork and buffalo chicken to green Chile chicken, Frito chili, and even hot Cheeto mac and cheese, you're sure to find something for everyone. I'm disappointed we don't live close enough to review them all but the Green Chile Chicken mac and cheese was calling my name.
In a mac and cheese, the pasta you use can make or break your recipe. Go for a noodle shape that is too small, and you run the risk of your mac and cheese becoming a soupy mess. On the flip side, if your pasta is too large, the dish is too cumbersome to eat. Nobody wants to eat a meal that is more work than it's worth, and the right pasta walks that line. Dan Pashman coined the term "forkability" and this perfectly describes how I feel about pasta in my mac and cheese. You want something you can easily grab with a fork, and if your pasta is either too small or too large you can't do that. Cavatappi, like the Texas Mac Shack uses, is a perfect mac and cheese vehicle. Twisty corkscrew pasta is super fun, and it offers lots of ridges to hold onto sauce making sure every bite is delicious.
When you bite into a piece of cheese, pay attention to where the flavor hits you. If you taste it immediately, this is what I call an opener cheese. But if the cheese takes a bit to build, it's a closer cheese. Well balanced mac and cheeses make use of both opener and closer flavors. You can see this balance in the Green Chile Chicken from Texas Mac Shack. White cheddar is an opener cheese, so the flavor sits at the front of the bite. Paired with Asiago, whose flavor is at the end, you have a beautifully balanced dish.
When you use such bold cheeses in your mac and cheese, your toppings have to stand out. This dish is loaded down with flavorful grilled chicken, hatch green chiles, and crispy breadcrumbs that hold their own. Every bite is full of flavor and exactly what I would expect out of a green Chile chicken mac and cheese.
Each mac and cheese from the Texas Mac Shack will set you back between $11 and $18. When considering the quality and unique recipes to choose from, this is worth every penny. If you're feeling adventurous, you can choose to double the meat, cheese, or even add another meat for a small upcharge.
---