Bluestem Bistro Mac and Cheese Manhattan, KS Review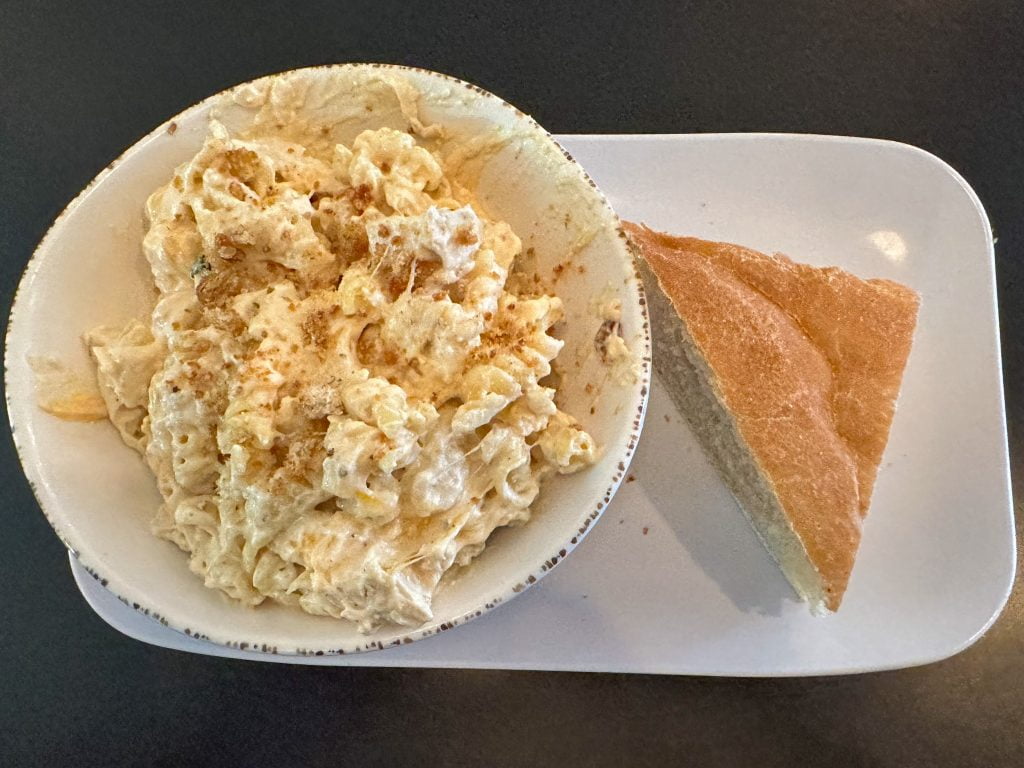 I've spent a fair amount of time in Bluestem Bistro – but always at times where mac and cheese doesn't feel appropriate. I acknowledge the hypocrisy of that statement when I have more than one breakfast mac and cheese recipe here. So when their mac and cheese hit a list of the best in Manhattan, I had to give them a chance. As a self-appointed mac and cheese connoisseur, it's a travesty that I hadn't tried them sooner.
Sauce
Bluestem's menu describes their mac and cheese sauce as 4 cheeses including bechamel sauce. They don't specify which cheeses are included, but the bowl has a mild flavor that makes me think it's some mixture of cream cheese, mild cheddar, mozzarella, and one other cheese. While this is not a bold mac and cheese, it still offers plenty of flavor and an unexpected richness.
Pasta
When it comes to mac and cheese, not all pastas are created equal. There's a balance that comes in choosing the right pasta. Large pastas are frequently too big and difficult to eat, making eating them difficult and annoying. On the other hand, small pastas like elbows and stars run the risk of becoming a soupy mess.
Bluestem found the perfect balance between too small and too large by using rotini pasta. These fun spiral shaped noodles offer lots of pockets to hold onto sauce. This guarantees each bite will be full of cheesy flavor.
Toppings
The standard recipe is topped with breadcrumbs and served with a side of bread. You can add bacon and/or chicken for an up charge. My visit was during lunch so I added chicken to bulk it up a bit and it was the perfect lunch. It was hearty and filling without being too much and weighing me down. The breadcrumbs are crispy and the perfect counter texture to creamy mac and cheese.
While the bread isn't a topping, we'd be remiss to leave it out of this discussion. It was delicious, fresh made, and everything you would expect out of bread from a bistro. I am not normally an extra slice of carbs with my giant bowl of carbs person, but the bread was a fantastic addition to this already delicious offering.
Add a Fork
One bowl of Bluestem Bistro mac and cheese with chicken will cost a little more than $10. I would gladly pay that again for the amount and quality of mac and cheese you receive. It's flavorful, creamy, and perfect for any time of day.
---