Hatch Chile Cheddar Mac and Cheese Recipe
Beehive really hit it out of the park with this one. Once I saw their Red Butte Hatch Chile Cheddar, I knew we had to feature it in a a hatch chile mac and cheese. It's creamy, smoky, and has just a hint of spice perfect for a bowl of cheesy pasta.
Note: This article contains affiliate links to products that I love and use to make mac and cheese in my own kitchen. When you click links here and make a purchase, I receive a commission at no additional cost to you. For more information, see my Affiliate Link Policy here.
This is a cheese that can bend the rules of the Mac and Cheese Theory. While normally I'd tell you to snag an opener cheese and a closer cheese, but sometimes the inclusions in your cheese can serve one of those functions. Beehive rubbed their cheddar with hatch chiles and coriander for a spicy, flavorful finish that would work well on its own. Cheddar flavors serve as the opener and the chiles carry through the bite and can serve as the closer. However, it's way more fun to add additional layers and I know you have an emergency stash of parmesan in your fridge perfect for times like this.
For the topping we're going to sauté sliced red onion in a small amount of butter until they turn translucent and begin to brown. We aren't necessarily going for caramelized onions here. They would be amazing on this, but nobody around here has the time or patience for that. However, this will bring out some of the sweetness in the onion. The sweet onion flavors compliment the bold sauce in a way you wouldn't find from many other toppings.
Hatch chile Cheddar mac and cheese is an impressive dish that won't take a ton of ingredients or all afternoon to accomplish. It's accessible enough to knock out in 30 minutes on Tuesday night or any time you need some flavorful cheesy pasta in your life.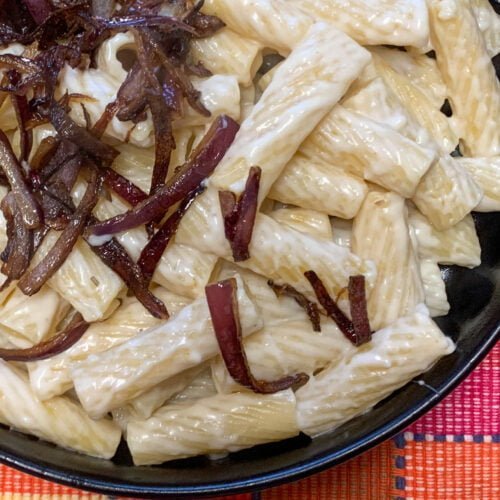 Beehive Red Butte Hatch Chile Mac and Cheese Recipe
Hatch chile flavors shine through beautifully in this easy to make mac and cheese.
Ingredients
16 oz Pasta

3 tbsp Butter

2 tsp Minced Garlic

2 tbsp Flour

2 cups Whole Milk

3/4 cup Grated Parmesan

1 cup grated Beehive Red Butte Hatch Chile Cheese

salt

to taste

1/2 sliced Red Onion
Instructions
Prepare the pasta according to package directions, making sure to salt the water.
Prepare the sauce
Pre heat your milk in the microwave for 45 seconds – just enough to take the chill out of it.

Melt butter in a sauce pan over medium heat and let it heat until it becomes foamy.

Stir the garlic into your butter and allow it to cook for a minute.

Mix in flour. Cook it for a minute while stirring constantly

Slowly add warmed milk to the butter mixture 1/4 cup at a time. Whisk it continually until combined. 

Once all of the milk is added, cook for a few minutes while whisking it. Do not let it boil. You will feel the sauce start to thicken. It's ready for cheese when you rub a small amount between your fingers and it feels silky.

Remove from heat and stir in your cheese until it's melted and mixed into the sauce.

Once the cheese is incorporated, use a cooked noodle to taste your sauce. If it doesn't taste cheesy enough try adding a little salt to bring out the flavor.

Combine the pasta and sauce.

Sauté sliced red onion in a little bit of butter until they turn translucent and begin to brown.

Top mac and cheese with onions.
---