Mac and Cheese Pizza Recipe
Sometimes you don't know what you want to eat. There are times where your heart wants both cheesy pasta and a marinara and cheese covered flatbread. The only way to fill that desire is by making yourself a mac and cheese pizza. It's the marriage between two of the best comfort foods out there.
Note: This article contains affiliate links to products that I love and use to make mac and cheese in my own kitchen. When you click links here and make a purchase, I receive a commission at no additional cost to you. For more information, see my Affiliate Link Policy here.
Garlic naan serves as the base of the pizza. It's soft, flavorful, and easy to keep on hand for times like this. It also works well toasted on a charcuterie board served with cream cheese dip, or as a replacement for bread in sandwiches.
This is a great way to use up leftover mac and cheese. Ideally aim for something with smaller noodles but whatever you have kicking around in your fridge is great. If your fridge is lacking in cheesy goodness, you can make some fresh. I'm partial to the simple stovetop mac and cheese recipe. The cheddar and parmesan cheese sauce compliments this recipe well.
Whatever pizza sauce you have on hand is great. We're going for quick and easy and nothing says easy like spooning marinara out of a jar to assemble these pizzas. If you're a sauce purist and need fresh made sauce, this recipe looks fantastic and you can freeze the rest for any other pizza related emergencies that may come up.
Mac and cheese pizza is the perfect marriage of two of the best comfort foods in the world. All of the ingredients you can keep on hand for any time you're feeling for some cheesy goodness.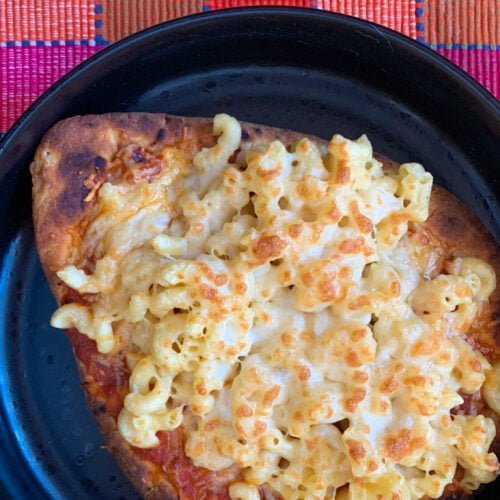 Mac and Cheese Pizza Recipe
Mac and cheese pizza is a fun way to combine two of the best foods.
Ingredients
Garlic Naan

Mozzarella Cheese

Pizza Sauce

Prepared Mac and Cheese
Instructions
Preheat the oven to 400°

Toast your naan for 3 minutes.

Spread pizza sauce across the naan.

Top pizza sauce with a generous helping of mac and cheese

Cover with mozzarella cheese.

Bake for 5 minutes. Switch your oven to broil

Broil for 3 minutes, or until the cheese is browned.

Allow to cool and serve.
---