Aldi Frozen Lobster Mac and Cheese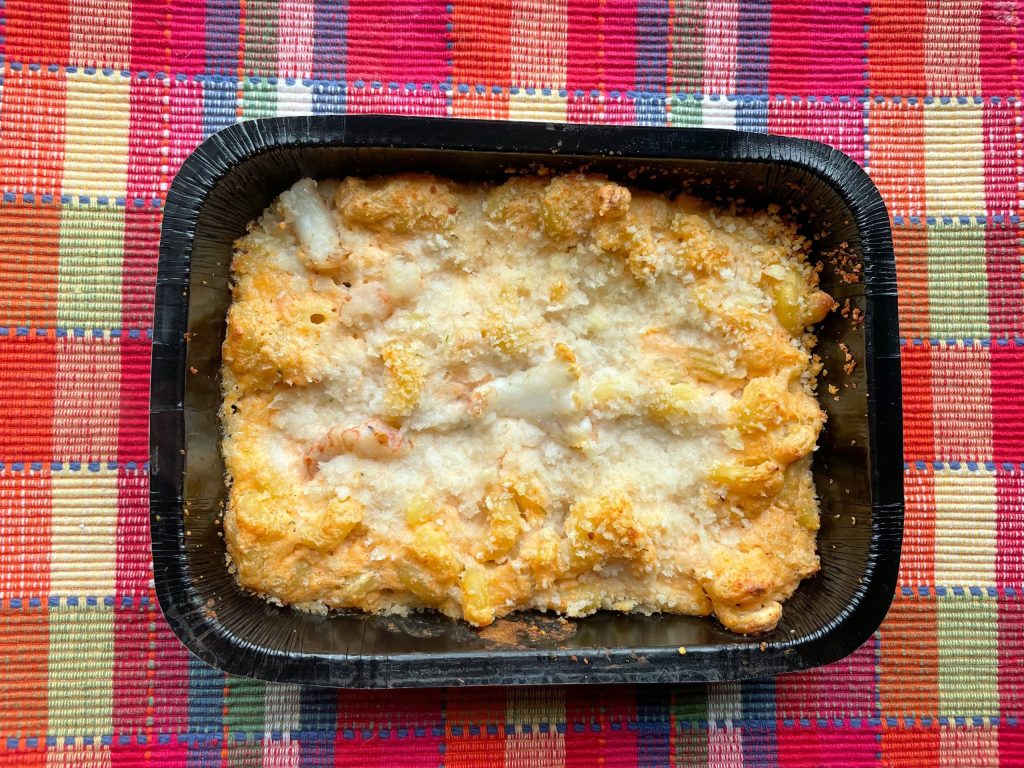 Aldi brought back their frozen lobster mac and cheese and you can't miss it. It's a rich, flavorful mac and cheese at a low price point that would be great to keep on hand for low effort impressive dinners.
Pasta
Small sized pasta frequently doesn't offer any texture variance in the dish, and can show grittiness in the sauce. Long or large sized pasta is difficult to eat. You spend so much time fighting it onto the fork that eventually it loses its appeal. However, medium sized pasta meets my goldilocks needs for an amazing mac and cheese. Aldi used cavatappi as the pasta vehicle. Cavatappi is a perfect mac and cheese noodle. The corkscrews shape is fun, and has lots of texture to hold onto sauce. It's also a great size. Cavatappi fits perfectly into that medium sized category,
Sauce
Aldi uses cheddar, fontina, and asiago in their sauce. This combination will balance out beautifully with opening and closing flavors. They do a great job highlighting the rich lobster flavor throughout the sauce, making every bite flavorful.
Toppings
This mac and cheese is topped with generous chunks of lobster and breadcrumbs. The lobster was obviously the highlight, lending a rich flavor throughout the dish. However, the breadcrumbs left a lot to be desired. Rather than a crispy enhancement across the top of the cheesy pasta, they were soggy and unappealing. The pasta would have been much better off without it.
Cooking Notes
The packaging offers instructions for baking and microwave cooking. Don't even acknowledge the microwave option. If you need a quick meal, this shouldn't be it. The texture improves significantly after baking. You'll lose out on crispy sides, and the bread crumbs will be even more of a mushy mess. You'll need to bake this for 40 minutes
Price
18 oz of Lobster Mac and cheese will set you behind $5.99. It's easily enough for two servings, but you could stretch it by serving it with a salad or even some steamed vegetables.
The lobster mac and cheese from Aldi is delicious and fancy enough to impress without breaking the bank. I would absolutely consider keeping a few boxes on hand for nights when we need a low effort meal.
---