The Unofficial Gilmore Girls Cookbook Mac and Cheese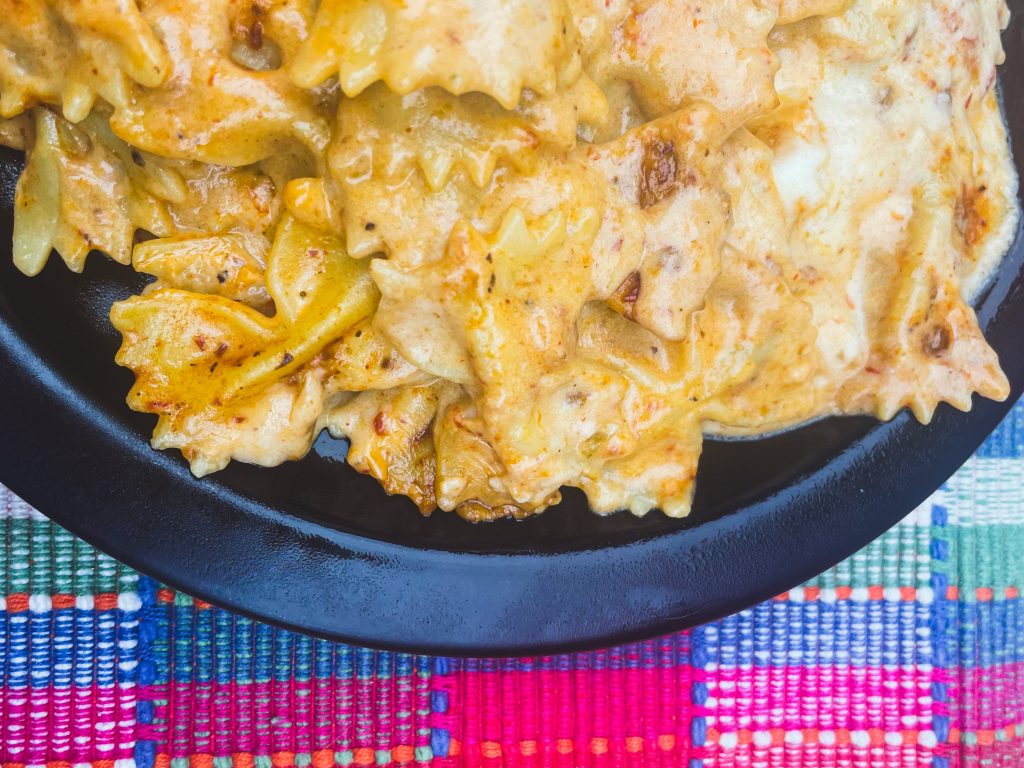 In season 4 of Gilmore Girls, Sookie is catering a kids party and makes mac and cheese with a chipotle jalapeno cream sauce much to the dismay of Lorelai. She attempts to explain that no child is going to eat green mac and cheese.
Note: This article contains affiliate links to products that I love and use to make mac and cheese in my own kitchen. When you click links here and make a purchase, I receive a commission at no additional cost to you. For more information, see my Affiliate Link Policy here.
I am not a kid, so this sounds amazing to me, and when I saw this mac and cheese was included in the Unofficial Gilmore Girls Cookbook, I had to make it immediately.
The process for preparing this dish is different from any mac and cheese I have made to date. Effectively you make a jalapeno chipotle salsa that is tossed with fully cooked pasta. The pasta marinates in the salsa while you prepare a cheddar sauce that is then folded in with the pasta mixture.
Pasta
This recipe uses Farfalle, or bow tie pasta. When choosing a pasta there are a few important details to keep in mind. Pasta that is too long or too large is difficult to eat and takes the fun out of it. Pasta that is too small tends to get lost in the sauce. Bow tie pasta is the perfect balance between pasta with some structure and pasta that is too cumbersome to eat.
Jalapeño Chipotle Sauce
Shopping for ingredients was a slight challenge. The recipe calls for 3 chipotle peppers, but isn't clear what form you need. Chipotle peppers are jalapenos that are allowed to fully mature and are then smoked and dried. I grabbed a can of chipotle in adobo, but in hindsight I probably should have grabbed dried chipotles and rehydrated them prior to making this recipe, but the recipe listed it the same way as the jalapenos, so had I not known better I would have searched the fresh produce for chipotle peppers. Additionally, the adobo added extra red to the dish, so this was decidedly not green.
Preparation Method
The cream sauce followed a similar method that I use in my own recipes, but slightly increased. The sauce was delicious and balanced out nicely with the chipotle sauce.
After combining the ingredients, the dish is baked covered for 20 minutes and then uncovered for an additional 10. I expected this to give it more of a crispy topping, but it really didn't. I question the necessity of baking it for quite so long, seeing as it was fully cooked going into the oven.
Final Result
This Gilmore Girls inspired mac and cheese dish was creamy and packed with flavor. Fresh out of the oven, it was lightly spicy. But the longer it sat in the fridge the more the flavors had the opportunity to grow. If you are sensitive to spicy food, this is one that you will want to avoid leftovers.
---