Mac and Cheese Nachos
Do you remember the pasta chips trend? People were seasoning and air frying pasta to create these crispy chips perfect for dipping into delicious sauces. I made my own variety with a mac and cheese twist and it's still one of the more fun recipes here.
Today is National Mac and Cheese day, and I'm creating a mac and cheese recipe for every meal. When contemplating snack mac and cheese recipes, I kept landing on pasta chips and how delicious they would be smothered in cheese sauce and nacho toppings. Mac and cheese nachos feels like the perfect snack food version of our favorite food and I am obsessed with how great this is.
Note: This article contains affiliate links to products that I love and use to make mac and cheese in my own kitchen. When you click links here and make a purchase, I receive a commission at no additional cost to you. For more information, see my Affiliate Link Policy here.
Pasta
Pasta chips are fun, crispy vehicles for sauce. Making them took more time than I expected, but the result was absolutely worth it. Our air fryer is relatively small and took a few rounds to get everything fried to the right consistency. With a larger air fryer I'm sure you could knock out a full batch of these much quicker than I did.
Just like when you eat nachos, the edges of the dish were crunchy, while the chips under the toppings absorbed some of the sauce and became softer. If you aren't a fan of soggy chips, serving these dip style with the cheese sauce and toppings in a bowl would be a perfectly acceptable compromise.
Sauce
When you taste a piece of cheese the flavor of a cheese tends to lean toward the beginning of the bite or the end. Well balanced cheese sauce makes use of cheeses that fit on both ends of the spectrum. Cheddar is an opener cheese. the flavor hits at the beginning of the bite. On the other hand, Parmesan sits at the end of the bite making it a closer cheese. When you pair these two cheeses together the cheesy flavor carries throughout the entire bite.
I wanted my cheese sauce to have a little bit of a kick, but after making the chipotle mac and cheese from the Gilmore Girls Cookbook I was skittish about using a whole can of chipotle in my sauce. I wanted it to have a little spice, but not so much that I couldn't taste anything else. Rough chopping a can of chipotle in adobo and then gradually stirring it in gave me the flexibility to adjust the spiciness to our taste.
Toppings
While the cheese sauce packs a ton of flavor, toppings are arguably the best part of nachos. I kept mine relatively basic with sour cream, Hellmann's cilantro lime sauce, shredded chicken, and green onions. If you're looking for a little more of a kick, sliced jalapenos would be an easy upgrade.
Add a Fork
Mac and cheese nachos is the perfect snacky upgrade to the best food in the world. It is a little more time intensive than other recipes here, but well worth the effort.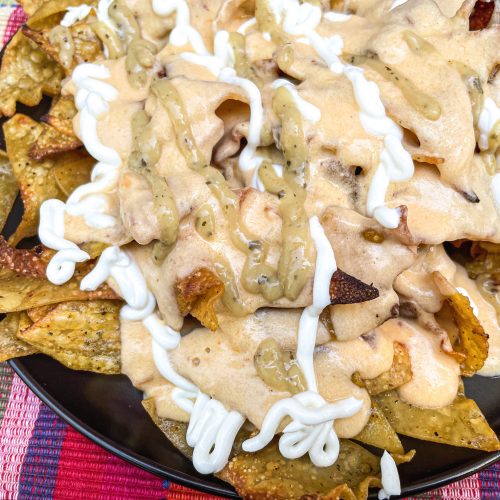 Mac and Cheese Nachos
Pasta chips serve as the base for nachos smothered in chipotle cheese sauce, sour cream, and cilantro lime sauce.
Ingredients
1

lb

Lasagna Sheets

1/2

cup

olive oil

4

oz

Extra Sharp Cheddar

1

can

Chipotle in Adobo

3

tbsp

Butter

3

tbsp

Flour

3

cups

Whole Milk

4

oz

Parmesan

Sour Cream

Hellman's Cilantro Lime Drizzle Sauce

Hatch Chile Verde Seasoning
Instructions
Make the Pasta Chips
Cook lasagna according to package directions.

Cut lasagna sheets into triangles.

Drizzle chips in olive oil and season generously with chile verde seasoning.

Air fry the pasta chips at 400* for 15 minutes until crispy. Shake the basket regularly for even cooking.
Prepare the Chipotle Cheese Sauce
Melt butter in a saucepan over medium heat.

Combine the flour and cook it for 1 minute.

Gradually add milk until fully incorporated. Cook the milk mixture until it begins to thicken and feels silky between your fingers.

Remove from heat and add cheese, stirring until fully melted and incorporated in the sauce.

Spoon the chipotle in adobo into the sauce mixture until desired spiciness level.
Plate the Nachos
Add a generous layer of pasta chips to a plate.

Smother pasta chips in cheese sauce, sour cream, and Chile lime sauce.
---