Unexpected Cheddar Mac and Cheese
Another favorite purchase from our visit to Trader Joe's was Unexpected Cheddar. This is another cheese self describes as a cheddar with parmesan flavors. We know that these cheeses blend beautifully. Cheddar makes a great opener and parmesan is one of my favorite closers. Seeing as Unexpected cheddar contains both elements of both flavors, I had to use it in a mac and cheese.
Any type of pasta would work well here, but continuing our tour of Trader Joe's, I used a pound of Gigli Pasta. The texture of this pasta really stands out. Eating it almost felt like eating chicken and dumplings. This shape holds your sauce beautifully. It'd be fantastic with a beautiful marinara, but we're all here for a creamy, cheesy sauce.
Unexpected Cheddar is fantastically bold. While I typically aim to use 8 ounces of cheese in my mac and cheese recipes, the 7 ounces my block of Unexpected Cheddar offered – save for several bites we snuck while I was cooking – was perfect here. I only brought home one block, and I'm regretting not grabbing another one (or five!)
The toppings on this dish are so fun! Another Trader Joe's staple, Everything but the Bagel Seasoning, adds a punch of salty garlic and onion flavors that compliment the cheese beautifully. When I reheated the leftovers for lunch, the dried onions in the seasoning absorbed some of the moisture and plumped into tasty pockets of flavor. Next time I'll definitely be adding some to the sauce so I can get that experience from the beginning. Cheddar flavored parmesan crisps added some crunch to round out the bowl. You can buy them or even make your own with some leftover cheddar.
Trader Joe's has so many fantastic options for mac and cheese lovers. The more I delve into our purchases, the more sad I am that we don't have access to one all the time. Until then I'll keep submitting suggestions for them to open one here.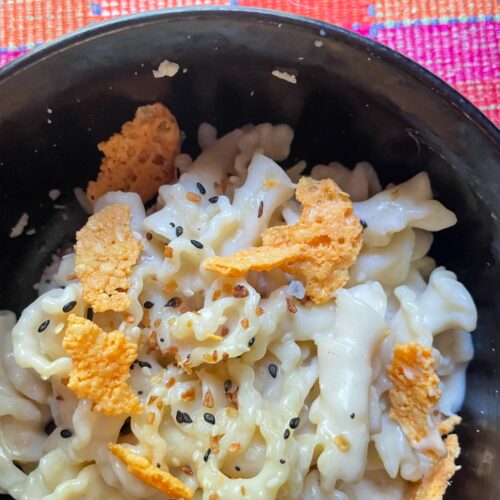 Trader Joe's Unexpected Cheddar Mac and Cheese
Cheddar and parmesan flavors blend perfectly into a fantastically bold mac and cheese.
Ingredients
16 oz Pasta

3 tbsp Butter

3 tbsp Flour

3 cups Whole Milk

7 ounces Unexpected Cheddar, grated

Salt to taste
Toppings
Cheddar parmesan crisps

Everything bagel seasoning
Instructions
Prepare the pasta according to package directions in well salted water.
Prepare the sauce
Pre heat your milk in the microwave for 45 seconds – just enough to take the chill out of it.

Melt butter in a sauce pan over medium heat and let it heat until it becomes foamy.

Mix in flour. Cook it for a minute while stirring constantly

Slowly add warmed milk to the butter mixture 1/4 cup at a time. Whisk it continually until combined. 

Once all of the milk is added, cook for a few minutes while whisking it. Do not let it boil. You will feel the sauce start to thicken. It's ready for cheese when you rub a small amount between your fingers and it feels silky.

Remove from heat and stir in your cheese until it's melted and mixed into the sauce.

Once the cheese is incorporated, use a cooked noodle to taste your sauce. If it doesn't taste cheesy enough try adding a little more salt to bring out the flavor.

Combine the pasta and sauce. Top with parmesan crisps and everything bagel seasoning.
---