Old Croc Cheddar Mac and Cheese
In case you haven't noticed, mac and cheese and I are involved. I'm guessing your presence here means you too, have all the feels for the best food in the world. This recipe, made with Old Croc Cheddar is the best demonstration of what a good mac and cheese should be. Every ingredient is full of flavor and they all come together beautifully.
Note: This article contains affiliate links to products that I love and use to make mac and cheese in my own kitchen. When you click links here and make a purchase, I receive a commission at no additional cost to you. For more information, see my Affiliate Link Policy here.
The Old Croc Australian Extra Sharp Cheddar is a fabulous opener to the bowl. I love using cheddar in mac and cheese, and this one is too special to take a back seat. It packs a punch of flavor that really is hard to beat, and I know my way around a block of cheddar.
Dill rubbed fontina makes an herby closer. It rounds the bite out well, and adds a layer of freshness I did not expect. It's a fabulous companion cheese and balances the cheddar so well. Old Croc's offering needed a good cheese to stand beside it, and fontina holds its own. The dill is a nice addition that isn't necessary but brings something extra you just didn't expect.
Crispy onions add a crunchy texture that lends some fun. The added texture that they provide make every mouthful more delightful. And the bonus onion flavor layers with the other ingredients beautifully. I was nervous to use so many prominent ingredients in one dish, but they each elevate without overpowering.
However, Old Croc Cheddar is such a bold cheese, you need your other ingredients to pack a punch and this recipe does that and more. It's the perfect recipe when you're craving a ton of flavor.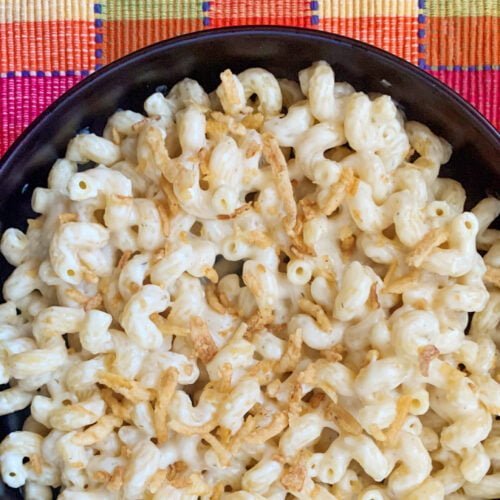 Old Croc Cheddar and Dill Rubbed Fontina Mac and Cheese
Sharp Cheddar pairs beautifully with Dill rubbed fontina for a bowl of mac and cheese you'd be proud to serve to everyone you know.
Ingredients
16 oz pasta

2 tbsp butter

2 tbsp flour

2 Cups whole milk

1 cup grated Old Croc Extra Sharp Cheddar

1 cup grated Dill Rubbed Fontina

salt to taste

Crispy onions
Instructions
Prepare the pasta according to package directions.
Prepare the sauce
Pre heat your milk in the microwave for 45 seconds – just enough to take the chill out of it.

Melt butter in a sauce pan over medium heat and let it heat until it becomes foamy.

Mix in flour. Cook it for a minute while stirring constantly

Slowly add warmed milk to the butter mixture 1/4 cup at a time. Whisk it continually until combined. 

Once all of the milk is incorporated, continue to heat the sauce while stirring. Do not let it boil. The sauce is ready for the cheese when you rub a small amount between your fingers and it feels silky.

Remove from heat and stir in your cheese until it's melted and mixed into the sauce.

Once the cheese is incorporated, use a cooked noodle to taste your sauce. If it doesn't taste cheesy enough try adding a little salt to bring out the flavor.

Combine the pasta and sauce.

Garnish with crispy onions.
---