Crab Mac and Cheese
I can't believe we've gone this long without a crab mac and cheese recipe. Crab meat is such a versatile ingredient. I like to keep a can on hand for making crab cakes or to toss into pasta. Crab mac and cheese was an inevitability out of my kitchen and I'm so excited to share it with you.
Note: This article contains affiliate links to products that I love and use to make mac and cheese in my own kitchen. When you click links here and make a purchase, I receive a commission at no additional cost to you. For more information, see my Affiliate Link Policy here.
I love a mac and cheese topping that you can just pop on there without any extra cooking. Grilled chicken pasta is fabulous, but it requires additional cooking time and another dirty pan to wash. Some days I just need the easy option. Canned crab fits that bill perfectly. You can eat it straight out of the can, making it easy to toss into your cheese sauce for an impressive finish.
I used white crab meat because that's what we had on hand, which lead to bits of crab throughout the dish. However, lump crab would provide a better texture experience. Especially if you have someone to impress.
Cabot's Seriously Sharp Cheddar is the opener cheese in this bowl. It's strong enough to stand out without overpowering the other flavors. It tastes very similar to the generic Kroger extra sharp cheddar I grab at my local grocery store but should be easier to get your hands on.
I picked Asiago cheese for the closer. Like parmesan, it's flavor sits at the end of the bite. It compliments the cheddar beautifully. The cayenne and mustard powder stand out beautifully while highlighting the other flavors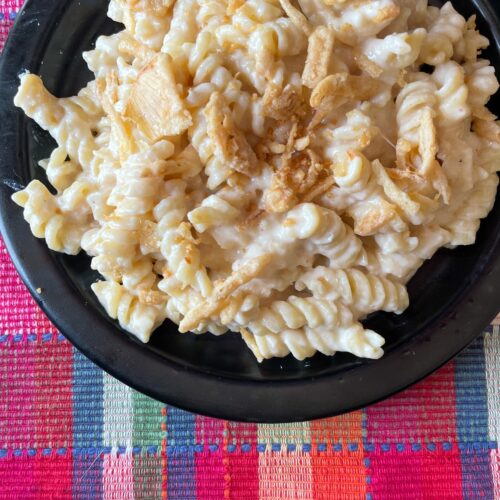 Crab Mac and Cheese
Crab mac and cheese featuring a cheddar asiago sauce with crab meat and crispy onions.
Ingredients
16 oz Pasta

3 tbsp Butter

3 tbsp Flour

3 cups Whole Milk

1/2 tablespoon Ground Mustard

1/4 teaspoon Cayenne

1 cup grated Extra Sharp Cheddar

1 cup grated Asiago
Toppings
6 oz Can of Crab

Crispy Onions
Instructions
Prepare the pasta according to package directions.

Open and drain crab, set aside.
Prepare the sauce
Pre heat your milk in the microwave for 45 seconds – just enough to take the chill out of it.

Melt butter in a sauce pan over medium heat and let it heat until it becomes foamy.

Mix in flour. Cook it for a minute while stirring constantly

Slowly add warmed milk to the butter mixture 1/4 cup at a time. Whisk it continually until combined. Add Mustard powder.

Once all of the milk is added, cook for a few minutes while whisking it. Do not let it boil. You will feel the sauce start to thicken. It's ready for cheese when you rub a small amount between your fingers and it feels silky.

Remove from heat and stir in your cheese until it's melted and mixed into the sauce.

Once the cheese is incorporated, use a cooked noodle to taste your sauce. If it doesn't taste cheesy enough try adding a little more salt to bring out the flavor.

Stir the crab meat into the sauce.

Combine pasta and sauce. Top with a crispy onions.
---