Breakfast Mac and Cheese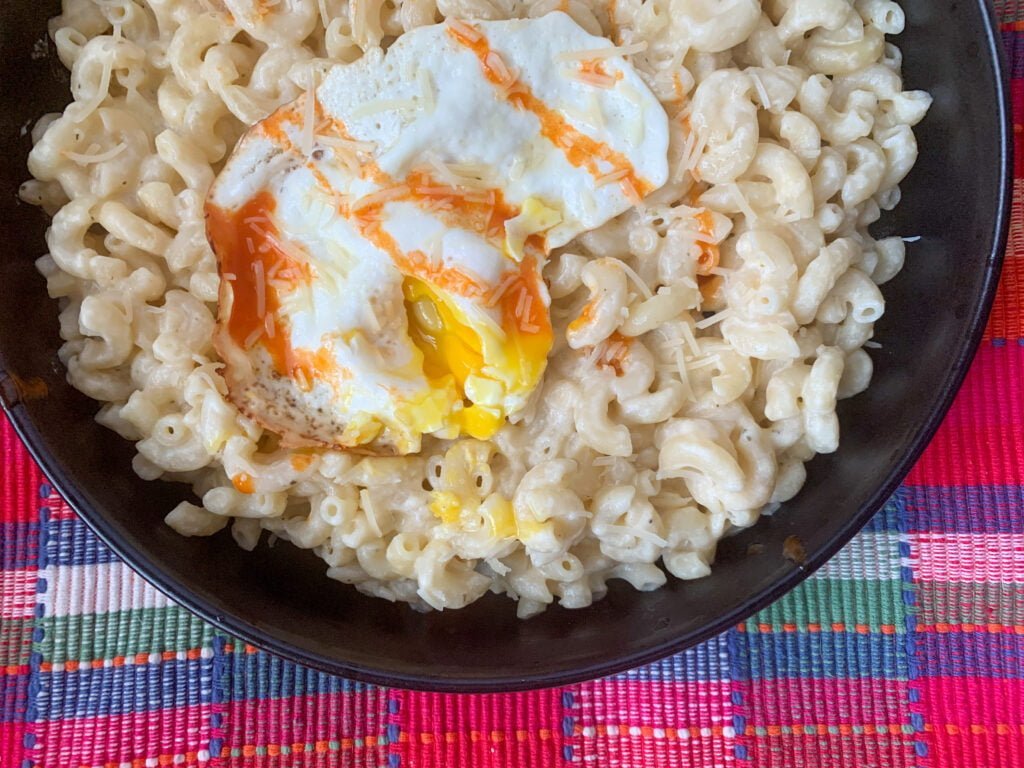 I kept this breakfast mac and cheese recipe tucked in my back pocket for quite some time. At it's core, it seems like it should be a home run. But to be honest, I was skeptical. you see, while many people subscribe to the put an egg on it cult, I am not so sure. I have never had a bad experience from an egg topped dish, but there's a first time for everything.
Nonetheless, this very much surpassed my expectations. Alvaro said it was in his top 3 recipes to come from our experimentation. There's something magical about a drippy fried egg atop a bed of flavorful mac and cheese under a blanket of hot sauce. Even though I don't subscribe to the fried egg club, even I can recognize how amazing this recipe is.
If you never fried an egg, today is as good a day as any to start. Here's a great guide if you need some help. I fried my egg on medium heat in a tablespoon of melted butter until the white set, flipping it and allowing it to cook for another 90 seconds. This technique works perfectly on toast, with a side of bacon, or balanced beautifully on a bowl of breakfast mac and cheese.
The sauce blend I used here is beautiful. I knew it had to be massively flavorful. Doubling the amount of garlic used in my Simple Stovetop Mac and Cheese Recipe ensures the garlic flavor carries through the egg. Make sure to use the longest aged cheeses you can find to punch up the cheese flavor.
As far as hot sauce goes, you have plenty of options. I love the flavor of buffalo sauce, but Tabasco, Valentina, or even sriracha would work well. If you aren't a hot sauce fan, this could be fun with salsa.
I was skeptical at first, and you may be too, but this recipe is surprisingly delightful. The perfect blend of breakfast and the best food in the world.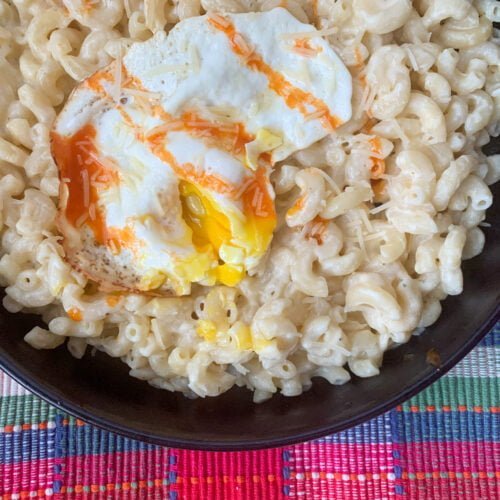 Breakfast Mac and Cheese
There's something magical about breakfast Mac and Cheese featuring a drippy fried egg atop a bed of flavorful mac and cheese under a blanket of hot sauce.
Ingredients
16 oz Pasta

2 tbsp Butter

2 tbsp Flour

2 cups Whole Milk

1 cup grated Extra Sharp Cheddar

3/4 cup grated Parmesan Cheese

2 tsp Garlic Paste (or two minced garlic cloves)

1 tbsp Italian seasoning

salt to taste

Fried egg
Instructions
Prepare the pasta according to package directions.
Prepare the sauce
Pre heat your milk in the microwave for 45 seconds – just enough to take the chill out of it.

Melt butter in a sauce pan over medium heat and let it heat until it becomes foamy.

Mix in flour. Cook it for a minute while stirring constantly

Slowly add warmed milk to the butter mixture 1/4 cup at a time. Whisk it continually until combined. 

Once all of the milk is incorporated, continue to heat the sauce while stirring. Do not let it boil. The sauce is ready for the cheese when you rub a small amount between your fingers and it feels silky.

Remove from heat and stir in your cheese, garlic and spice until the cheese is melted and mixed into the sauce.

Once the cheese is incorporated, use a cooked noodle to taste your sauce. If it doesn't taste cheesy enough try adding a little salt to bring out the flavor.

Combine the pasta and sauce.

Fry an egg for each person you're serving.

Plate your mac and cheese with a fried egg. Top with more grated parmesan and hot sauce.
---