Mozzarella Stick Mac and Cheese
I'm a sucker for mac and cheese with a good topping. Cheesy pasta is amazing on its own, but garnishes add a layer of depth that make the dish more interesting. They elevate the bowl with new flavors and textures that you won't find in your standard Thanksgiving side. Mozzarella stick mac and cheese is a perfect example of how those flavors can harmonize into something amazing.
Note: This article contains affiliate links to products that I love and use to make mac and cheese in my own kitchen. When you click links here and make a purchase, I receive a commission at no additional cost to you. For more information, see my Affiliate Link Policy here.
The great thing about loving mac and cheese as much as I do, is that inspiration can strike at the best of times. When I stumbled across these mozzarella sticks in the freezer section, I knew they had to lay on a bed of mac and cheese. It just so happens that a few days later I stumbled across Farm Rich's search for a Chief Cheese Officer. It felt like fate. Destiny wanted mozzarella stick mac and cheese.
This recipe starts off with pasta in a fabulous cheddar parmesan sauce accentuated with dijon mustard. We know these cheeses blend beautifully together, but the mustard really punches it up a bit, ensuring the cheese sauce isn't overshadowed by the toppings. On its own, this recipe would be beautiful with just pasta and sauce, but the fun here lives in the toppings.
I air fried the mozzarella sticks according to package directions before assembling the dish. The pasta isn't in the oven long enough for them to fully cook. Broiling them after air frying them helps preserve the crispy crust while they sit nestled in their cheesy bed. And it gives the extra parmesan a chance to form a blanket over everything.
Mozzarella stick mac and cheese is a dream turned into reality. It's some of the best foods all in one dish.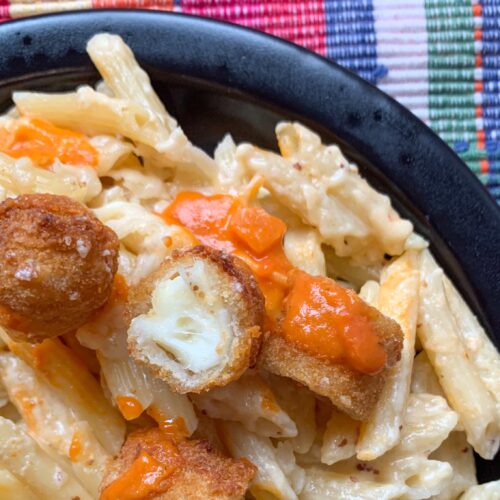 Mozzarella Stick Mac and Cheese
Ingredients
16 oz Pasta

2 tbsp Butter

2 tbsp Flour

2 cups Whole Milk

1 cup grated Extra Sharp Cheddar

3/4 cup grated Parmesan Cheese plus 1/4 cup for topping

1 tbsp minced garlic

1 tbsp dijon mustard

salt to taste

Frozen Mozzarella Sticks

Marinara Sauce
Instructions
Prepare the pasta according to package directions.

Air fry mozzarella sticks at 360 for 6 minutes.

Turn on your broiler
Prepare the sauce
Preheat your milk in the microwave for 45 seconds – just enough to take the chill out of it.

Melt butter in a sauce pan over medium heat and let it heat until it becomes foamy.

Add garlic and cook for a minute in the butter.

Mix in flour. Make sure flour and butter are fully combined before moving to the next step.

Slowly add warmed milk to the butter mixture 1/4 cup at a time. Whisk it continually until combined. 

Once all of the milk is incorporated, continue to heat the sauce while stirring. Do not let it boil. The sauce is ready for the cheese when you rub a small amount between your fingers and it feels silky.

Remove from heat and stir in your cheese and mustard until it's melted and mixed into the sauce.

Once the cheese is melted, use a cooked noodle to taste your sauce. If it doesn't taste cheesy enough try adding a little salt to bring out the flavor.

Combine the pasta and sauce.

Spread your mac and cheese in an oven safe dish.

Layer mozzarella sticks on top of your pasta and spread the remaining parmesan cheese on top.

Broil for 3 minutes or until the cheese starts to brown.

Top with a drizzle of marinara sauce before serving.
---