Hatch Pepper Cheddar Mac and Cheese Recipe
I was raised on authentic Mexican food. At least two meals every day were a beautiful representation of the colorful cuisine my heritage offers. It's no surprise that I find myself drawn to infuse flavors that are dear to me into any food I create. Mac and Cheese is the perfect vehicle that allows this with ease. This is one of the many reasons I adore it. This green Chile mac and cheese recipe came as a result of that combination and I love it.
Note: This article contains affiliate links to products that I love and use to make mac and cheese in my own kitchen. When you click links here and make a purchase, I receive a commission at no additional cost to you. For more information, see my Affiliate Link Policy here.
I came across Henning's Hatch Pepper Cheddar Cheese in our local grocery store and knew it would work wonderfully in a Green Chile Mac and Cheese sauce. It needed a Mexican flavor so I decided I wanted to pair it with Oaxaca (quesadilla) cheese. I picked up Oaxaca Cheese to give it a queso fundido texture. I like my mac to be saucy but have a super cheesy texture. Oaxaca cheese is perfect for that and it has a subtle flavor that would allow the chile flavors to shine through. The final ingredient to tie my Mac and Cheese sauce together is salsa verde.
The salsa provides flavors from the tomatillo that do wonders with the cheeses. To incorporate the salsa, I melted the cheeses into my sauce and kept it at a low heat in the sauce pan. Adding salsa verde 1 tablespoon at a time, I mixed it until it was flavorful and the sauce was perfectly creamy. There is no right answer on how much salsa verde to add, add until you are satisfied with the flavor and consistency of the Mac and cheese Sauce.
I topped my recipe with crushed lime flavored tortilla chips and green onions. They were the perfect compliment for this humble hatch pepper cheddar mac and cheese that reminded me of the many meals my momma provided for me. Enjoy!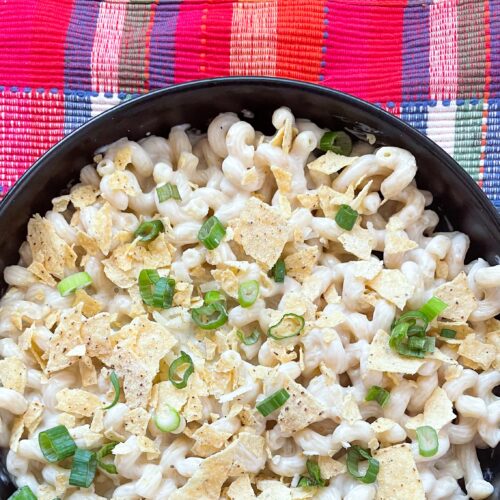 Henning's Hatch Pepper Cheddar Mac and Cheese Recipe
This Henning's Hatch Pepper Cheddar Mac and Cheese is the perfect infusion of mac and cheese and flavors from my Mexican Heritage.
Ingredients
16 oz Pasta

2 tbsp Butter

2 tbsp Flour

2 cups Whole Milk

1 cup grated Henning's 

3/4 cup grated

salt to taste

Crushed lime chips and sliced green onion for garnish
Instructions
Prepare the pasta according to package directions.
Prepare the sauce
Pre heat your milk in the microwave for 45 seconds – just enough to take the chill out of it.

Melt butter in a sauce pan over medium heat and let it heat until it becomes foamy.

Mix in flour. Cook it for a minute while stirring constantly

Slowly add warmed milk to the butter mixture 1/4 cup at a time. Whisk it continually until combined. 

Once all of the milk is added, cook for a few minutes while whisking it. Do not let it boil. You will feel the sauce start to thicken. It's ready for cheese when you rub a small amount between your fingers and it feels silky.

Remove from heat and stir in your cheese until it's melted and mixed into the sauce.

Once the cheese is incorporated, use a cooked noodle to taste your sauce. If it doesn't taste cheesy enough try adding a little salt to bring out the flavor.

Combine the pasta and sauce.

Garnish with green onions and crushed lime chips.
---