Thanksgiving Mac and Cheese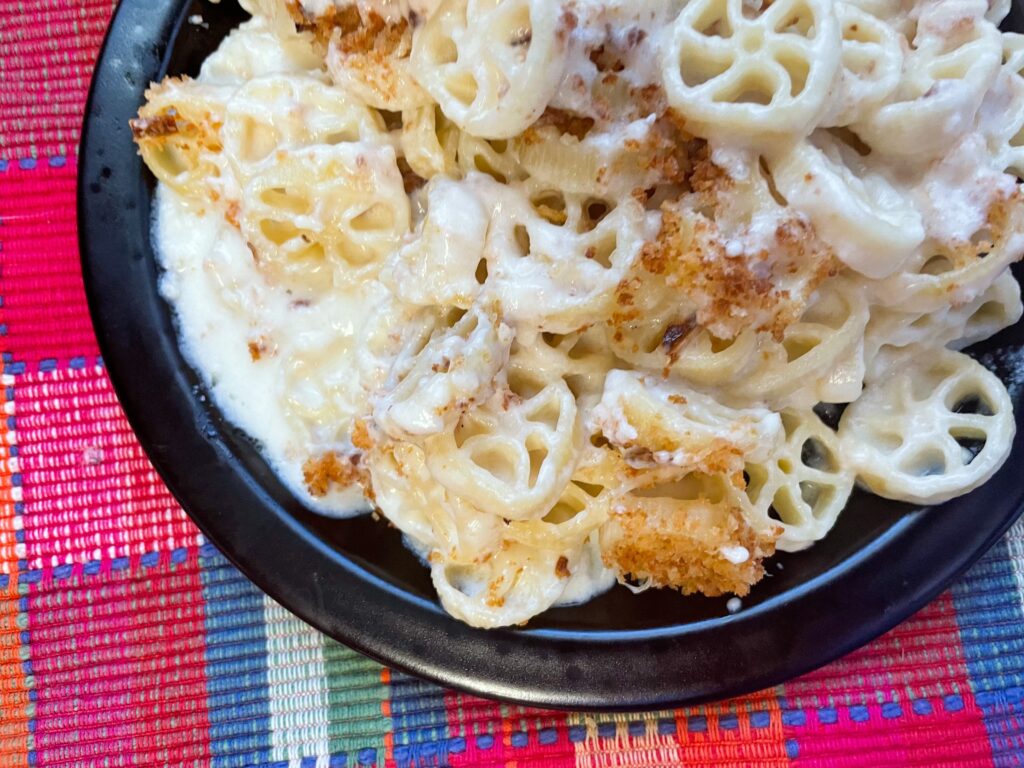 We all know whey you're here. Thanksgiving is next week, and you need a stellar Thanksgiving mac and cheese recipe to add to your menu. Everyone thinks the turkey is in the spotlight, but mac and cheese is why we're at the table. Lucky for you I have the perfect recipe to highlight your mac and cheese prowess. It's creamy features a baked crust, and enough cheese to make Wisconsin jealous. This mac is wonderful prepared the day of, but can also be set up the day before and baked when you're ready to eat.
Note: This article contains affiliate links to products that I love and use to make mac and cheese in my own kitchen. When you click links here and make a purchase, I receive a commission at no additional cost to you. For more information, see my Affiliate Link Policy here.
Featuring Sartori Heritage Cheddar, a bold cheddar perfect to stand out among the other ingredients. If you can't find this cheese, grab the longest aged cheddar available. Toasted panko adds a nice crunch and the crushed crispy onions add a hit of flavor you don't expect.
If you need to prepare it ahead of time, layer your mac and cheese in an oven safe dish and pop it in the fridge. When you're ready you can toast the panko and you're ready to go! Bake it for 20 minutes at 350* to heat it up and then broil for a few to get the golden crust.
This Thanksgiving mac and cheese recipe is the perfect example of everything that's good about mac and cheese. You get saucy pasta like you'd find from a stovetop mac and cheese, and crispy edges from baking it. Unexpectedly flavorful bread crumbs adorn the top for a perfect, delicious mac and cheese.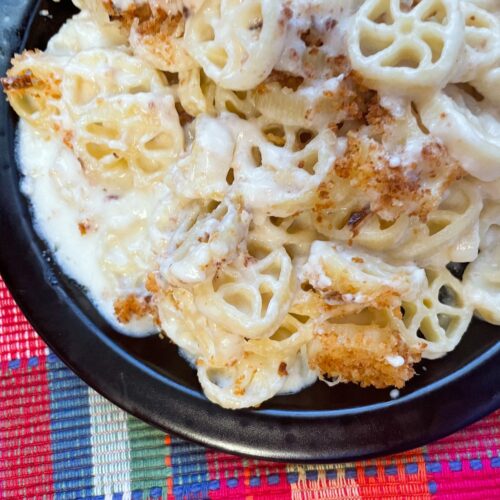 Thanksgiving Mac and Cheese
Ingredients
16 oz Pasta

3 tbsp Butter

3 tbsp Flour

3 cups Whole Milk

7 oz Sartori Bold u0026 Distinct Heritage Cheddar, grated

3/4 cup grated Parmesan

salt to taste
Breadcrumb Crust
1 tablespoon Butter

2/3 cup panko

1/4 cup crispy onions, crushed
Instructions
Prepare the pasta according to package directions.
Prepare toppings
Reserve 1/4 cup each of the grated cheddar and parmesan.

Melt 1 tablespoon butter in a skillet on medium heat

Add panko to skillet and toast until it browns.

Combine toasted panko and crushed crispy onions. Set aside
Prepare the sauce
Pre heat your milk in the microwave for 45 seconds – just enough to take the chill out of it.

Melt butter in a sauce pan over medium heat and let it heat until it becomes foamy.

Mix in flour. Cook it for a minute while stirring constantly

Slowly add warmed milk to the butter mixture 1/4 cup at a time. Whisk it continually until combined. 

Once all of the milk is added, cook for a few minutes while whisking it. Do not let it boil. You will feel the sauce start to thicken. It's ready for cheese when you rub a small amount between your fingers and it feels silky.

Remove from heat and stir in your cheese until it's melted and mixed into the sauce.

Once the cheese is incorporated, use a cooked noodle to taste your sauce. If it doesn't taste cheesy enough try adding a little salt to bring out the flavor.

Combine the pasta and sauce.
Toppings
Preheat your broiler at 500*

Spread the mac and cheese in an oven safe dish.

Top with the cheddar and parmesan you set aside

Sprinkle the panko mixture across the top.

Broil for around 3 minutes. Do not take your eyes off or it will burn.

Cool for a few minutes and serve.
---