Copycat Popeyes Mac and Cheese Recipe
This article was originally published in March 2022. With a year of mac and cheese experience under my belt, it was time for it to be updated and it's better than ever.
The mac and cheese at Popeyes is iconic – so much so, that my review of their side is one of the highest viewed posts here. There are plenty of restaurants you wouldn't visit for the mac and cheese, but Popeyes might be the exception – and for good reason. Their mac and cheese is delicious with a thick layer of melted mac and cheese across the top. It's the perfect embodiment of creamy stovetop mac and cheese with the melty cheesy crust you would see from a baked mac and cheese.
Note: This article contains affiliate links to products that I love and use to make mac and cheese in my own kitchen. When you click links here and make a purchase, I receive a commission at no additional cost to you. For more information, see my Affiliate Link Policy here.
Extra Sharp Cheddar is the star of the show here. You'll need to use an entire pound of it to make sure you have enough to mix in the sauce and melt across the top of the dish. Cream cheese adds richness and helps achieve the thick cheesy crust.  
The magic of this recipe is Cheddar Cheese. So much cheddar cheese. I use the generic Kroger extra sharp cheddar from my local Dillons, but grab whatever sharp cheddar you can find. Both Tillamook and Cabot are great options. Don't buy the pre-shredded cheese if you can avoid it. In order to ensure it won't clump together on store shelves, they use anti-caking ingredients. This is great for them, but not so awesome when you're trying to get it to melt together in a beautiful crust. It's worth the effort to grate it fresh. If you're killing your arm, this is my favorite rotary cheese grater.
Chicken broth adds another layer of savory umami flavor in this dish. I use Better than Boullion and it has never steered me wrong. Their roasted garlic base is a fantastic herby option if you're looking for a vegan option.
The baked crust was an interesting challenge. You can't just throw a handful of shredded cheese across the top and expect an even layer. To achieve this, I combined grated cheddar with softened cream cheese that I could spread across the top of the dish, which is then covered with a blanket of extra cheddar, offering a dense, cheesy topping for delicious creamy mac and cheese.
This copycat Popeyes mac and cheese recipe is not quick by any means. You could prepare a majority of it the day before, and bake it before serving, but otherwise plan to be in the kitchen for a while. This is hands down one of our favorite mac and cheese recipes and well worth every second of prep time.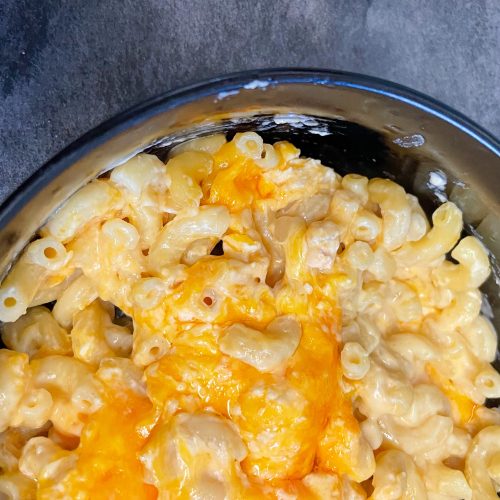 Copycat Popeyes Mac and Cheese Recipe
Ingredients
16 oz Pasta

3 tablespoons Butter

3 tablespoons Flour

3 cups Whole Milk

1/2 tablespoon Better than Bullion

chicken

16 ounces Extra Sharp Cheddar

8 ounces Cream Cheese
Instructions
Turn on your broiler

Grate cheddar

Prepare the pasta according to package directions.

Pre heat your milk in the microwave for 45 seconds – just enough to take the chill out of it.

Melt butter in a sauce pan over medium heat and let it heat until it becomes foamy.

Mix in flour. Cook it for a minute while stirring constantly

Slowly add warmed milk to the butter mixture 1/4 cup at a time. Whisk it continually until combined. Season generously with salt and fresh cracked pepper. Stir in Better Than Boullion

Once all of the milk is added, cook for a few minutes while whisking it. Do not let it boil. You will feel the sauce start to thicken. It's ready for cheese when you rub a small amount between your fingers and it feels silky.

Add 1/2 of the grated cheddar and whisk the cheese mixture until the cheese is combined in the sauce.

Stir the pasta and cheese sauce together.

Spread the mac and cheese into an oven safe dish.

Combine 8 oz cream cheese with 4 oz of the grated cheddar. This should be about half of your remaining cheddar.

Spread cream cheese cheddar mixture across the top of the pasta. If it's difficult to spread, wait a few seconds the heat from the pasta should soften the mixture enough to make it spreadable.

Sprinkle remaining grated cheddar across the top of your dish.

Pop your mac and cheese in the oven until the cheese topping melts.
---