Trader Joe's Hatch Chile Mac and Cheese Review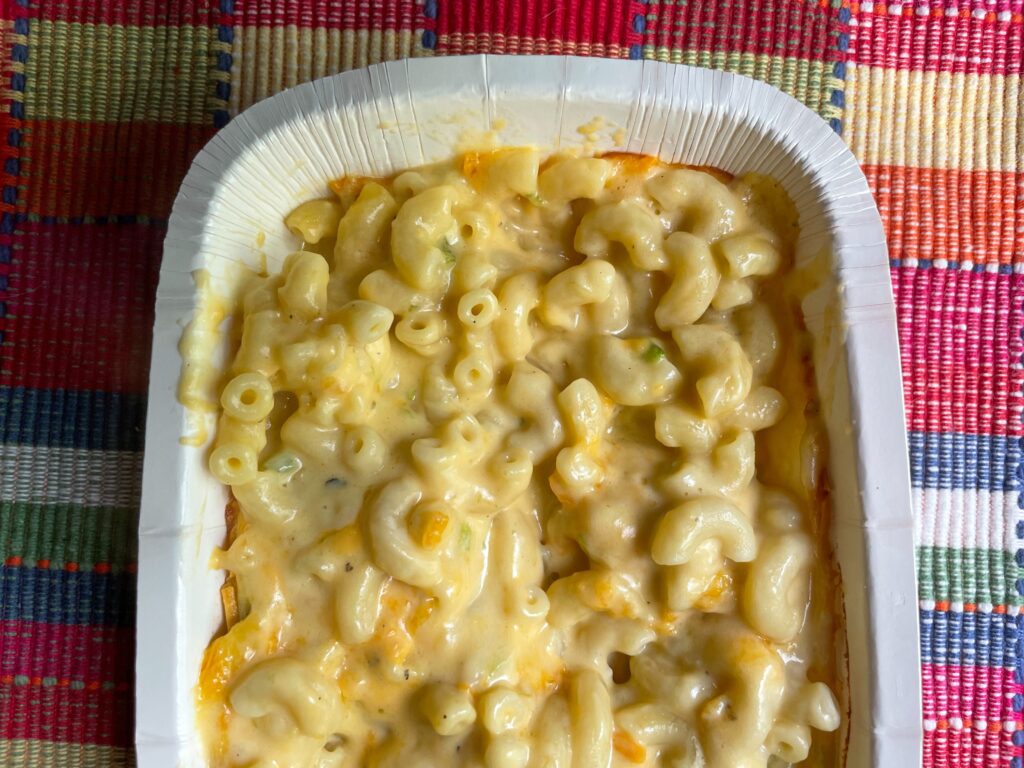 We live about 2 hours from the nearest Trader Joe's, but TJ's is food blogger mecca. When we took a trip to the area we had to pay them a visit. I found so much mac and cheese goodness, but the second we got home I broke into the Trader Joe's Hatch Chile Mac and Cheese.
Visiting Trader Joe's was a great experience. Other than some navigation issues inside the store, everyone was so friendly and helpful. In fact, the cashier was excited to see the hatch chile mac in our haul because it was one of her favorites. I can't wait to share all of our purchases with you.
Their frozen mac and cheese offers two different preparation options – microwave and oven. As a general rule, if I can bake something and I'm not limited on time, I'll take that route. Oven prepared frozen meals tend to have a better texture and I wanted to give this dish it's best shot. To be honest, it does not look great fresh out of the box. This is one of those times when you have to trust the process. Once the oven did its thing and I mixed it well it looked like something I'd be more comfortable eating. Green chile color pops throughout the dish making it's appearance known while being small and smooth enough to convince even your most texture averse toddler to try it.
It's worth noting the portion size is relatively small. Alvaro and I shared it while playing Stardew Valley, and it was a fair enough size for one sitting, but if you want to serve more than one or two people or want leftovers you'll have to grab a few boxes.
Flavor is where this dish really shines. The hatch chile permeates the mac and cheese in a way that enhances but doesn't overpower. Cheddar is the cheese in this dish, a regular favorite around here and perfect in this dish. The sauce was smooth and creamy – exactly what you'd want out of a mac and cheese and something a lot of cheese sauces can struggle with.
At $2.99/box, the Trader Joe's Hatch Chile Mac and Cheese a little more expensive than you'd find a box of Kraft mac and cheese, but you don't have to add any additional ingredients to prepare it, making it comparable. With the time saving of just popping it in the oven or microwave it's well worth consideration.
---