Qdoba Mac & Queso Hack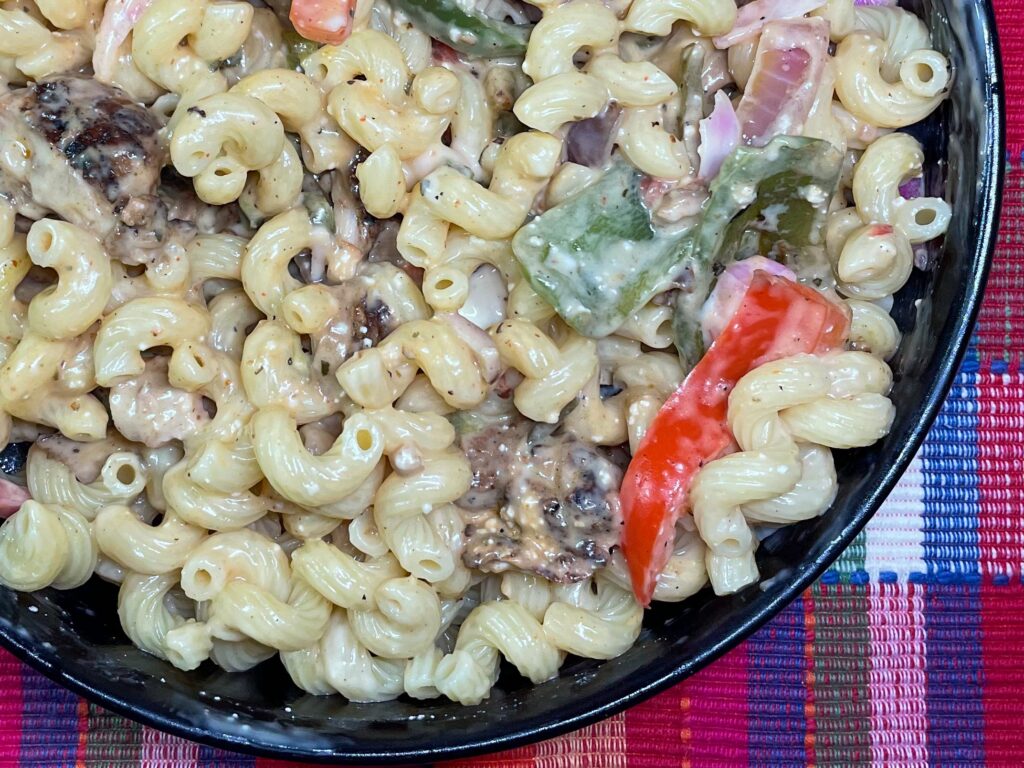 Ever since Qdoba's new mac and cheese announcement, I stalked their website. I check every day to see if it's offered here yet. My Instagram is full of pictures of people excited to eat it. I lamented my lack of access it when I wrote about Popeyes' Homestyle Mac and Cheese. Still no dice. If you weren't lucky enough to have access to it either, I'm about to teach you a Qdoba mac & queso hack. This will work even when they pull it off the menu for everyone else.
When you order nachos from Qdoba, you can order the chips on the side to keep them from getting soggy. This gives us a beautiful opportunity for super easy mac and cheese by tossing your queso with cooked pasta instead of chips.
Per my instruction, they prepped my meal with 3 cheese queso, adobo chicken, fajita veggies, pickled onions, and cotija cheese. I have no doubt the mac would be fabulous with their Queso Diablo, but I wasn't feeling that much spice tonight. I cooked a pound of cavatappi pasta in well salted water because I wasn't sure how much pasta my queso could sustain. It took about half of the pasta, which was perfect for two meals.
If you are having the kind of day where cooking pasta is too much, keeping one of these ready pasta packets on hand would be a perfect solution to having to wait too long to break into cheesy deliciousness.
Obviously this Qdoba mac & queso hack does come with some downsides. You are pretty much guaranteed to have to mix your toppings in order to make this work, so no fun layers of salsa and cheese. You also have to break into your pantry for pasta and wait for it too cook. No snacking straight out of the bag on your way home .
Worried about what to do with the chips that came with your queso? Just use them for a 3 am snack straight out of the fridge or to make chilaquiles for breakfast tomorrow morning. We don't waste food around here.
---