March Macness 2022
It's the best time of the year, and Casey Corn has done it again. It's time to complete our brackets for March Macness 2022. I love how much creativity Casey put in this year's lineup and I can't wait to see how it all plays out. Every division has so many fun options.
Much like last year, I chose my bracket based on how much I like each recipe rather than how I think others will feel about them. It served me well last year, so no point in rocking the boat at this point.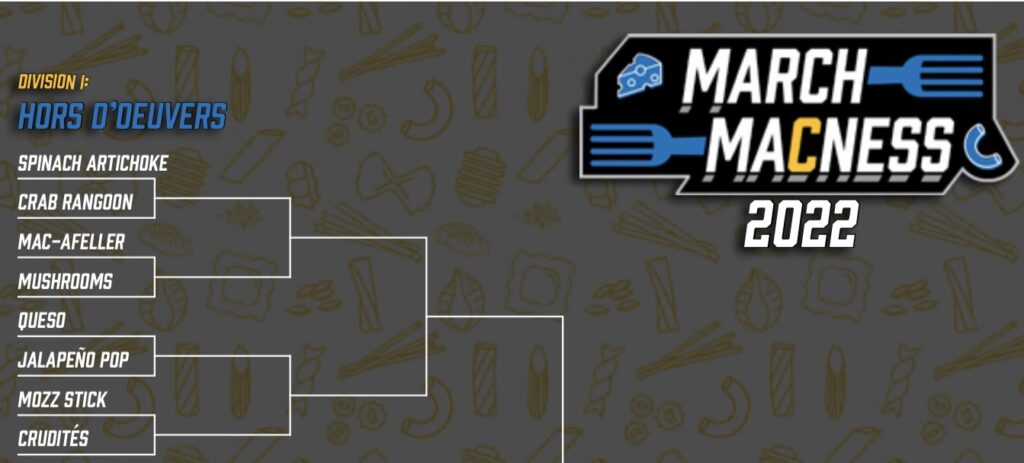 I love a good appetizer. I would happily eat appetizers for my entire meal and not bat an eye. Casey found so many ways to integrate appetizers and mac and cheese together into a beautiful bowl of happiness.
Round 1
Crab Rangoon vs Spinach Artichoke
Crab Rangoon: Imitation crab, Scallion, Wonton, Cream Cheese, Monterey Jack, Zucca
Spinach Artichoke Dip: Spinach, Artichoke, Onion, Cream Cheese, Mozzarella, Parmesan, Trumpets
Spinach Artichoke Dip is an old stand by. It's the appetizer that's always tucked away on the menu, and you can rest comfortably in knowing it will always taste good.
Years ago we'd brunch every Sunday at a local joint. We couldn't get enough of their crab rangoon dip served with a side of crunchy wonton chips. Reading this recipe description invokes feelings of nostalgia and I am so excited to learn more about this recipe.
ALSO Can we talk about how awesome this pasta shape is? Imagine how much cheesy goodness it can soak up in all those folds and layers.
Champion: Crab Rangoon
Mac-afeller vs Mushrooms
Oysters Macefeller Oysters, Garlic, Spinach, Parmesan, Gruyere, Angel Hair
Stuffed Mushrooms Mushrooms, Thyme, Garlic, Goat Cheese, Parmesan, Acini de Pepe
Another matchup of classic starters you'd find on any menu.
Champion: Stuffed Mushrooms
Queso vs Jalapeno Popper
Jalapeno popper Jalapeno, Onion, Garlic, Sharp Cheddar, Cream Cheese, Rigatoni
Queso Green Chiles, Salsa, Velveeta, Jack, Wagon Wheels
Jalapeno popper won last year and I learned how to make it during a livestream class. We still make it regularly because it's just that good. I love how easy it is to adjust the heat in jalapenos, making it customizable to the amount of spice you want in your food.
However, queso will always have my heart. Give me an order of chips and queso any day. I'm obsessed with the choice to add green chiles and salsa. Bonus points if the chiles are roasted.
Champion: Queso
Mozz Stick vs Crudities
Crudites Ranch Seasoning, Veggies, Monterey Jack, White Cheddar, Orzo
Mozzarella Stick Marinara, Mozzarella, Bucatini
I'm obsessed with the creativity of the two recipes in this matchup.
Crudities are honestly the most boring thing to bring to a party. A tray of veggies and dip is something you grab already prepared on your way there because you forgot or didn't have time to plan for something more intricate. But can we please talk about how genius it is to turn crudities into a mac and cheese? It includes ranch seasoning and vegetables. Genius.
I desperately need you to go see the picture of Casey's Mozzarella Stick mac and cheese. This is genius. Imagine the texture benefits you'll get from adding bucatini into your mozzarella stick. Genius.
Champion: Mozzarella Stick
Round 2:
Crab Rangoon vs Mushrooms
Crab Rangoon just has my heart. The perfection that is mac and cheese with crab rangoon sauce just can't be beat.
Champion: Crab Rangoon
Queso vs Mozz Stick
This matchup was difficult. While the mozzarella stick recipe is ridiculously fun, it seems like it'll be a pain in the butt to make. Plus you can't beat the latin inspired flavors in the queso recipe.
Champion: Queso
Round 3:
Crab Rangoon vs Queso
Another Lineup that was physically painful to choose between. While I love the concept behind crab rangoon, I can't get over the obvious simplicity of Queso mac and cheese.
Division 1 Champion: Queso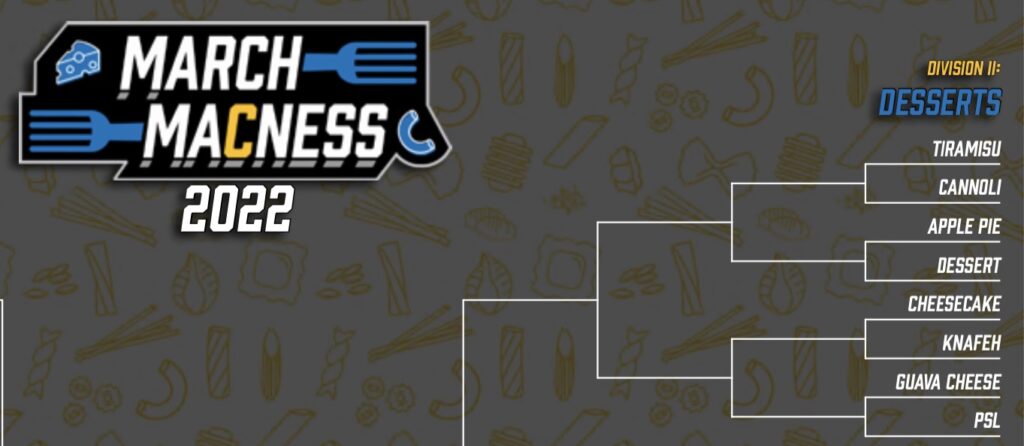 The whole concept of dessert mac and cheese makes me so happy. Dessert has been in the back of my mind forever and I'm obsessed with the creativity Casey pulled out to create all of these recipes.
Round 1:
Tiramisu vs Cannoli
Tiramisu Espresso, Mac Lady Fingers, Mascarpone, Elbows
Cannoli: Pistachio, Orange Chocolate, Ricotta, Fried Manicotti
I've already waxed poetic about how creative the recipes are this year but I need to talk about how genius it is to fry manicotti to use for cannoli shells. Imagine rolling them in cinnamon sugar and stuffing it with cheesecake filling. Genius.
Champion: Cannoli
Apple Pie vs Dessert
Cheddar Apple Pie: Apple, Baking Spices, Sharp Cheddar, Zucca
Dessert: Baking Spices, Compote, Mascarpone, Mini Penne
This round was another tough one for me. We know cheddar and apple goes well together, and just look at how gorgeous that picture is. However, the whole concept of turning angel food cake into mac and cheese makes me so happy. Plop a dollop of whipped cream on the side and I'm there. I pondered this matchup for a while but finally gave the award to apple pie.
Champion: Apple Pie
Cheesecake vs Knafeh
Cheesecake Graham crust, Cream Cheese, Spaghetti
Knafeh Rose, Orange, Pistachio, Ricotta, Mozzarella, Angel Hair
I'm going to be honest here, I had no idea what Knafeh is until I filled out my bracket but now I feel like I'm majorly missing out. Using angel hair in it? Genius.
But I can't get past how fun that cheesecake is. It has spaghetti noodles in it. Wild
Champion: Cheesecake.
Guava Cheese vs PSL
Guava Cheese Empanada Guava, Cinnamon, Lime, Queso Blanco, Orzo
Pumpkin Spice Latte Pumpkin, Coffee, Pumpkin Spice, Pumpkin Spice Gouda, Zucca
Every white girl in autumn (including yours truly) needs to get her PSL fix. I love that Casey found a way to mac-ify it. That pumpkin spice gouda is so fun.
We can't ignore how awesome a guava mac and cheese empanda would be. I just can't get over my PSL obsession.
Champion: PSL
Round 2
Cannoli vs Apple Pie
I can't get past how awesome using a fried manicotti is.
Champion: Cannoli
PSL Vs Cheesecake
This one hurt, but I'm going to have to go with Cheesecake.
Round 3:
Cannoli vs Cheesecake
Cannoli is going to take this whole Division. It's so creative I just can't get past how awesome it is. Cheesecake is fun, but I'm not sure how much the spaghetti ads to it, whereas the pasta in the cannoli is a key component.
Division 2 Champion: Cannoli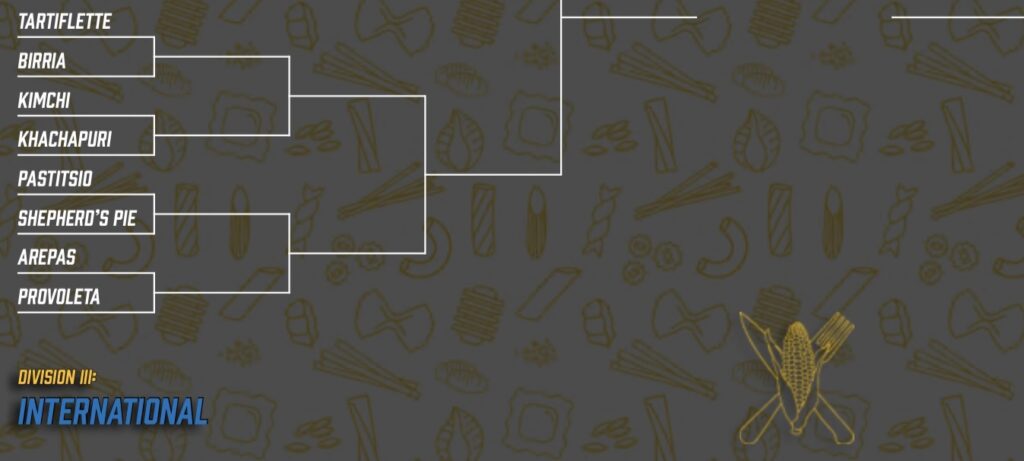 Round 1:
Tartiflette vs Birria
Birria Birria Consomme, Quesadilla, Oaxaca, Jumbo Shells
Tartiflette Lardons, Potato, Onion, Reblochon, Trumpets
Maybe it's just in my area, but it feels like birria is making huge waves right now. I had to give this one to Birria. People are obsessed with it. I just don't see it taking a back seat here.
Champion: Birria
Kimchi vs Khachapuri
Khachapuri Ajika, Egg Yolk, Pizza Dough, Mozzarella, Feta, Goat Cheese, Cavatelli
Kimchi Kimchi, Scallion, Gochujang, Sharp Cheddar, Rigatoni
The ingredients in the kimchi mac and cheese are some of my favorite to use but I can't get past the creativity of the Khachapuri recipe. Especially with the current conflict, it just feels right to award this one to Ukrainian street food.
Champion: Khachapuri
Pastitsio vs Shepherd's Pie
Pastitsio Red Wine Beef Sauce, Bechamel, Kasseri, Pasitsio
Shepherd's pie Lamb, Mashed Potato, Aged English Cheddar, Cascatelli
Pairing these two into a matchup makes sense. However, the Pasitsio is such an interesting recipe I had to give it the win.
Champion: Pastito
Arepas vs Provoleta
Arepas Masa, Venezuelan Beef, Beans, Mozzarella, Reginetti
Provoleta Oregano, Red Chile Flakes, Provolone, Fusilli
Arepas are new to my kitchen since watching Encanto (let's be honest, five times). It's an easy thing to whip up on days where you don't know what to make and is flavorful and filling. I love this take on the South American dish.
Champion: Arepas
Round 2:
Birria vs Khachapuri
I've said it so many times now, but I can't get over how creative all of these recipes are. Khachapuri mac and cheese – genius. Birria mac and cheese – genius. Unfortunately only one can win, and I have to side with the birria.
Pastitsio vs Arepas
Masa is such a versatile ingredient. Imagine it as a smooth flavorful topping for mac and cheese. I have to give this round to the arepas mac and cheese.
Round 3:
Birria vs Arepas
Another tough matchup. I love how it came down to the latin dishes. Alas, only one can win. While I love the concept of birria mac and cheese – and birria is having its moment – I have to award this one to arepas.
Division 3 Champion: Arepas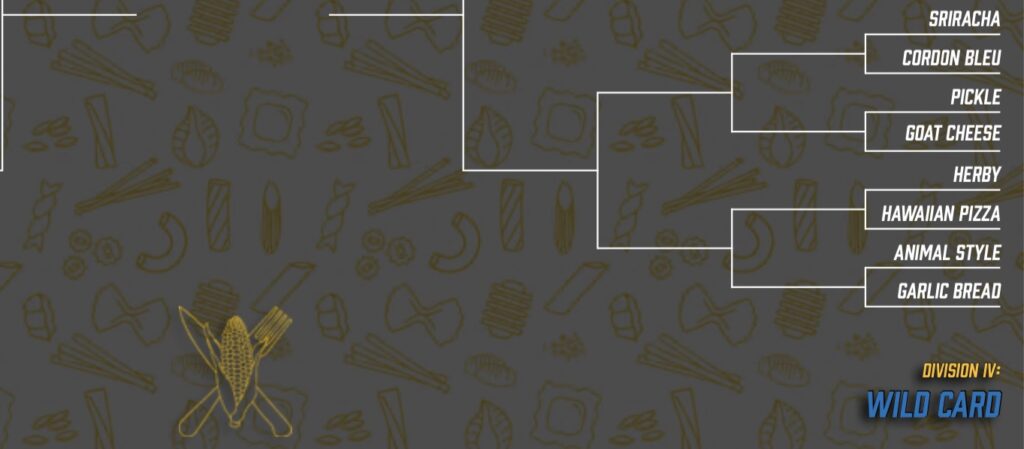 Round 1:
Sriracha vs Cordon Bleu
Chicken Cordon Bleu Chicken, Prosciutto, Swiss, Macaroni
Sriracha Sriracha, Scallion, Garlic, Sharp Cheddar, Smoked Gouda, Sriracha, Fusilli
How fun are these. I love the idea of using prosciutto for the ham in cordon bleu. However, the blend of flavors that make up the sriracha recipe is amazing. It just feels like it'll pack a punch.
Champion: Sriracha
Pickle vs Goat Cheese
Goat Cheese Salad Greens, Roasted Beets, Goat Cheese, Shells
Pickle Dill Pickles, Extra Sharp Cheddar, Radiators
Pickles are a pretty polarizing food. People either love it or love to hate it. I tend to fall in the second camp. I won't shame you for enjoying them, but please don't give me one.
However, I LOVE goat cheese. I love how fresh it is and it is a severely underrated salad topping. I have to go with the goat cheese recipe.
Champion: Goat Cheese
Herby vs Hawaiian Pizza
Hawaiian Pizza Pineapple, Ham, Bbq Sauce, Mozzarella, Shells
Herby Sage, Rosemary, Thyme, Garlic, White Cheddar, Parmesan, Penne
Another polarizing food – Hawaiian pizza. I'm cool with it, but some people really love to hate on it.
However, check out that herby recipe. Cheddar and parmesan together is my jam. Add in all those extra herbs and I imagine this dish is amazing.
Champion: Herby
Animal Style vs Garlic Bread
Animal Style Fries, Caramelized Onions, Special Sauce, Sharp Cheddar, American, Penne
Garlic Bread Garlic, Parsley, Ciabatta, Parmesan, Spaghetti
Another touch matchup! Look at how fun these recipes are. I love the concept of a garlic bread mac and cheese. It's even on a slice of ciabatta. So fun.
But that animal style! I love that she turned an iconic dish into mac and cheese. There's fries on top. Genius. It has to go to animal style.
Champion: Animal Style
Round 2:
Sriracha vs Goat Cheese
All of the recipes in the finals of this round are amazing. I hate that they can't all win, but someone has to be the champion. While I love the goat cheese recipe, I just don't think that other viewers will love it as much as I do. Plus the sriracha recipe is just that good. All of those flavors are bold and fun and just imagine how well they'll blend together.
Champion: Sriracha
Herby vs Animal Style
You know I love that herby recipe. However, how fun is the Animal Style one. It has FRIES on top of it. Ridiculous. It has to go to animal style. It's just too iconic to disregard in this matchup.
Champion: Animal Style
Round 3:
Sriracha vs Animal Style
I've complained many times about how difficult it is to finish out these rounds, but this one hurt. I love both recipes so much but alas, only one can win. You can't ignore how iconic that animal style recipe is. It has to win this division.
Division 4 Champion: Sriracha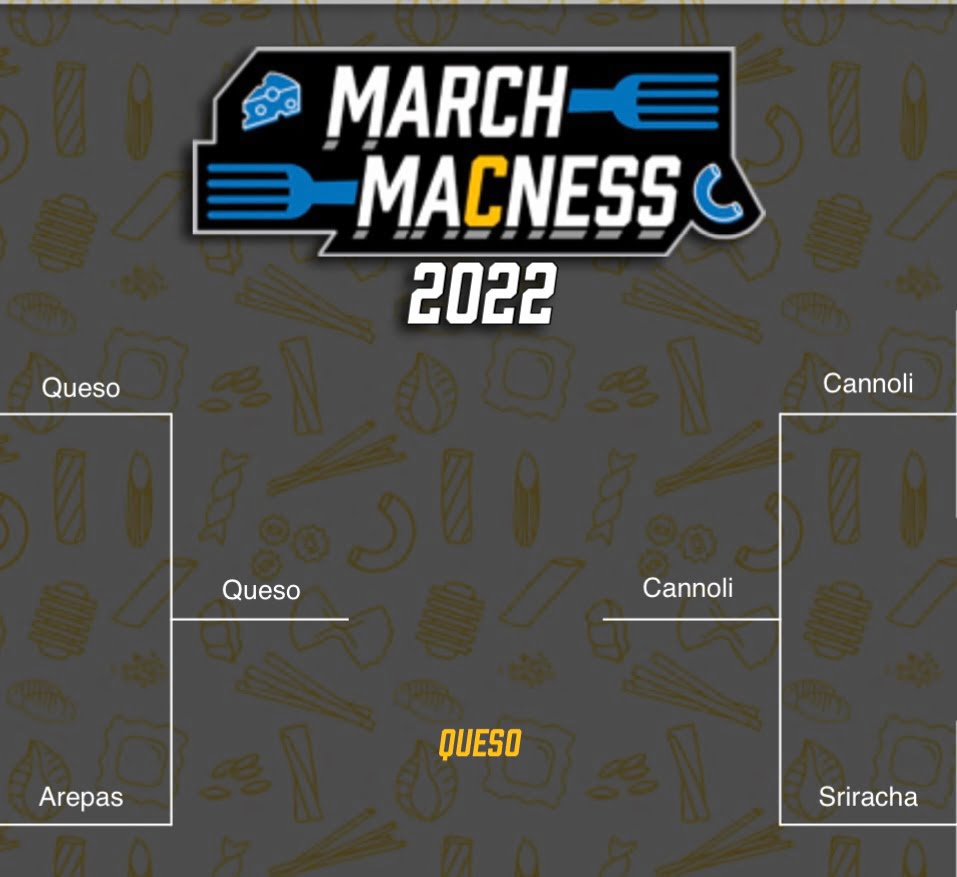 March Macness 2022 Final Four
Queso vs Arepas
Another latin dish matchup. This has happened so often, I'm obsessed. I've waxed poetic about the arepas recipe already, but queso has my heart.
Champion: Queso
Cannoli vs Sriracha
The sriracha recipe is such a beautiful embodiment of what I love in mac and cheese. Bold flavors, fun ingredients, a fantastic matchup. However, the ingenuity of using a fried noodle for a cannoli shell is hard to pass up.
Champion: Cannoli
March Macness 2022 Championship
Cannoli vs Queso
This is it. The final matchup of the 2022 edition of March Macness. What a great run it's been.
To recap: Queso features green chiles, salsa, velveeta, jack, and wagon wheels. Queso is my jam. I would willingly eat it with chips for a meal or toss it with pasta for a flavorful mac and cheese.
Cannoli includes pistachio, orange chocolate, mascarpone, and fried manicotti. Anyone who's watched Chopped knows how much gold mascarpone cheese adds to a recipe. And there's a fried manicotti noodle for the shell.
Unfortunately I can't award the championship to all of the recipes, so I have to choose. My pick for this finale is Queso.
March Macness 2022 Champion: Queso
---