Chipotle Bitchin' Sauce Mac and Cheese
We need to talk about Bitchin' Sauce. Because if like me, you've been sleeping on this gem and you don't want to miss out. It's beautiful as a dip for quesadillas, spooned across the top of rice bowls, and in Chipotle Bitchin' Sauce Mac and Cheese.
Note: This article contains affiliate links to products that I love and use to make mac and cheese in my own kitchen. When you click links here and make a purchase, I receive a commission at no additional cost to you. For more information, see my Affiliate Link Policy here.
Bitchin' Sauce is an almond based sauce out of California. Their whole website is a mood. I love everything about it. I didn't know anything about this product until it was on special at my grocery store and I grabbed it on a whim. All of their options look amazing and I can't wait to try them out. Think about how awesome that caramelized onion one would be on a bowl of Simple Stovetop Mac and Cheese. The original version would pair amazingly with a garlicy bowl of noodles topped with salmon.
Sartori, an old favorite cheese brand comes in to play in the sauce. Their Garlic & Herb BellaVitano is a bold cheese that closes out the bowl beautifully with fresh garlic and bright herb flavors. Paired with Extra Sharp Cheddar, another recipe favorite, the sauce is so good you could eat it with a spoon. I won't judge you too much if you did, but part of the magic in this recipe comes from the toppings.
A generous drizzle of Chipotle Bitchin' Sauce, a handful of chopped green onion, and a smattering of grilled chicken chunks really bring this Chipotle Bitchin' Sauce mac and cheese together. All of the flavors blend together beautifully for a bowl of mac and cheese that is bold, flavorful, and perfect for a random Tuesday night or your next big get together.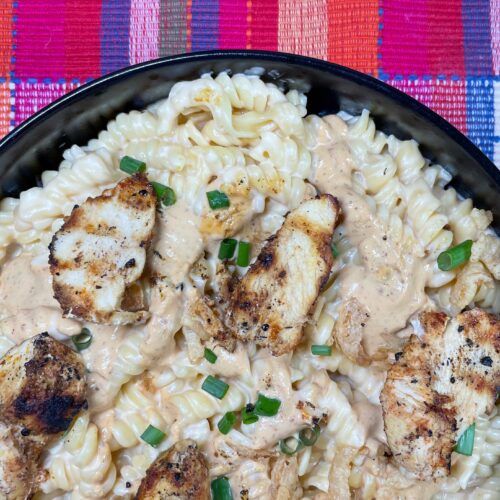 Chipotle Bitchin' Sauce Mac and Cheese
Mac and Cheese with a flavorful sauce topped with a drizzle of Chipotle Bitchin' Sauce, green onions, and grilled chicken.
Ingredients
16 oz Pasta

3 tbsp Butter

3 tbsp Flour

3 cups Whole Milk

1/2 tablespoon Ground Mustard

1 cup grated Sargento Garlic u0026 Herb BellaVitano

1 cup grated Extra Sharp Cheddar
Toppings
Chipotle Bitchin' Sauce

Green Onion

Grilled Chicken spiced to your liking
Instructions
Prepare the pasta according to package directions.
Prepare the sauce
Pre heat your milk in the microwave for 45 seconds – just enough to take the chill out of it.

Melt butter in a sauce pan over medium heat and let it heat until it becomes foamy.

Mix in flour. Cook it for a minute while stirring constantly

Slowly add warmed milk to the butter mixture 1/4 cup at a time. Whisk it continually until combined. Add Mustard powder.

Once all of the milk is added, cook for a few minutes while whisking it. Do not let it boil. You will feel the sauce start to thicken. It's ready for cheese when you rub a small amount between your fingers and it feels silky.

Remove from heat and stir in your cheese until it's melted and mixed into the sauce.

Once the cheese is incorporated, use a cooked noodle to taste your sauce. If it doesn't taste cheesy enough try adding a little more salt to bring out the flavor.

Combine the pasta and sauce. Top with a drizzle of Bitchin' Sauce, grilled chicken, and green onions.
---