Panera Mac and Cheese Bread Bowl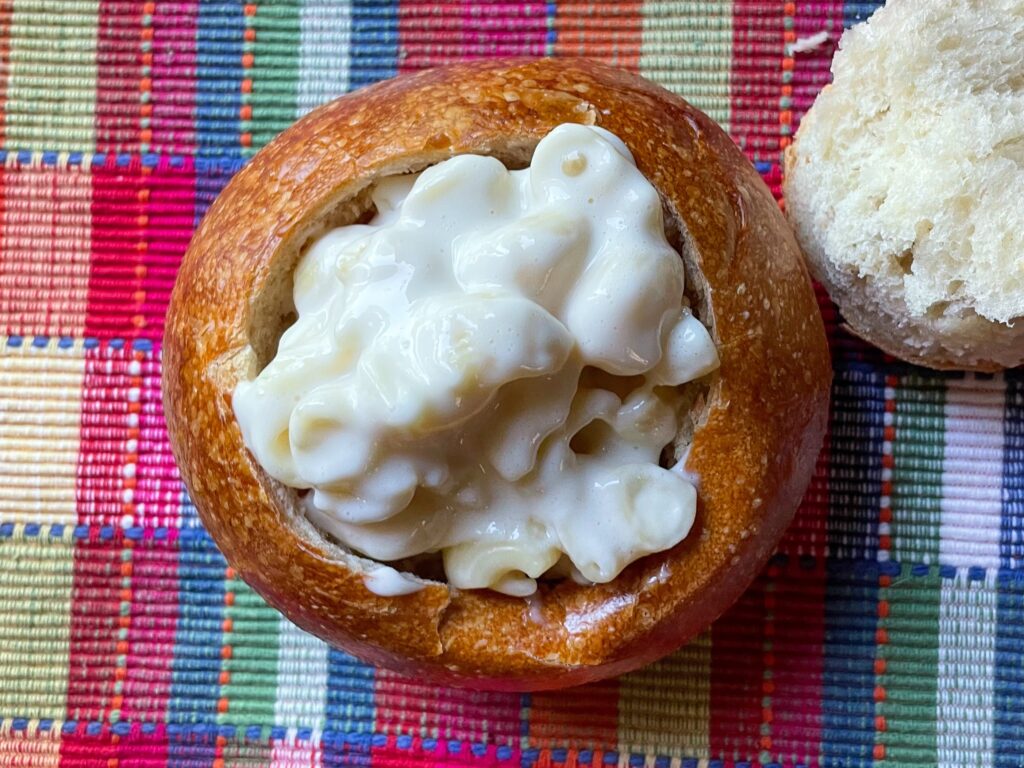 I can't believe I've never written about Panera's mac and cheese before. We've talked about their grilled mac and cheese, but hands down their mac and cheese is one of my favorite fast food options. There's something about it that just screams comfort food, and it's what I seek out when I'm having a bad day. When I saw that I could get Panera mac and cheese in a bread bowl I dove on the chance. You can never have too many carbs.
Panera uses pipette pasta, a fun take on elbows. It's a curved pasta with a wide opening on one end and a flattened opening on the other end. The shape allows sauce to be trapped inside offering a creamy, flavorful experience.
Panera boasts their mac and cheese includes an aged cheddar sauce – an old favorite around here. Unlike many other fast food mac and cheese options, their pasta is very saucy. So saucy that it will leave some behind in the bowl, which is especially impressive considering the sauce trapping qualities of the pasta.
You can get your mac and cheese served in a a regular bowl, or take it to the next level by ordering it in a sourdough bread bowl. I picked mine up to go, so Panera packaged my mac and cheese and bread bowl separately. I popped my bread bowl in the oven for a few minutes to make the hollowed section nice and toasty before smothering it in mac and cheese. The bread bowl offers another vehicle for you to enjoy their sauce that would otherwise be left behind in the bowl. The additional sourdough flavors are a beautiful compliment to the dish.
Panera's mac and cheese is the perfect easy to access band-aid for a bad day. Getting a bread bowl to serve it in extends the fun.
---