Noodles & Company Buffalo Chicken Mac Review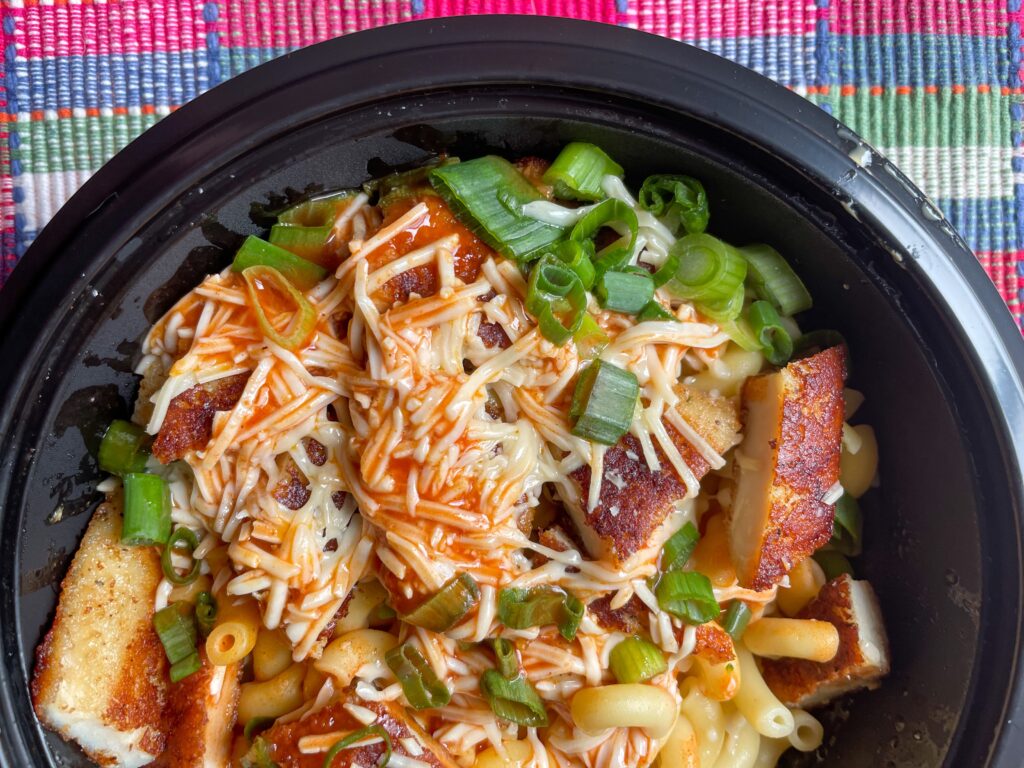 Noodles & Company is a mac and cheese institution and it has been on my list to check out for quite some time. This week I finally took my opportunity to check out the Noodles & Company Buffalo Chicken Mac and cheese.
I shouldn't have slept on this one! They couldn't have made a more perfect dish for me if they tried. It employs a base of mac and cheese topped with parmesan chicken, parmesan shreds, green onions, and buffalo sauce.
It looks like their base mac and cheese uses cheddar and jack cheeses. This is a perfect balance according to the mac and cheese theory with the cheddar serving as the opener and jack as the closer. Paired with parmesan shreds, you have a beautiful sauce base that is perfectly ready to stand up against bold toppings that might overpower more delicate sauces.
Green onions add a nice freshness and pop of flavor. We know I love using green onions on my mac and cheese dishes, and this was such a nice throw back to what I love to make in my own kitchen.
Buffalo sauce is my jam. I use it nearly every day, and frequently I use it to add a slight punch to cheese sauces, eggs, chicken wraps, sandwiches, you get the point. When given the option, I'm going to jump on the chance to get a dish with buffalo sauce, and today was no exception.
The parmesan chicken was the star of the dish. I was expecting something breaded with a crispy parmesan breaded crust, but it felt more like chicken that was pan seared with a parmesan coating. It held up beautifully in the sauce and I can't wait to try other dishes of theirs featuring it.
On to what wasn't as awesome. I was a little concerned when I first opened my bowl and the sauce was lacking. Since we had it delivered, it's entirely possible that it jus settled during transit. However it's concerning that the sauce was so thin that noodles were practically devoid of sauce on top. Secondly, the noodles were obviously reheated. It's a fast casual restaurant, and they have to do everything they can to save time, but the pasta had zero bite to it. The texture was a little off putting.
Even with the less than stellar noodles, the Noodles & Company buffalo chicken mac was worth another visit. It was fast, tasty, and incredibly filling. Paired with a side, you could easily stretch it into two meals.
---