KC Mac N' Co Review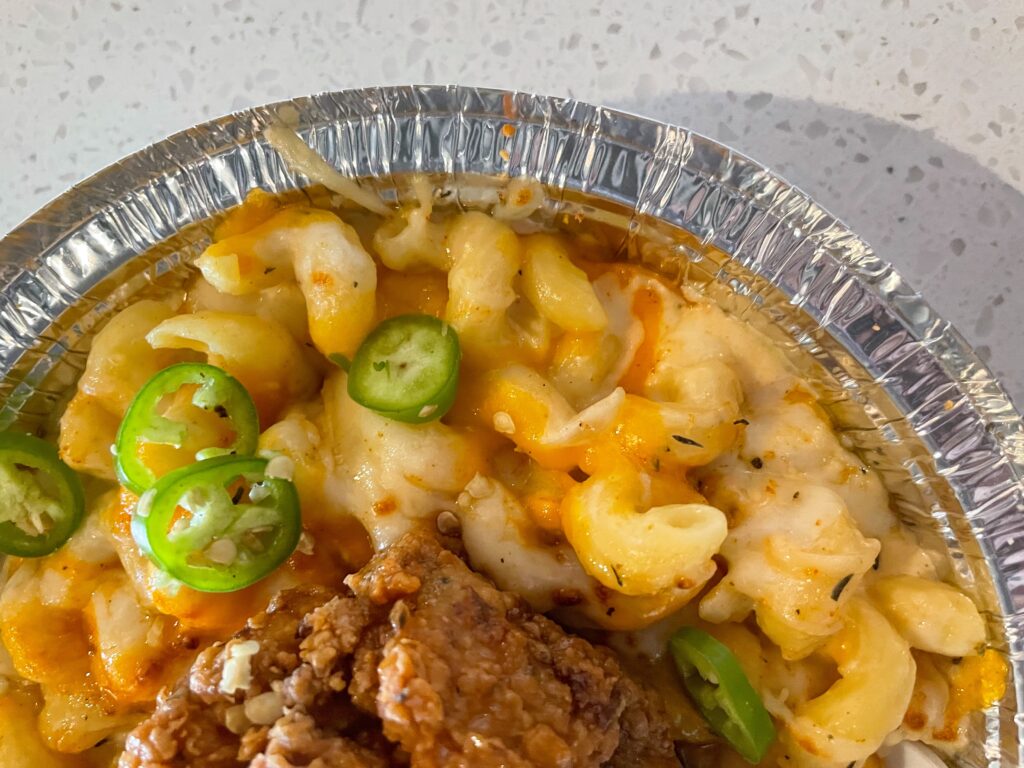 As a lifetime mac and cheese fanatic, I routinely seek out mac and cheese restaurants in the area to see what I'm missing out on. Once I discovered there is a dedicated mac and cheese restaurant in Kansas City, I knew we had to make a pilgrimage to KC Mac N' Co for a review.
KC Mac N' Co is located in Parlor, a unique restaurant experience housing a variety of culinary options. Rather than dedicated space for a single cuisine, it is a shared seating area for several different restaurants. If someone in your group isn't a mac and cheese fan (red flag) they can snag one of the other choices while you bask in mac and cheese glory. You place your order and wait for a text that your food is ready. It truly feels like hanging out on your buddy's couch while they prepare delicious food just for you.
Their menu is so interesting! I wanted to try everything, but that just isn't possible when we are only 3 people with limited time. I still regret not being able to try the buffalo chicken mac and cheese or the mac and cheese waffle, but maybe on our next visit. If limited to only one mac and cheese restaurant for the rest of my life, it would be this one.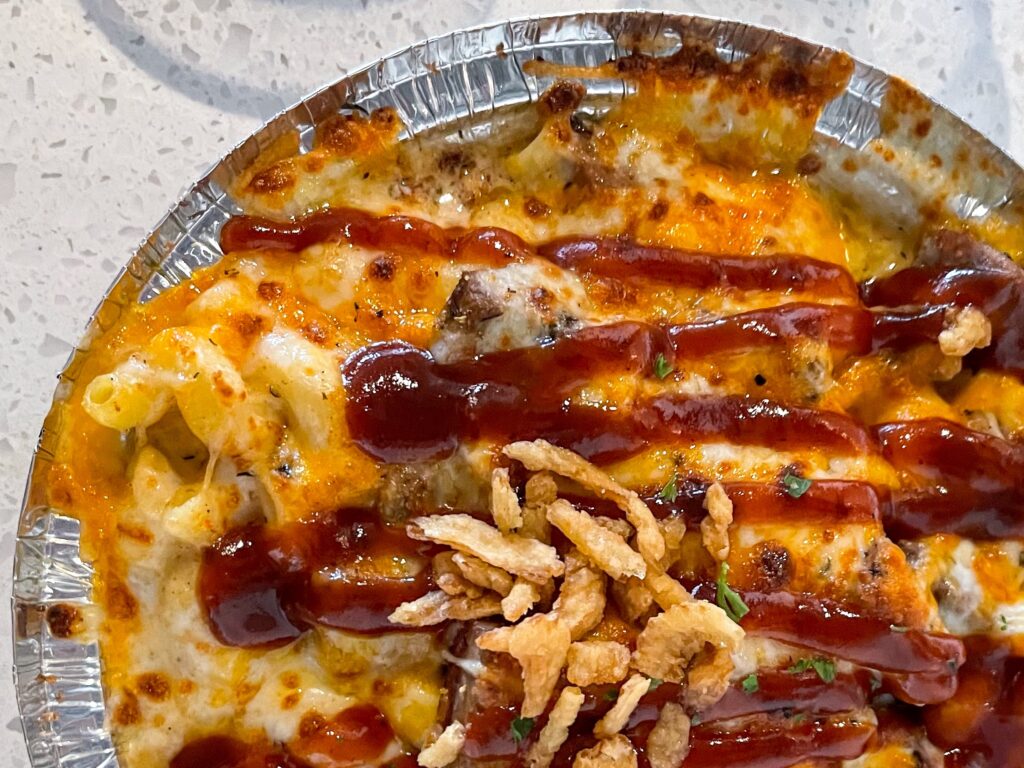 Alvaro ordered the Cowboy Mac: "Our artisan mac, tossed and topped with smoked brisket from Deez Nachos KC, and a fried buttermilk onion garnish." It was a masterfully crafted plate. Traditional smoky barbeque flavors that complimented the brisket amazingly. The sauce was creamy and an awesome compliment when you get a bite along with the onion and brisket together.
I snagged their Signature Honey Serrano mac and cheese. Described on their menu as "Our artisan mac, topped with a B&B (Buffalo and Buttermilk)-marinated, twice-fried chicken, and honey serrano pepper glaze". Everything about this dish works. The spicy-sweet honey serrano glaze is everything. It does have a pretty good kick. Enough so that when I gave Alvaro a bite, he accidentally got a mouthful of pepper and was not prepared for the hit of spice. The chicken was flavorful and cooked to perfection. Their sauce is everything. It's creamy, flavorful, and cheesy. Exactly what you'd want out of a bowl of happiness.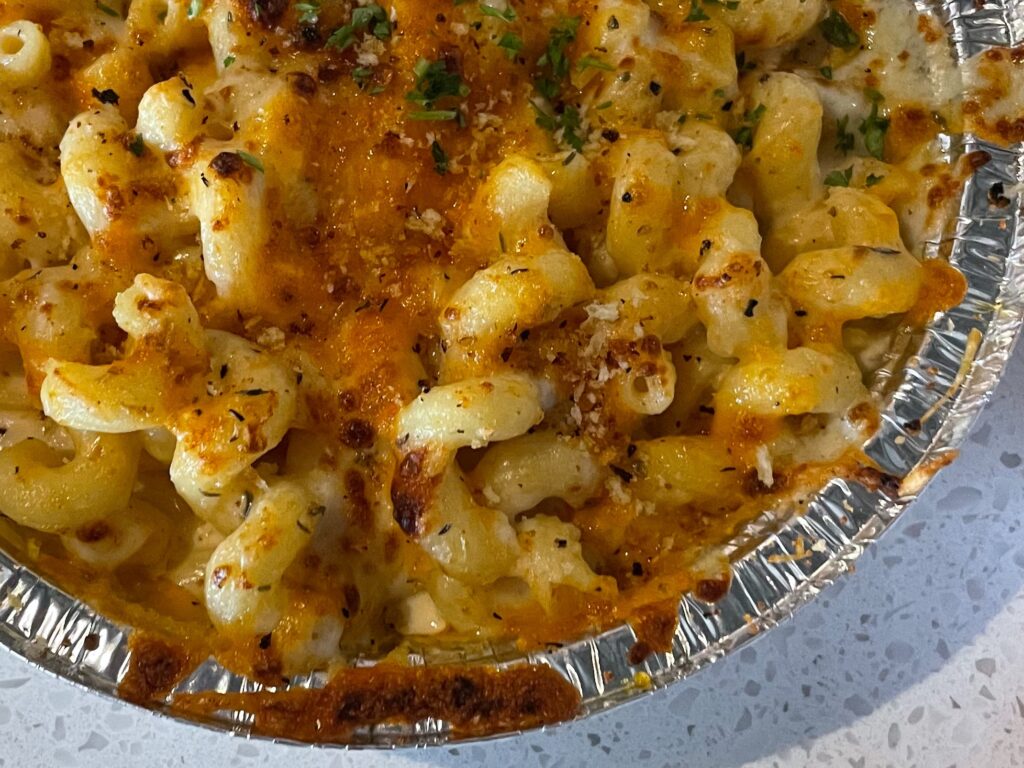 Peanut had the Just Mac: "Cavatappi noodles tossed in a creamy cheese béchamel(white sauce), 6-cheese blend, and garlic panko topping". I stole her leftovers for lunch the next day and the garlic really shined in this dish. It had the same beautiful sauce and pasta base that the other mac and cheeses had and was such a perfect mac ad cheese, especially for someone who doesn't love a lot of toppings in her pasta. Despite the lack of toppings you don't feel like you're missing out.
We all shared a side of wedges: "Fried potato wedges tossed in a flavorful herb blend, salt and cotija cheese." Potato wedges are pretty standard across the board. Good ones are awesome, bad ones are horrible. These were awesome. the dipping sauce really made them shine.
Their serving sizes are generous. Enough so, that we were able to make a few meals out of our leftovers as we grazed on it the rest of the weekend. It reheated beautifully, something that can be an issue in mac and cheese – especially mac and cheese from a commercial kitchen. However, the sauce held up it's structure and didn't fall apart, even after multiple rounds in the microwave.
This is a can't miss landmark when you visit Kansas City. We are already planning our next visit to KC Mac N' Co for another review.
---