Pulled Pork Mac and Cheese
May is national BBQ month and what better way to celebrate it than with a bowl of pulled pork mac and cheese. Pulled pork mac is the epitome of southern food. There is a large subset of people who when you mention our favorite cheesy dish, they only picture the side you find at a barbeque restaurant. The kind that is smothered in mile high piles of pulled pork and tons of sweet sauce. After finding myself with a surplus of pulled pork, it was time to see what I could do with it.
Note: This article contains affiliate links to products that I love and use to make mac and cheese in my own kitchen. When you click links here and make a purchase, I receive a commission at no additional cost to you. For more information, see my Affiliate Link Policy here.
Extra sharp cheddar cheese is the opener in the cheese sauce. We know that it provides a beautiful opening to the bowl. I tend toward the generic version at my local Kroger, but both Tillamook and Cabot make great options. Old Croc is another favorite around here.
Parmesan serves as a closer. Parmesan is the one place I'm willing to break my rule of no pre-grated cheese. If I'm making alfredo, absolutely go for fresh grated, but as an addition sometimes it's okay to cut corners.
For extra richness, I added a few ounces of cream cheese. Cream cheese works magic in mac and cheese. It is not a cheese you choose for flavor, but for the texture benefits you get from its addition.
A tablespoon of BBQ sauce In the sauce is a nice touch to bring the dish together. I grabbed Sweet & Zesty from Famous Dave's, but any kind of BBQ sauce would work great for topping your pulled pork mac and cheese.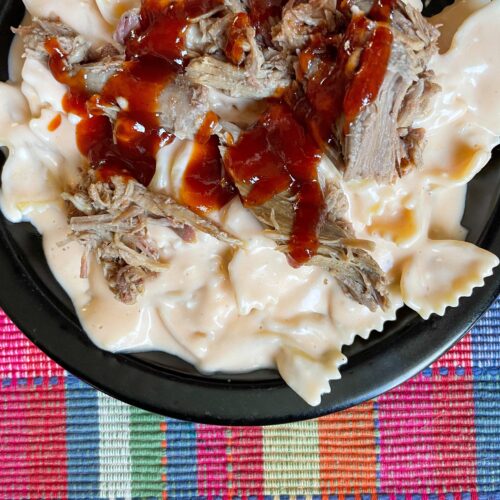 Pulled Pork Mac and Cheese
The perfect marriage of bbq pulled pork and cheesy pasta.
Ingredients
16 oz Pasta

3 tbsp Butter

3 tbsp Flour

3 cups Whole Milk

1 tablespoon BBQ Sauce

1 cup grated Extra Sharp Cheddar

1 cup grated Parmesan
Instructions
Prepare the pasta according to package directions.
Prepare the sauce
Pre heat your milk in the microwave for 45 seconds – just enough to take the chill out of it.

Melt butter in a sauce pan over medium heat and let it heat until it becomes foamy.

Mix in flour. Cook it for a minute while stirring constantly

Slowly add warmed milk to the butter mixture 1/4 cup at a time. Whisk it continually until combined. 

Once all of the milk is added, cook for a few minutes while whisking it. Do not let it boil. You will feel the sauce start to thicken. It's ready for cheese when you rub a small amount between your fingers and it feels silky.

Remove from heat and stir in your cheese until it's melted and mixed into the sauce. Add about a tablespoon of BBQ sauce to the cheese mixture.

Once the cheese is incorporated, use a cooked noodle to taste your sauce. If it doesn't taste cheesy enough try adding a little more salt to bring out the flavor. You can add more BBQ sauce here if you need to.

Combine the pasta and sauce. Top with pulled pork and a drizzle of more BBQ sauce.
---