Creating a Charcuterie Board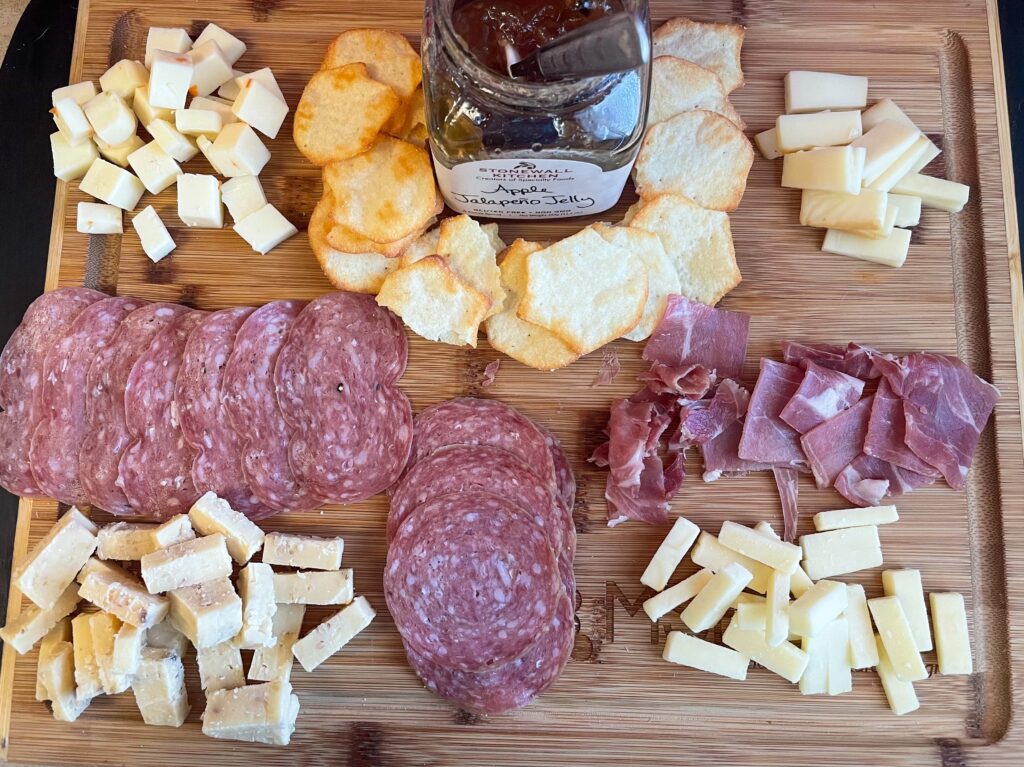 One happy effect of being a Mac and Cheese aficionado is that inevitably you will end up with an assortment of leftover cheese. There won't be quite enough left to make a sauce of a particular type or profile and throwing cheese out is blasphemy. In this house, we give cheese its earned respect by creating a charcuterie board.
Our favorite solution to the fridge becoming an island of misfit cheeses is to feature them in a charcuterie board. This may seem like a very obvious solution but as someone who grew up in a household that had no exposure to it I was very excited to try this!
Note: This article contains affiliate links to products that I love and use to make mac and cheese in my own kitchen. When you click links here and make a purchase, I receive a commission at no additional cost to you. For more information, see my Affiliate Link Policy here.
My first attempt at putting a charcuterie night together for our family turned out to be so much more rewarding than I could have anticipated. The cheeses I had available were Red Apple smoked swiss, Culinary Tours smoked sea salt cheddar and Castello Reserve gouda. This gave me an amazing base for the board. All I had to do was fill in the rest with items I felt would go over well with the rest of the family and compliment our cheeses.
This is where the best possible advice I can give you comes in. This is a fun dish, it is easy to get caught up in overthinking what flavors and combinations you might want to offer. Just go with what you think will be good individually or will be fun! I knew that I also wanted some cured meat on this board and took the opportunity to try something new as well! After pursuing the cured meat aisle at our local shop I ended up deciding on a cured Coppa ham. I'd had prosciutto before and wanted to explore something new!
The last remaining space on the board went to New York Style bagel crisps and Stonewall Kitchen Apple Jalapeno Jelly. I'd had the crisps before but never the jelly and let me just say, it is an absolute game changer. I'm a sucker for the sweet and spicy combinations and this did not disappoint! On a board full of delectable items the apple jalapeno jelly was probably the MVP.
When it came time to put it together, I just sliced 2-3 ounces of the cheeses into small slices and strategically placed them around the board, then filled in the remaining space with the ham, crisps and displayed the jelly jar as a centerpiece. Again, the best advice I can give here is don't overthink and go with what appeals visually to you. There is no right or wrong answer, all that matters is you feel about it.
I could not have been happier with the results! I ended up serving it as our dinner for a movie night I had previously promised our daughter. She's 5 and can be very particular about what she decides to eat, cheese is never in question but everything else on the plate was a wildcard. To my surprise she absolutely dove in and ended up loving the coppa and crisps! Now she regularly asks for cheese plates and ham and we are happy to oblige and add it to our rotation of dishes served.
Next time you have a few spare cheeses laying around or maybe just catch something at the market that seems interesting give it a go on a charcuterie board and add some fun and variety to your dinner table!
---