Mac and Cheese Pesto Grilled Cheese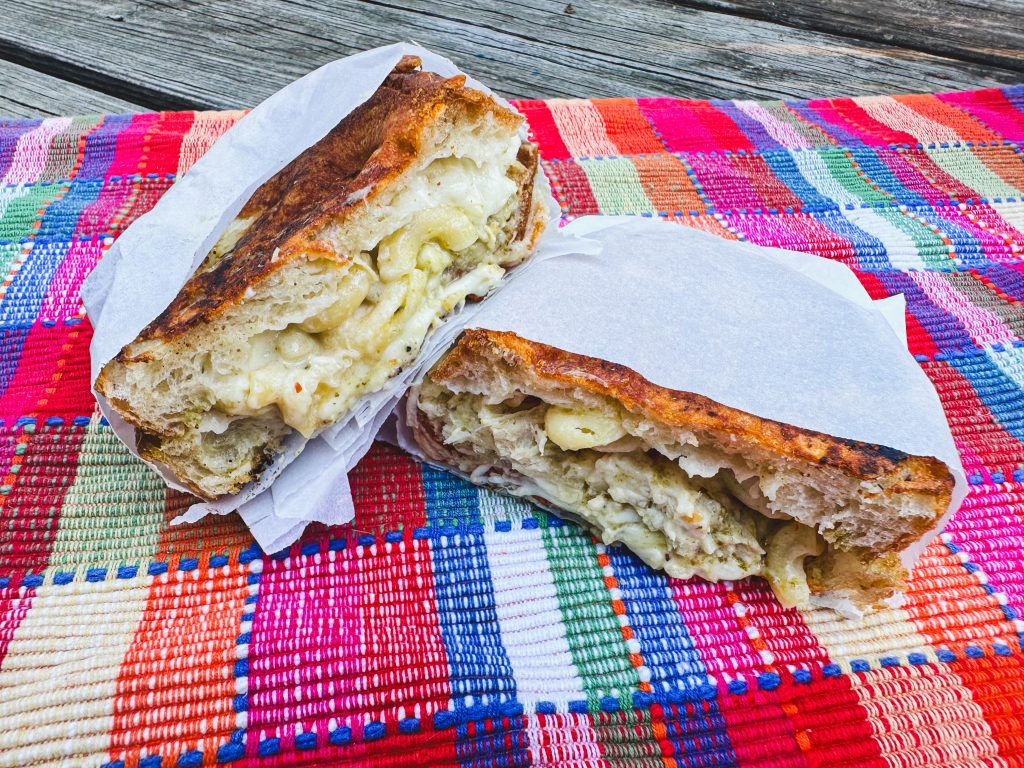 Another local restaurant offers a chicken pesto sandwich on fresh house made bread. It's one of my favorite stops for a quick lunch and I love the way the flavors come together. When I was thinking about what I'd want to see in a mac and cheese grilled cheese, I knew I had to incorporate pesto as homage to my favorite lunchtime tradition.
Note: This article contains affiliate links to products that I love and use to make mac and cheese in my own kitchen. When you click links here and make a purchase, I receive a commission at no additional cost to you. For more information, see my Affiliate Link Policy here.
Asiago Gouda Mac and Cheese
When selecting cheese for a mac and cheese, it's important to consider which varieties will work best together. When you take a bite of cheese, pay attention to when the flavor hits you. Some cheeses have flavor at the beginning. These are opener cheeses. Other cheeses have the flavor seated at the end and I call them closer cheeses.
The aging process plays strongly into where the flavor sits. The younger the cheese, the more opener the flavor will be. This is especially evident in goudas. Young, less aged gouda is a perfect opener cheese.
On the other hand, Asiago is solidly a closer cheese. These two cheeses blend together so well and make up the framework of a delicious meal that will not overpower the other ingredients.
Pesto Chicken
I don't appreciate pesto enough. It encompasses fresh summertime flavors. While I have no doubt fresh pesto would have been delicious in this, I picked up a jar from the grocery store to toss with thinly sliced cooked chicken for this dish.
When I was assembling the sandwiches I was a little concerned I didn't use enough pesto but it pushed through while giving the other flavors a chance to shine as well.
The Bread
You can use any bread, but when there's a whole plethora of varieties of bread to use it's worth getting something fresh and delicious. We grabbed a loaf of fresh French bread from a local bakery. By sprinkling grated parmesan on the skillet before toasting the bread, you will form a beautiful perfectly golden crust on the outside of your sandwich.
More Cheese
Fresh mozzarella will add a stretchy component that will glue the entire sandwich together, keeping it from falling apart while you're eating it. This is especially beneficial when eating a sandwich with so many small components.
Put it Together
This mac and cheese pesto grilled cheese has all the components of a great lunch. The outside is crispy and flavorful, the inside is soft and interesting. The mac and cheese recipe will leave you with plenty of leftover pasta to serve on the side or enjoy at a later day.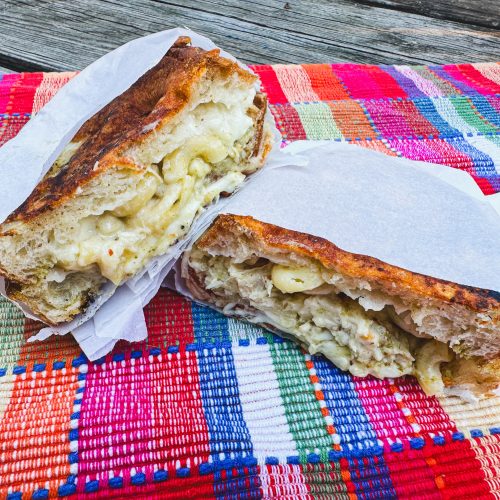 Mac and Cheese Pesto Grilled Cheese
Ingredients
For the Asiago Gouda Mac and Cheese
`1

pound

Elbow Macaroni

3

tbsp

butter

3

tbsp

Flour

3

cups

whole milk

4

oz

Asiago

4

oz

Gouda

Salt

to taste

1/2

tbsp

Mustard Powder

1

tsp

Black Pepper
For the Sandwich
6

slices

Fresh Bread

1

Chicken Breast

3

tbsp

Pesto

6

oz

Fresh Mozzarella

1

cup

Grated Parmesan
Instructions
Prepare the Mac and Cheese
Cook pasta according to package directions in well salted water.

Melt butter in a saucepan over medium heat.

When butter starts to look foamy, add flour and mix well. Cook for 1 minute.

Slowly add warmed milk to the butter mixture 1/4 cup at a time. Whisk it continually until combined. 

Stir in pepper and mustard powder.

Once all of the milk is added, cook for a few minutes while whisking it. Do not let it boil. You will feel the sauce start to thicken. It's ready for cheese when you rub a small amount between your fingers and it feels silky.

Remove from heat and stir in your cheese until it's melted and mixed into the sauce.

Once the cheese is incorporated, use a cooked noodle to taste your sauce. If it doesn't taste cheesy enough try adding a little more salt to bring out the flavor.

Combine pasta and sauce and set to the side.
Build your Sandwich
Slice bread into thick slices.

Thinly slice cooked chicken breast and stir pesto in until the chicken is fully coated.

Preheat your skillet and sprinkle 1 tablespoon of grated parmesan before placing a slice of bread.

Top with a spoonful of mac and cheese. You want enough to cover the slice, but not so much that it will be difficult to eat later.

Cover the mac and cheese with slices of mozzarella.

Spoon on a layer of pesto chicken.

Add another layer of mozzarella.

Top with your final slice of bread. Press the sandwich with a spatula and allow to cook for a minute or two.

Once the bottom slice of bread is toasted, flip your entire sandwich onto another tablespoon of grated parmesan to coat the other side.

Once the final side is brown and your mozzarella is melted, remove from heat.

Wrap in parchment paper and serve with a side of extra mac and cheese.
---