Breakfast Skillet Mac and Cheese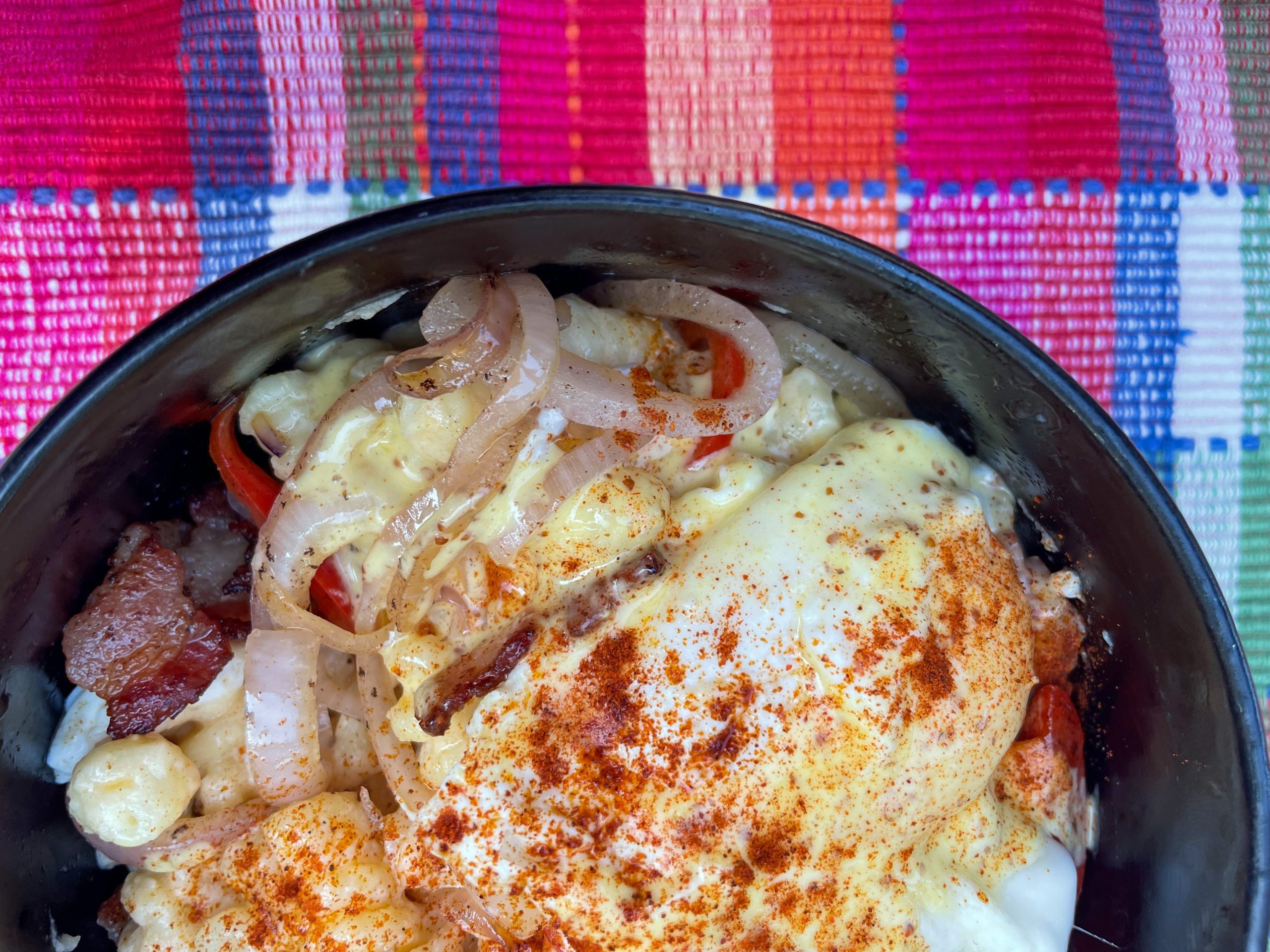 One of our favorite local restaurants makes these breakfast skillets that are to die for. My regular order includes potatoes, fried chicken, ham, peppers, and an egg all topped with hollandaise sauce. It's not your typical breakfast fare, which is why I love it. Obviously I had to try my hand at turning it into a breakfast skillet mac and cheese.
Pasta
Finding the right balance of pasta for a mac and cheese is an art form. Long noodles like fettuccine and spaghetti have their place in their respective dishes, but are difficult and unruly to eat. On the other hand, if your pasta is too small, your dish loses all texture and becomes a soupy mess. The perfect mac and cheese noodle sits somewhere in the middle of the spectrum. Short enough to be easy to grab with a fork, but large enough it doesn't get lost in the sauce.
In my breakfast skillet mac and cheese I used Fusilli Corti Bucati Pasta from Trader Joe's. This is easily one of my favorite new pasta shapes and for good reason. They just look fun. Who doesn't want to eat springy noodles in a creamy cheesy sauce? It checks all my boxes for the perfect noodle: plenty of texture, short enough to easily eat, and tons of ridges that will hold onto the sauce. It truly is the perfect mac and cheese vehicle.
Sauce
While the pasta is a very important component, I would argue that sauce is the biggest key in what makes mac and cheese. The cheese you choose for your mac and cheese is incredibly important. When you take a bite of cheese, pay attention to where the flavor hits you. If it's at the beginning of the bite, this is what I call an opener cheese. Common opener cheeses include younger aged gouda or cheddar. However, if the flavor hits you at the end of the bite it's what I call a closer cheese. Closer cheeses include parmesan and asiago. Well balanced mac and cheese sauce makes use of both opener and closer flavors, allowing for a well rounded dish.
In this recipe, I stuck with my favorite cheese combination and mixed extra sharp cheddar and Parmesan. When you take a bite, cheddar flavors hit you immediately while the parmesan carries the flavor through the bowl so every bite is full of cheesy flavor.
Toppings
The toppings really pull tis Breakfast Skillet Mac and Cheese together. I topped my mac and cheese base with thinly sliced onion and bell pepper sauteed in a few tablespoons of butter until they became soft. Then I added a layer of crispy chopped bacon and a fried egg. Finally the entire thing is smothered in this quick hollandaise sauce and a generous sprinkle of smoked paprika.
Add a Fork
This may be one of my favorite recipes I've created. The flavors blend beautifully together and there's just enough texture variation to keep it interesting.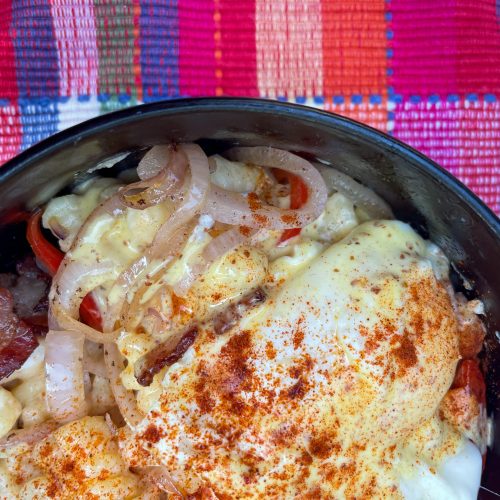 Breakfast Skillet Mac and Cheese
A creamy mac and cheese base is topped with delicious toppings for a twist on breakfast.
Ingredients
1

pound

Pasta

5

tbsp

Butter

3

tbsp

Flour

3

cup

Whole Milk

4

oz

Extra Sharp Cheddar

4

oz

Parmesan

1/2

tbsp

better than bullion

chicken

1/2

tsp

mustard powder

1/2

tsp

black pepper

1/2

red onion

1/2

red bell pepper

12

slices

bacon

6

eggs

Easy Hollandaise Sauce
Instructions
Cook the pasta according to package directions.
Prepare the Cheese Sauce
Melt 3 tbsp butter in a sauce pan over medium heat

Add the flour and mix well. Cook for one minute.

Slowly incorporate the milk to the butter mixture.

Add mustard powder, bullion, and black pepper

Cook the milk mixture until it starts to thicken and feels silky between your fingers.

Remove from heat and whisk in cheeses.

Combine with cooked pasta.
Prepare Toppings
Thinly slice 1/2 red onion and 1/2 red bell pepper

Melt remaining 2 tbsp of butter over medium heat.

Sauté vegetables in butter until softened. Remove from pan.

Chop bacon into bite size pieces and cook over medium heat until crispy.

Prepare Hollandaise Sauce.

Fry one egg for each person.
Put it all together
Plate mac and cheese mixture.

Top with sauteed vegetables.

Smother dish with hollandaise sauce and smoked paprika.
---