Trader Joe's Caramelized Onion Cheddar Mac and Cheese Recipe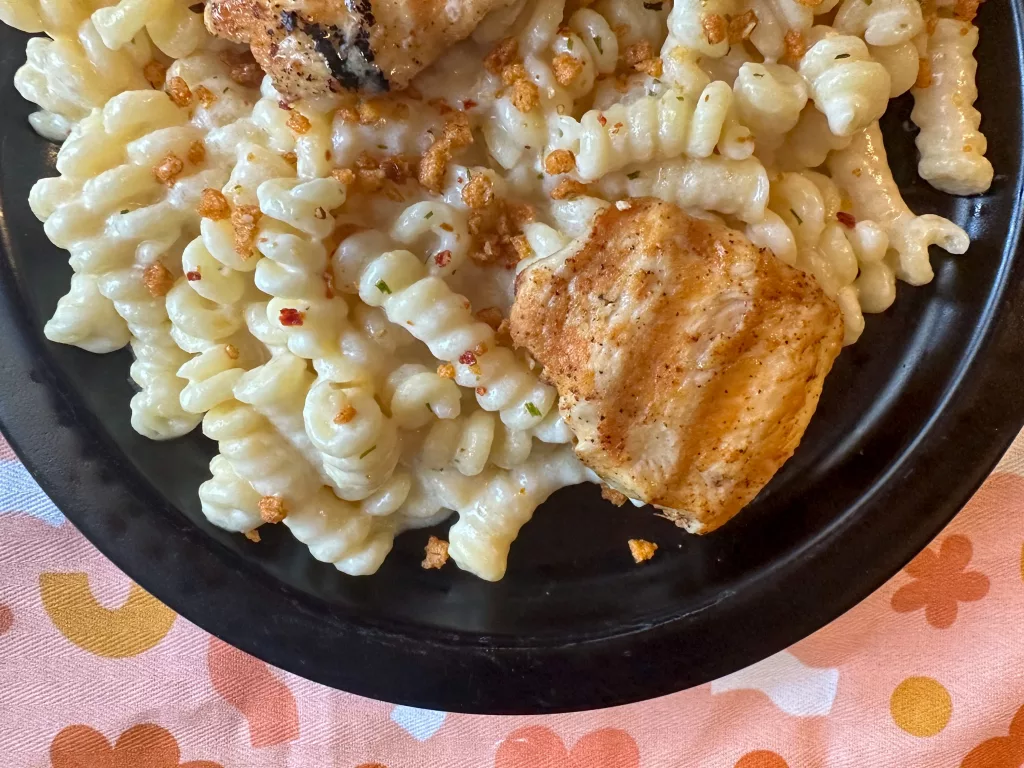 While wandering the cheese aisle at Trader Joe's, I snagged the Caramelized Onion Cheddar. I'd seen it on social media, but our closest Trader Joe's is far enough away that it took some time to justify a trip. This cheese held up to all of my expectations and I can't wait to get my hands on more of it.
Caramelized Onion Cheddar
The Caramelized Onion Cheddar at Trader Joe's is a bold cheddar blended with delicious caramelized onions. That's the ingredient list – cheddar and onions. And that's all you need.
Typically when I'm creating a mac and cheese recipe, I ask you to pay attention to where the flavor hits you when you take a bite. I call the cheeses whose flavor comes out immediately opener cheeses. If the taste takes a few seconds to develop they're closer cheeses. Well balanced mac and cheese requires you to use both opener and closer cheeses so that the flavor carries through the bite.
However, opener and closer flavors are not limited to cheeses and this is perfectly demonstrated in the Caramelized Onion Cheddar. Between the cheddar and onion, the flavor carries throughout the bite.
Pasta
When selecting pasta for a mac and cheese, you have to consider the pasta you use. If your pasta is too large, you run the risk of your mac and cheese being too difficult to eat. On the other hand, if your pasta is too small, you can't use a fork and you run the risk of your dish becoming a soupy mess.
The Fusilli Corti Bucati pasta from Trader Joe's is a great shape for mac and cheese. It offers plenty of curves and pockets to hold onto sauce. The structure helps it keep its texture and remain al dente even when reheated the next day.
Toppings
I found this Southwestern Style Mini Crouton Shaker in the grocery store and it felt like a great way to add some crunch and spice to mac and cheese. It's a quick shortcut for flavored breadcrumbs and is perfect for giving your dishes something extra.
We added some Cajun spiced chicken to help stand out against the bold mac and cheese. It adds a savory component and helps turn your mac and cheese from side to entree.
Add a fork
Trader Joe's Caramelized Onion Cheddar makes a bold mac and cheese perfect for a side or paired with some chicken and spicy breadcrumbs for a delicious entree.
Trader Joe's Caramelized Onion Cheddar Mac and Cheese Recipe
Prep Time
20

minutes
mins
Cook Time
30

minutes
mins
Total Time
50

minutes
mins
Ingredients
1

Pound

Pasta

3

tbsp

Butter

3

tbsp

Flour

1

Tbsp

Minced garlic

3

cups

Whole Milk

1

Tsp

Better than bullion

Chicken flavor

8

oz

Caramelized Onion Cheddar

Salt to taste
Instructions
Cook the pasta according to package directions in well salted water.
Prepare the Sauce
Pre heat your milk in the microwave for 45 seconds – just enough to take the chill out of it.

Melt butter in a sauce pan over medium heat and let it heat until it becomes foamy.

Toss in minced garlic and cook for a few seconds until fragrant.

Mix in flour. Cook it for a minute while stirring constantly

Slowly add warmed milk to the butter mixture 1/4 cup at a time. Whisk it continually until combined.

Once all of the milk is added, cook for a few minutes while whisking it. Do not let it boil. You will feel the sauce start to thicken. It's ready for cheese when you rub a small amount between your fingers and it feels silky.

Remove from heat and stir in your cheese and bullion until it's melted and mixed into the sauce.

Once the cheese is incorporated, use a cooked noodle to taste your sauce. If it doesn't taste cheesy enough try adding a little more salt to bring out the flavor.

Combine the pasta and sauce. Top with grilled chicken and crushed croutons.
Keyword
breadcrumb, caramelized onion, cheddar, chicken
Related
---