Manchego Mac and Cheese Recipe
During our pilgrimage to Trader Joe's, we snagged a Spanish tapas cheese sampler kit. While all three cheeses in the kit were fantastic, our favorite was the manchego. This Spanish sheep's milk cheese has such a unique flavor perfect as a closer in a manchego mac and cheese recipe.
Note: This article contains affiliate links to products that I love and use to make mac and cheese in my own kitchen. When you click links here and make a purchase, I receive a commission at no additional cost to you. For more information, see my Affiliate Link Policy here.
When making mac and cheese, I tend to err on the side of smaller more fork-able noodles, but you are welcome to use any pasta you want. Today I used Gigli in my mac and cheese today. I hadn't used this shape before and I was pleasantly surprised by the texture. It felt like eating homemade dumplings. The trumpet shape held the sauce well and the twist gave it a pleasant, almost chewy texture. This pasta will have permanent place in my pantry now.
Unfortunately, we devoured all of our initial manchego in one sitting, but I had absolutely no trouble tracking down some in my local grocery store. Manchego has a bold, interesting closer flavor that pairs perfectly with some extra sharp cheddar to balance out the bowl.
Because the sauce is so flavorful, I tuned down the toppings a little bit. For added crunch, I tossed some ritz crackers and asiago crisps in a zipper bag and crushed them before sprinkling the mixture on top. It added just the right amount of crunch and a slight flavor that complimented the mac and cheese well.
All of the toppings come together beautifully in this manchego mac and cheese recipe perfect for a cozy night in or impressing all your friends.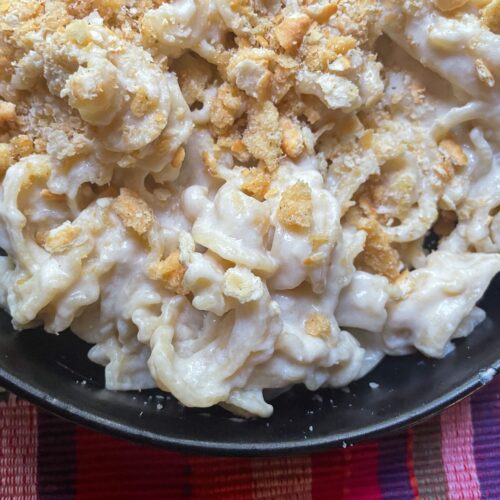 Manchego Mac and Cheese Recipe
Manchego and cheddar pair together in a savory flavorful mac and cheese.
Ingredients
16 oz Pasta

3 tbsp Butter

3 tbsp Flour

3 cups Whole Milk

1 cup grated Manchego

1 cup grated cheddar
Toppings
Asiago Crisps

Ritz Crackers
Instructions
Prepare the pasta according to package directions.
Prepare the sauce
Pre heat your milk in the microwave for 45 seconds – just enough to take the chill out of it.

Melt butter in a sauce pan over medium heat and let it heat until it becomes foamy.

Mix in flour. Cook it for a minute while stirring constantly.

Slowly add warmed milk to the butter mixture 1/4 cup at a time. Whisk it continually until combined. 

Once all of the milk is added, cook for a few minutes while whisking it. Do not let it boil. You will feel the sauce start to thicken. It's ready for cheese when you rub a small amount between your fingers and it feels silky.

Remove from heat and stir in your cheese until it's melted and mixed into the sauce.

Once the cheese is incorporated, use a cooked noodle to taste your sauce. If it doesn't taste cheesy enough try adding a little more salt to bring out the flavor.

Combine the pasta and sauce.

Crush the ritz crackers and asiago together in a plastic bag and sprinkle over the pasta.
---