The Great Mac and Cheese Bite Showdown
I am a lifetime mac and cheese fanatic, but fried mac and cheese bites are a new love. There's something to be said about what happens when you combine creamy mac and cheese with a delicious fried crust. They're crispy balls of happiness.
I set out on a quest to compare all of the options available in the freezer section to determine which mac and cheese bite stands out above the rest. Stakes were high, but we persevered and you get to celebrate in our spoils.
Note: This article contains affiliate links to products that I love and use to make mac and cheese in my own kitchen. When you click links here and make a purchase, I receive a commission at no additional cost to you. For more information, see my Affiliate Link Policy here.
For consistency, I cooked all the bites in my Bella 2.6 Quart Air Fryer at 375* F for eight minutes, shaking them halfway through.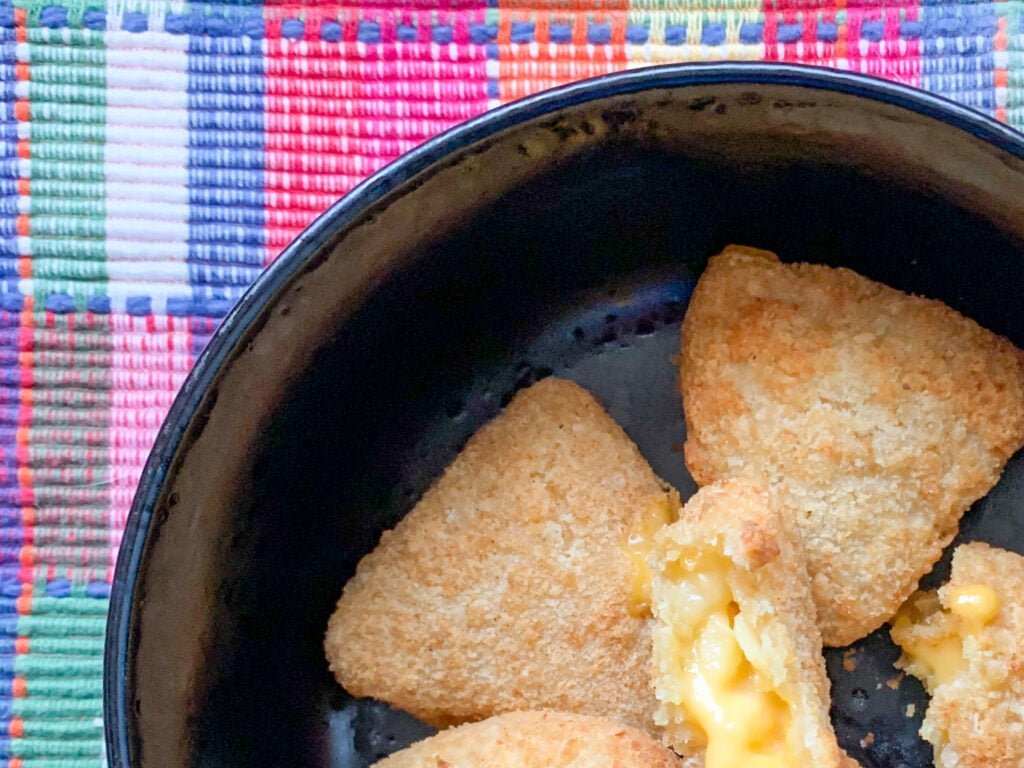 Market Pantry Macaroni & Cheese Bites
Our first contender is Market Pantry Macaroni & Cheese Bites. You get 8 ounces (around 7 bites) for $3.59 at Target. (44 cents an ounce)
It looks like what you would expect from frozen fried food. It has a crispy fried outside, but is pretty light colored. It's appearance is unconvincing. When you crack it open, it's creamy with obvious noodles. It held together well when split open.
When opened, they don't smell like anything outstanding. There's really nothing distinct about it.
The taste is very bland. The mac and cheese flavor doesn't really come out. These bites are bland and the ratio of crust to mac is off. They taste like generic fried food, and there really isn't anything remarkable about them. The novelty is there, but the flavor just doesn't impress. However, when dipped in ranch the flavors come out slightly.
To quote our resident preschooler, "It tastes like mac and cheese. With crust."
3 of 5 stars.
Kroger Stuffed Mac and Cheese Bites
Up next is Kroger Stuffed Mac and Cheese Bites. You can snag a 28 ounce box for $7.99. (28 cents an ounce.
The presentation of these mac and cheese bites is much better than the Market Pantry Macaroni & Cheese bites. The color is more appetizing and the size is nice. It has slightly more of a cheese smell, but not enough to make a difference on how enticing it is.
This option is lacking in flavor. The texture is nice, but it's almost like eating plain noodles or a flavorless hash. I found I difficult to distinguish the mac and cheese flavor. If served without explanation, I would quicker assume these were cheese bites than their intended purpose.
Of course this is the largest package because now I get to decide what to do with a huge box of leftovers that need some serious doctoring.
1 of 5 stars.
Stouffers Mac & Cheese Bites
Stouffers Mac & Cheese Bites run for $5.00 at my local Kroger. You get 14 ounces at 35 cents an ounce.
I'm not sure if it's a good thing that it exploded cheese all over my air fryer. On the one hand it looks messy and was a nightmare to clean. On the other, you KNOW you're about to eat something super cheesy. It's all about give and take.
However, compared to the previous two options, these are a much better visual. The color is great. The size and shape is my favorite so far. Even when you factor the cheese explosion it looks more appetizing. They look closer to what you would get as an appetizer at a restaurant.
The Souffer's bites have a stronger smell of the bites we sampled so far, and the cheese flavor is the best.
However, it separates the crust and the macaroni. Almost like two different foods rather than a cohesive bite.
4 of 5 stars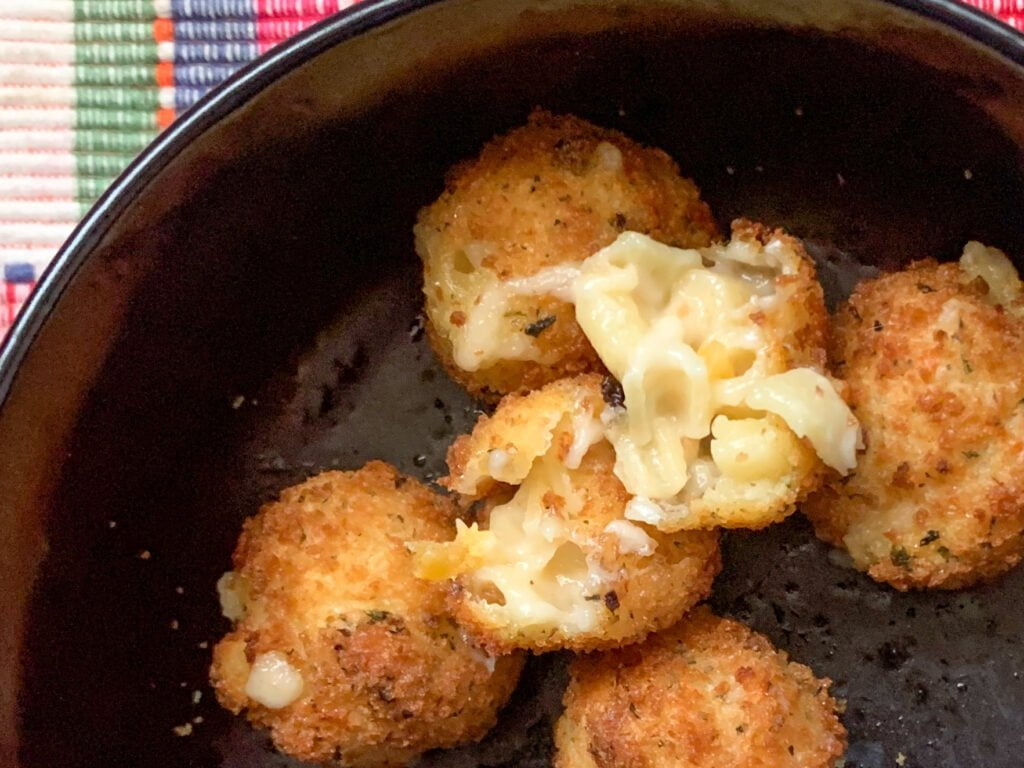 Martha Stewart's Macaroni & Cheese Bites
Our next challenger is Martha Stewart's Macaroni & Cheese Bites. You get 10 bites in 7.48 ounces for $4.99. (66 cents an ounce)
Fresh out of the air fryer, these have the best visual. They have a nice browning and spice in the batter. Like the Stouffer's option, these bites leaked cheese.
Before taking a bite, Martha's option has the best scent. You can pick up on the specific white cheddar over a generic cheese flavor.
It tastes as good as it smells. Featuring a nice gooey, cheesy consistency with an actual mix of the crust that blends into it.
Hands down this is the best choice. It's delightful.
5 of 5 stars.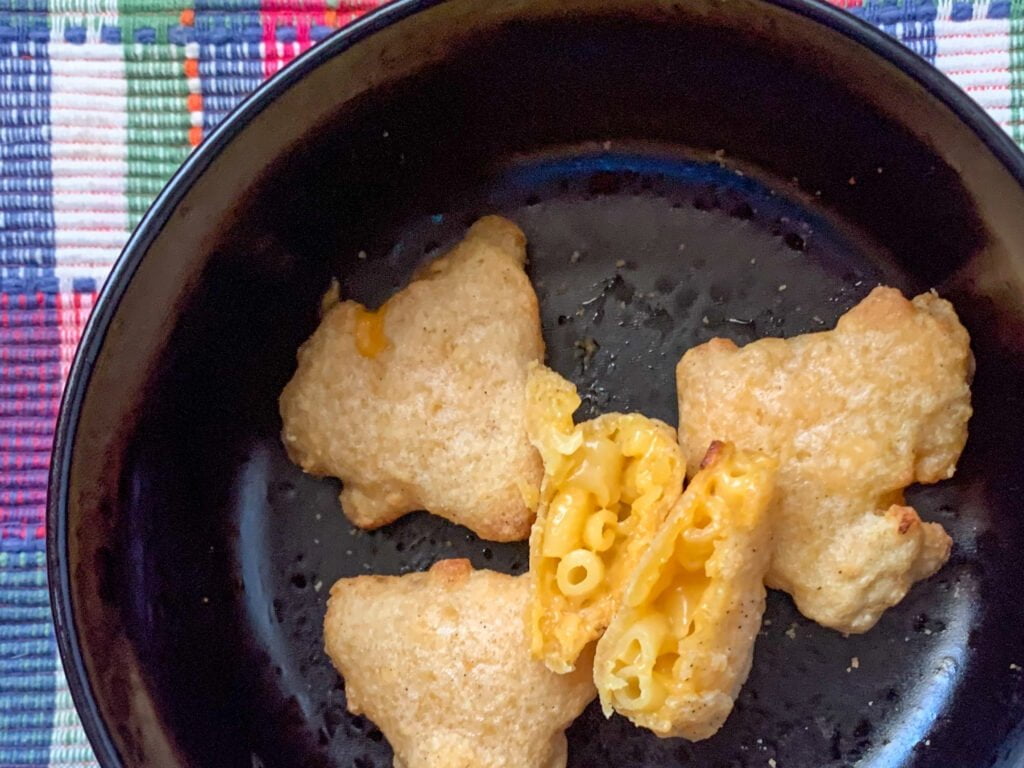 Crav'N Flavor Macaroni & Cheese Bites
Our final selection is the most unique. While all other choices featured a crispy fried crust, the shell of the Crav'N Flavor Macaroni & Cheese Bites is closer to tempura batter.
Visually, these bites don't look very appealing. The color is a very light shade of beige, and when you smell them, the scent is lacking. It just doesn't smell like anything.
However, they are pretty tasty. When you bite into them they have some solidity. Not quite a crunch, but they have a texture that was lacking in some of the previous samples.
It's really unfair to try this one after the Martha Stewart bites because they were just so good there's no following it. The Crav'n Bites were not as strongly cheese flavored, but they were pretty good.
3 of 5 stars.
Going was rough, but we finally came out on the other side! I am sad we finished off the Martha Stewart Bites and will be buying more asap, but I wouldn't be sad to find more Stouffer's bites in my fridge as well.
---