Sartori Montamore Cheddar Mac and Cheese Recipe
People have been pushing boundaries to get an adrenaline rush since the beginning of time. If only they'd known the thrill of discovering new cheeses and fresh flavors. Sartori Montamore Cheddar Mac and Cheese is the perfect illustration of this.
Usually my cheese selection involves trolling the discount bin for whatever sounds like it would work well in a mac and cheese. But this week I just couldn't bypass the gorgeous blue wrapped cheeses. Sartori Montamore Cheddar needed to become a mac and cheese.
Note: This article contains affiliate links to products that I love and use to make mac and cheese in my own kitchen. When you click links here and make a purchase, I receive a commission at no additional cost to you. For more information, see my Affiliate Link Policy here.
Self described as a cheddar that tastes like parmesan, or a parmesan that tastes like cheddar, Sartori's Montamore cheese was dying to be turned into a pasta dish. We already know that cheddar is a fantastic welcome to a dish while parmesan finishes it out beautifully. Since both are already present, I added some dijon mustard to punch up the flavor just a smidge. It's definitely not necessary. This cheese could absolutely stand on its own, but the additional flavors
This sauce is to die for. Obviously it works well with a pasta, but it'd be awesome as a dip for soft pretzels or you could just eat it with a spoon. The mustard and cheese flavors blend beautifully. Bonus points that it is quick and doesn't require a ton of special Ingredients. It tastes like what you'd expect from a mac and cheese.
If i wanted to impress someone with a pasta dish and I was limited on time, it'd one hundred percent be this Sartori Montamore mac and cheese recipe.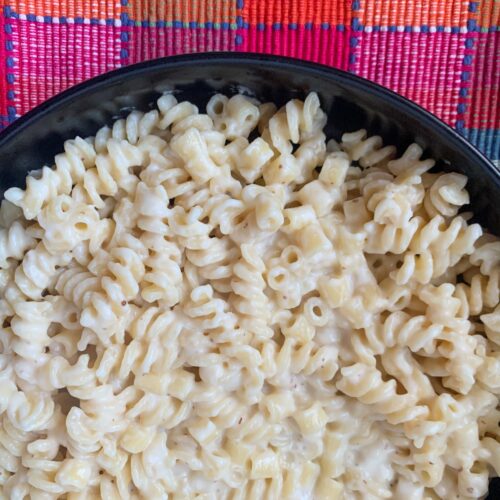 Sartori Montamore Cheddar Mac and Cheese
Ingredients
16 oz Pasta

2 tbsp Butter

2 tbsp Flour

1/2 tbsp Dijon Mustard

2 cups Whole Milk

7 oz Sartori Montamore Cheddar Cheese grated

salt to taste
Instructions
Prepare the pasta according to package directions.
Prepare the sauce
Pre heat your milk in the microwave for 45 seconds – just enough to take the chill out of it.

Melt butter in a sauce pan over medium heat and let it heat until it becomes foamy.

Mix in flour. Cook it for a minute while stirring constantly

Slowly add warmed milk to the butter mixture 1/4 cup at a time. Whisk it continually until combined. 

Once all of the milk is incorporated, continue to heat the sauce while stirring. Do not let it boil. The sauce is ready for the cheese when you rub a small amount between your fingers and it feels silky.

Remove from heat and stir in your cheese and mustard until the cheese melted and mixed into the sauce.

Once the cheese is incorporated, use a cooked noodle to taste your sauce. If it doesn't taste cheesy enough try adding a little salt to bring out the flavor.

Combine the pasta and sauce.
---