Aldi Advent Calendar Day 1: Aged Cheddar Parmesan Mac and Cheese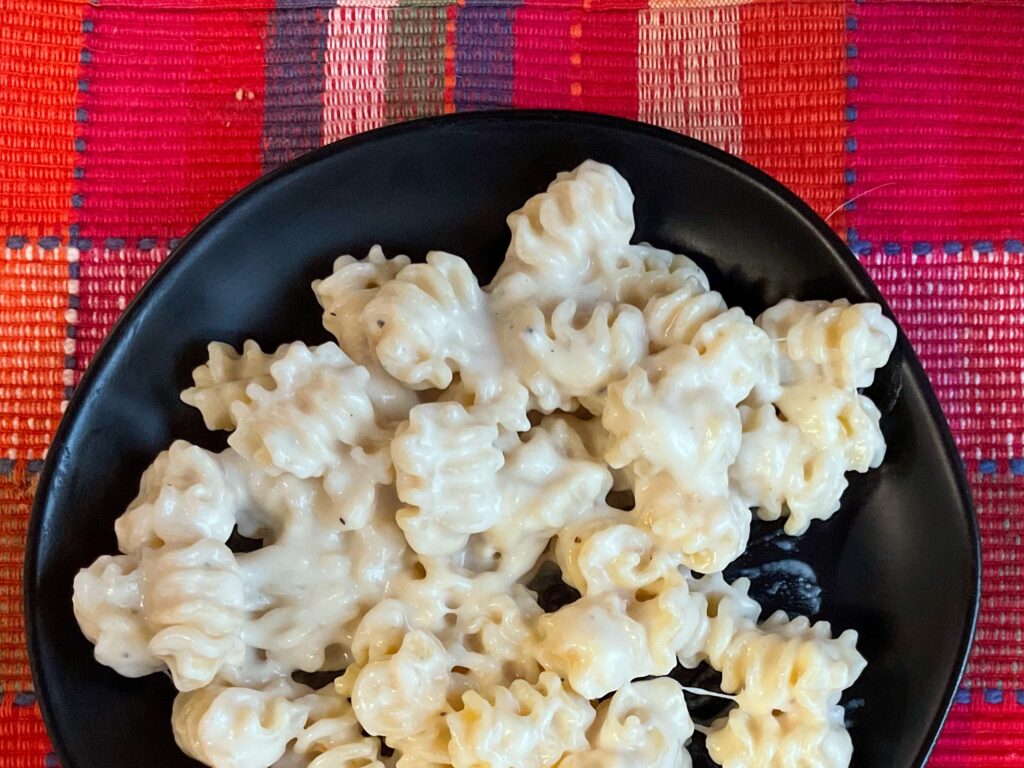 Cheddar is one of my favorite cheeses to use in mac and cheese. It is a flavorful opener that pairs beautifully with a variety of closers. Cheddar is the opener in my Simple Stovetop mac and cheese and plays a key role in so many recipes here. If I could only eat one cheese for the rest of my life, it would be Cheddar. And if I'm only having one mac and cheese, it would be this cheddar parmesan mac and cheese.
Every year, Aldi releases a cheese Advent calendar. The calendar contains one individually wrapped piece of cheese for each day. There are twelve different cheeses available so we have two opportunities to explore different recipes we can make to feature each cheese. This is one of those recipes. Follow along here.
With all of that said, it feels like fate that the first cheese in Aldi's advent calendar is an Aged Cheddar. One of the best versions of one of the best cheeses in my book. Since this is the first cheese, it was only appropriate that our first mac and cheese recipe pays homage to the first recipe on this site.
To allow the cheese flavors to shine, I kept the sauce simple with minced garlic, freshly ground black pepper, and salt. Cheddar, especially an aged version has a distinct flavor and I didn't want to cover that up.
Parmesan is the closer in this recipe and it does it's job beautifully. There's something special that happens when you combine parmesan and Cheddar in a mac and cheese.
Radiatore is one of my favorite pasta shapes. It is easily to grab with a fork so you will spend more time eating than fighting your food. The ridges provide plenty of pockets for the sauce to soak in so every bite is a flavorful experience. It truly is a perfect mac and cheese vehicle.
Note: This article contains affiliate links to products that I love and use to make mac and cheese in my own kitchen. When you click links here and make a purchase, I receive a commission at no additional cost to you. For more information, see my Affiliate Link Policy here.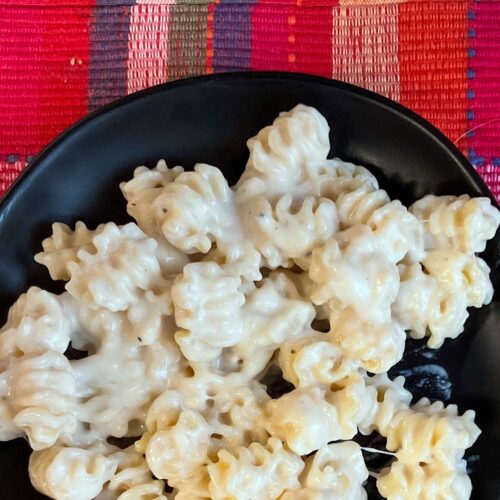 Cheddar Parmesan Mac and Cheese
Cheddar and parmesan flavors combine into a beautiful, flavorful mac and cheese.
Ingredients
16 oz pasta

3 tbsp butter

3 tbsp flour

3 cups whole milk

4 oz Parmesan, grated

4 oz Cheddar, grated

salt to taste

pepper to taste
Instructions
Cook pasta according to package directions.

Pre heat your milk in the microwave for 45 seconds – just enough to take the chill out of it.

Melt butter in a sauce pan over medium heat and let it heat until it becomes foamy.

Mix in flour. Cook it for a minute while stirring constantly

Slowly add warmed milk to the butter mixture 1/4 cup at a time. Whisk it continually until combined. Season generously with salt and fresh cracked pepper.

Once all of the milk is added, cook for a few minutes while whisking it. Do not let it boil. You will feel the sauce start to thicken. It's ready for cheese when you rub a small amount between your fingers and it feels silky.

Remove from heat and stir in your cheese until it's melted and mixed into the sauce.

Once the cheese is incorporated, use a cooked noodle to taste your sauce. If it doesn't taste cheesy enough try adding a little more salt to bring out the flavor.

Combine the pasta and sauce and serve.
---