Jasper Hill Mac and Cheese Recipe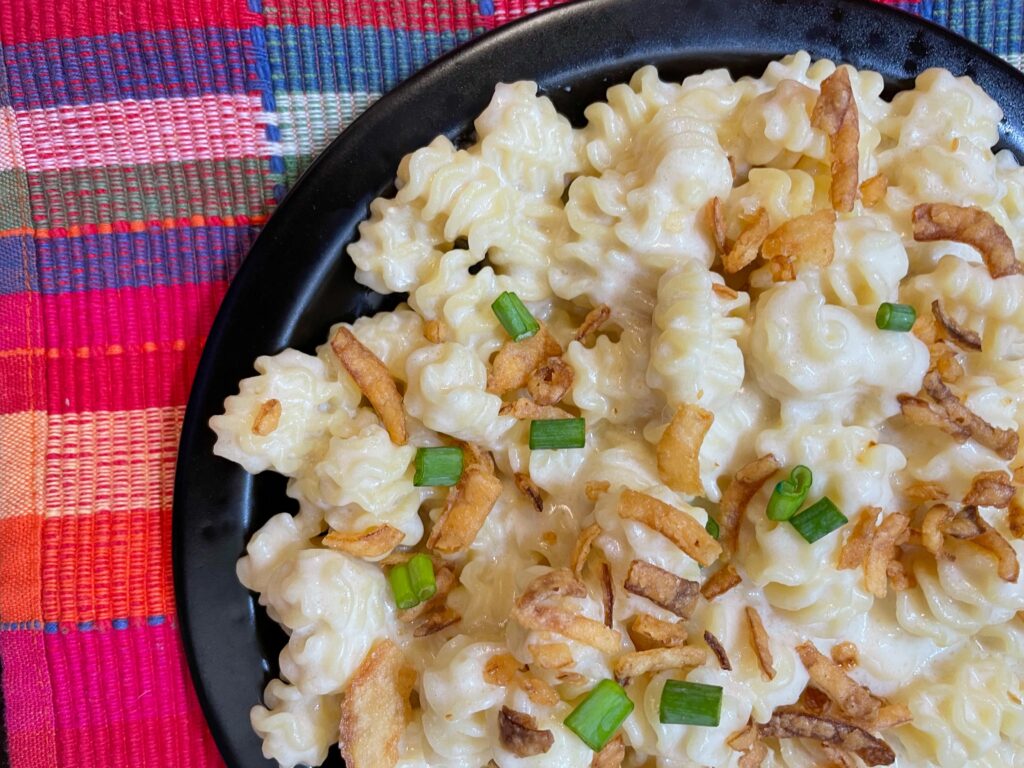 When I won March Macness, one of the prizes included a generous gift card to Jasper Hill Farm. They offer a vast assortment of cheeses, condiments, crackers, and even kitchen tools. Their website is every cheese lover's dream. I had a blast picking out new cheeses to explore and struggled to not go significantly over my gift card amount. We already enjoyed a Cabot Clothbound Mac and Cheese featuring some of their offerings, but this time I couldn't decide which cheeses to skip. As a result, we have a Jasper Hill Mac and Cheese Recipe that encompasses several varieties.
Note: This article contains affiliate links to products that I love and use to make mac and cheese in my own kitchen. When you click links here and make a purchase, I receive a commission at no additional cost to you. For more information, see my Affiliate Link Policy here.
Pasta
One of the most important choices when building a mac and cheese recipe is the pasta. If you grab a noodle that is too long, you run the risk of your dish being annoying and difficult to eat. On the other hand, if your pasta is too small we run the risk of our dish becoming a soupy mess. This is particularly important for beginner mac and cheese chefs. Small noodles will more clearly display defects in your sauce.
This dish makes use of radiatore. It's a beautifully sized pasta shape that offers plenty of pockets to hold onto sauce ensuring every bite is full of flavor.
Sauce
When you taste a piece of cheese, pay attention to where the flavor hits. Some cheeses, like Cheddar have the flavor right as you bite in. These are what I call opener cheeses. However, there is another class of cheeses that take a few seconds for the flavor to develop. These are closer cheeses. This recipe features their Vault 5 Cave-aged Cheddar and Cave Aged Cheddar. Both cheeses are beautifully rounded and would work amazingly as either an opener or closer. So I decided to pair the two together in the ultimate bowl of cheesy goodness?
Toppings
By increasing my standard recipe with another cup of roux, we get a super saucy recipe packed with flavor. Any toppings would compliment the sauce well, but I used crispy onions and diced green onions for extra crunch. Not feeling onions today? Crispy jalapenos and bacon would be fabulous.
Add a fork
The Jasper Hill Farm website is a must visit for any mac and cheese connoisseur. Nearly everything would work amazingly to create a fabulous mac and cheese that impresses everyone you know without too much effort. Enjoy your party without spending hours slaving over your stove making your own Jasper Hill Mac and Cheese Recipe.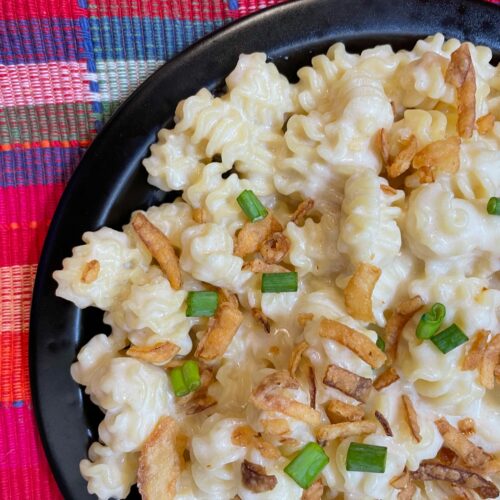 Jasper Hill Mac and Cheese Recipe
Ingredients
16

oz

Pasta

3

tbsp

Butter

3

tbsp

Flour

3

cups

Whole Milk

6

oz

Vault 5 Cheddar

grated

6

oz

6 oz , grated

grated

salt to taste

Crispy Onions

Green Onions
Instructions
Prepare the pasta according to package directions.
Prepare the sauce
Pre heat your milk in the microwave for 45 seconds – just enough to take the chill out of it.

Melt butter in a sauce pan over medium heat and let it heat until it becomes foamy.

Mix in flour. Cook it for a minute while stirring constantly

Slowly add warmed milk to the butter mixture 1/4 cup at a time. Whisk it continually until combined. 

Once all of the milk is added, cook for a few minutes while whisking it. Do not let it boil. You will feel the sauce start to thicken. It's ready for cheese when you rub a small amount between your fingers and it feels silky.

Remove from heat and stir in your cheese until it's melted and mixed into the sauce.

Once the cheese is incorporated, use a cooked noodle to taste your sauce. If it doesn't taste cheesy enough try adding a little salt to bring out the flavor.

Combine the pasta and sauce.
Toppings
Plate your mac and cheese and top with crispy onions and chopped green onions.
---