Cello Celebration Cheese Flight Mac and Cheese Recipe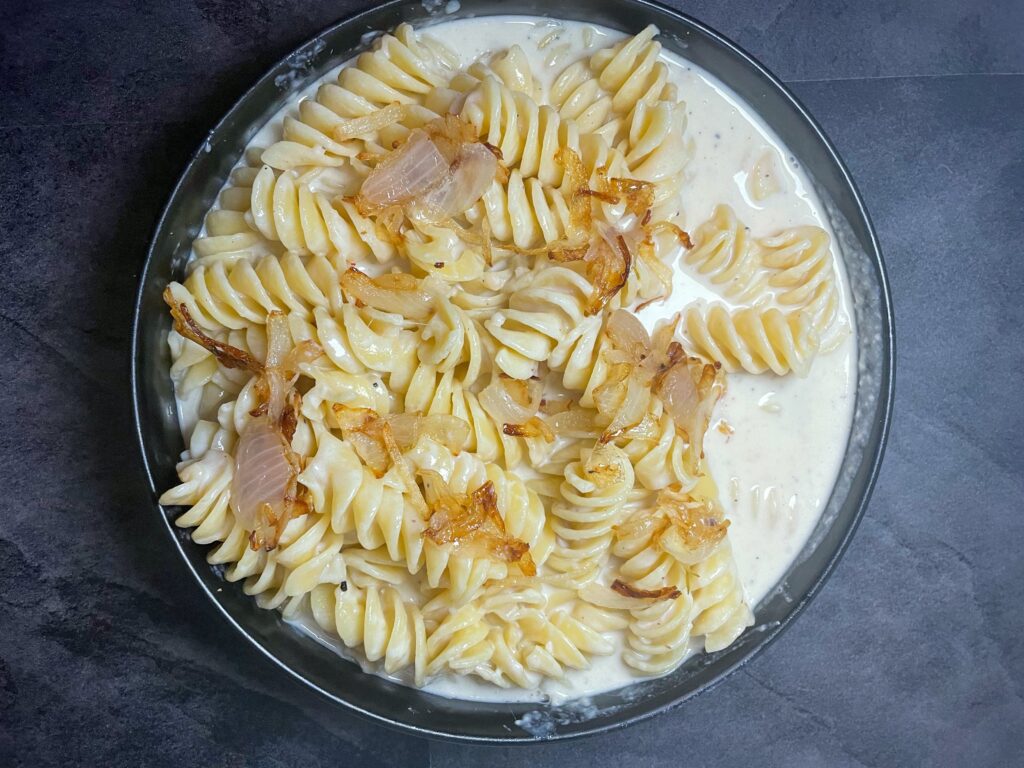 We already know I am a sucker for a good cheese deal. So when I saw this Cello Celebration cheese fight at 60% off, I couldn't resist the opportunity to turn it into a mac and cheese.
The Celebration cheese flight from Cello contains Copper Kettle, Altu, and Tuscan rubbed fontal cheese. Generally, I like to taste all of my cheeses before cooking with them to be sure they will balance well together. However, Cello took care of that for us. All three cheeses worked together beautifully.
This pasta is so ridiculous you can't help but love it. self-proclaimed as quite possibly the worlds largest fusilli, it is comically large. That is part of the charm. I found it during our last visit to Trader Joe's and I couldn't pass it up. While this pasta has tons of ridges, it just didn't seem to grasp the sauce as much as I would have liked, after the sauce and pasta had some time to sit together it started to integrate better.
Note: This article contains affiliate links to products that I love and use to make mac and cheese in my own kitchen. When you click links here and make a purchase, I receive a commission at no additional cost to you. For more information, see my Affiliate Link Policy here.
I aim to use 8 ounces of cheese per pound of pasta in my mac and cheese recipes with 4 ounces as an opener cheese and 4 ounces closing out the bowl. The cheese flights from Cello contain 10 ounces total. Rather than splitting out the cheeses, I grated the entire flight with my rotary grater. Since all of the cheeses were going to be mixed into the sauce, I didn't have to worry about cleaning the grater between cheeses, so I could crank it out in no time.
For toppings, I kept it simple and sauteed 1/2 onion in a tablespoon of butter over medium heat until the edges started to get crispy. It's not quite caramelized, but it's adds a great layer of flavor and some fun texture to the dish.
The sauce from this Cello Celebration cheese flight made such a beautiful mac and cheese. Paired with a different pasta vehicle, this would have been one of my favorite recipes on the site. However, after a night in the fridge the ingredients has a chance to meld together and it redeemed itself.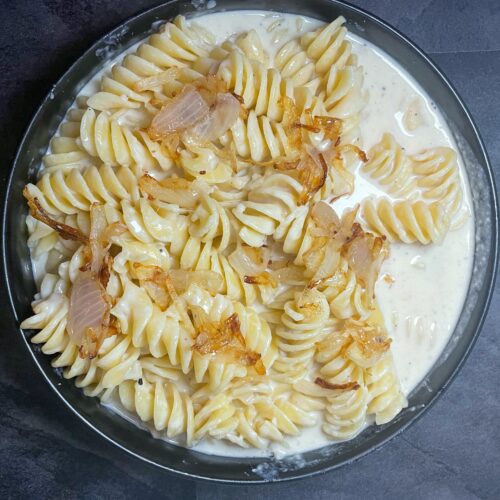 Cello Celebration Cheese Flight Mac and Cheese
Ingredients
16 oz rotini

3 tbsp butter

3 tbsp flour

3 cups whole milk

1 package Cello Celebration Cheese Flight, grated

salt to taste
For the Crispy Sauteed Onions
1 tablespoon butter

1/2 white onion
Instructions
Cook the pasta in well salted water.

Pre heat your milk in the microwave for 45 seconds – just enough to take the chill out of it.

Melt butter in a sauce pan over medium heat and let it heat until it becomes foamy.

Mix in flour. Cook it for a minute while stirring constantly

Slowly add warmed milk to the butter mixture 1/4 cup at a time. Whisk it continually until combined. Season generously with salt and fresh cracked pepper.

Once all of the milk is added, cook for a few minutes while whisking it. Do not let it boil. You will feel the sauce start to thicken. It's ready for cheese when you rub a small amount between your fingers and it feels silky.

Remove from heat and stir in cheese until it's melted and mixed into the sauce.

Once the cheese is incorporated, use a cooked noodle to taste your sauce. If it doesn't taste cheesy enough try adding a little more salt to bring out the flavor.

Combine the pasta and sauce, top with crispy onions, and serve.
---