Butternut Squash Mac and Cheese Recipe
Fall is here and I am loving it. I live for cozy days curled up under a blanket with a book and a cup of tea. This butternut squash mac and cheese recipe perfectly encapsulates the season. This was my first time working with a butternut squash sauce and I am thrilled with how well it came together.
If, like me, you are not yet an expert in all things butternut squash, here's a guide to buying and cooking it. I did not bother peeling mine, but if eating the skin eeks you out, feel free to remove it. It all blends fine and saves you from having to try and peel it, but is not necessary either way. I added a generous pinch of Cha Cha Delish salt from Beautiful Briny Sea for a little extra kick, but regular sea salt will work just fine.
Unlike my other recipes, this one is not as quick to make. You'll have to plan for some extra time to cook everything, but otherwise this is a great beginner pasta recipe. Pureed butternut squash serves as the sauce base, requiring a just few extra steps after cooking the squash to make a cozy bowl of mac and cheese.
This dish that is great the day of, but even better if you give the sauce flavors a night or two to meld together. You can save yourself some busy dinnertime steps by preparing the sauce and keeping it in the fridge until you're ready to eat it.
I know – you want to know where the cheese is if this is a mac and cheese. Goat cheese is the perfect tangy, creamy compliment to the other ingredients. Because it is a soft cheese, you avoid having to worry about grating it before incorporating it into the sauce. Just stir it in and let the cheese melt into the rest of the sauce.
The sauce consistency does prove to be a little temperamental when cooking it. Make sure your pan has a minute or two to cool before adding the puree. Waiting is hard but worth it for a delicious butternut squash mac and cheese recipe.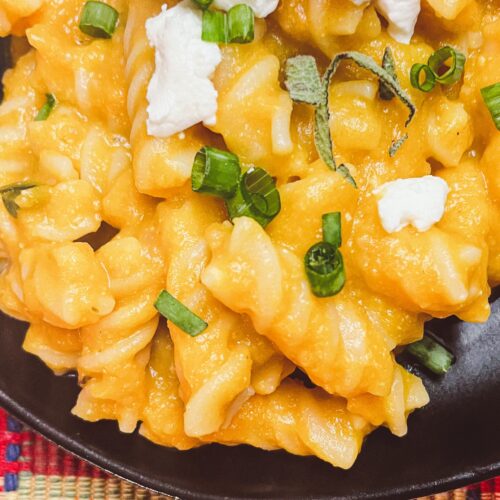 Butternut Squash Mac and Cheese Recipe
Butternut squash mac and cheese perfectly encapsulates the feeling of a cool autumn morning.
Ingredients
16 oz Pasta

1 Butternut Squash

4 oz Goat Cheese, reserving a few crumbles for garnish

1/2 tablespoon Butter

1 tablespoon Minced Garlic

1 tablespoon Better Than Boullion
Toppings
Chopped Fresh Sage

Chopped Green Onions
Instructions
Prepare your pasta according to package directions
Cook the Butternut Squash
Wash the squash. Cut it in half vertically and remove the seeds.

Section and chop into uniform cubes. Size does not necessarily matter here, but smaller pieces will cook quicker.

Place squash cubes in a stock pot and cover with water.

Salt generously. Bring to a boil and then cover and reduce heat, cooking until the squash is soft enough to smash with a fork.

Drain the squash, reserving 1/2 cup of the cooking water.

Transfer to a blender and add bouillon.

Blend until the squash is smooth throughout. If the squash is not moving easily through the blender, add a small amount of the reserved water to thin the sauce.

Set squash puree aside.
Prepare the sauce
Melt butter in a sauce pan and cook until it starts to brown

Add garlic and sage and cook until fragrant. Stir in goat cheese until melted and herbs are combined throughout. Remove from heat.

Add butternut squash puree and stir quickly. Cover and allow it to sit for a few minutes.

Salt sauce as needed.

Combine sauce and pasta. Plate and top with extra sage, remaining goat cheese, and green onions.
---